Driving traffic to your location through the use of monument signs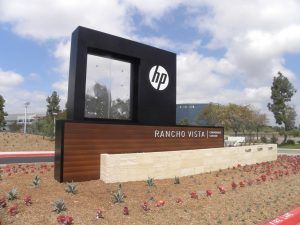 Driving business to your place of business is a science. You must have a good product or service, great customer service, and the ability to react to your client's needs. Even after all of these items are checked, your business might still be in the red if your customers cannot find your location.
Monument signs are great first greet to all existing and future customers. It gets their attention as they drive by your business, and it shows off the creative talent of what your company is. A Building that is set back far away from the public right of way also find great value in monument signs. The monument sign does the job for the wall sign that cannot be read from the street.
In this scenario, the client wanted a very unique look to bring attention to their place of business. Not only did the monument sign show the name of the tenant inside the building, but it also set the mood with a waterfall feature and built in planter. The final touch was exterior rated wood paneling made to hold up to the elements for years to come.
When moving into a building, please contact Integrated Signs to come and review the property with you prior to signing a lease, or purchasing a building. We will visit with you free of charge to determine what the city will allow for your site. ISA wants to make sure your customers can find you quickly and easily.