Tips for Effective Sign Design
A business sign is an essential aspect of a brand's marketing strategy, and it's often the first object people notice when visiting a physical store. A business sign can even draw attention from those simply passing by who hadn't previously planned on visiting your business. Creating an effective sign design can help promote awareness for your brand.
In addition to brand awareness, an effective sign can encourage new customers to learn more about your business and help to increase overall revenue. Simple design tricks can help your brand create effective signage that acts as a daily form of advertising.
In This Article:
20 Tips for Effective Sign Design
Effective business signage can promote your establishment and act as an extension of your messaging and branding efforts. Making a good impression is key to converting new customers, as well. Essentially, by providing continuous and prominent exposure, business signs are one of the most critical aspects of your advertising. When creating a business sign, you may want to consider these 20 sign design tips and tricks to make the most out of your signage.
1. Visibility
An essential tip for impactful sign design is to focus on the visibility of your sign as a whole and the message it's trying to convey. A business sign should feature a background color that ensures viewers, both close and far, can read the sign clearly and easily.
These signs should be easily distinguishable from their surroundings and avoid blending in with other signs or buildings. The background color, font color and contrast are helpful elements when designing an effective business sign . Bright colors with a black background can be a useful way to make sure your sign draws attention and is easily visible. Conversely, a white background with dark text has the same impact.
2. Simplicity
When it comes to the design process, less can be more for business signs. A great design is often simple, prioritizing readability and delivering vital information to viewers quickly. One of the most important elements of a well-designed business sign is that the messaging is simple, clear and easily understood.
Complex signs can be challenging to read, especially for those simply passing by your business. If a sign is too difficult to understand at first glance, many people may move on or lose interest in learning more about your brand. Overcrowding a sign with too many lines of text or graphics can be unappealing, creating a negative first impression for potential customers.
3. Innovative Technology
A unique sign can be an excellent marketing strategy for business owners looking to increase brand awareness and attract new customers. Many sign manufacturers use innovative technology, such as temperature or time displays, to create a unique, engaging design that relays information.
Additionally, electronic messaging can provide an immersive aspect to your signs that allow you to vary your message daily or weekly. Updating messaging can ensure your business sign stays fresh and interesting for new and existing customers. Electronic messaging can promote time-sensitive specials or unique aspects of your brand.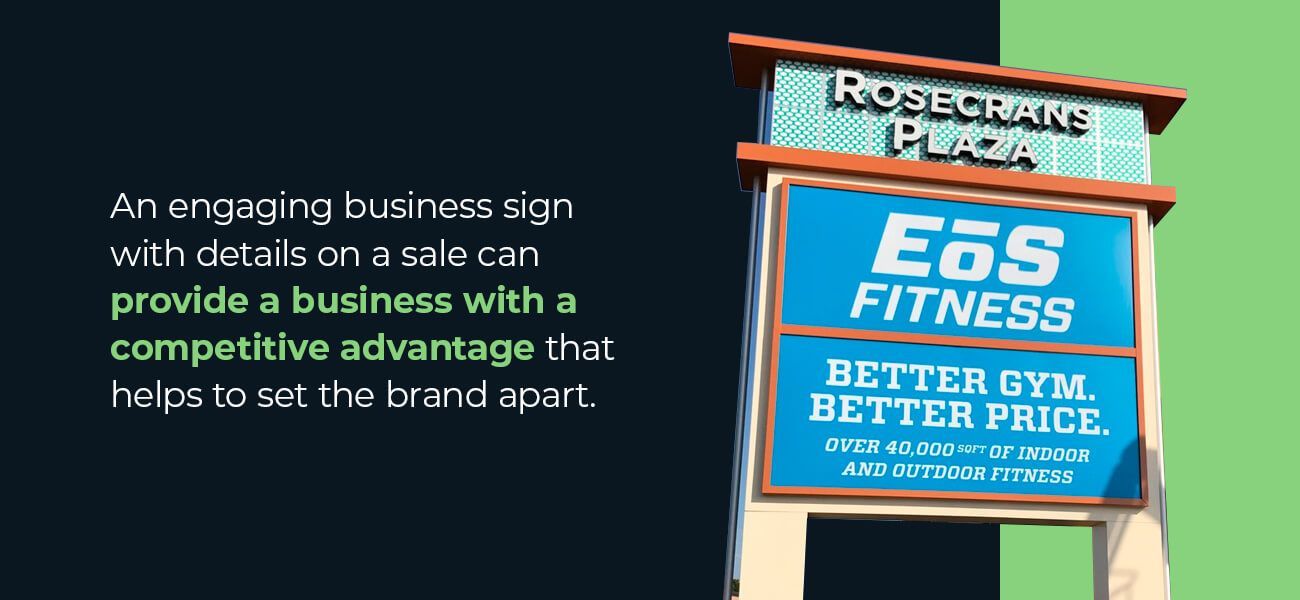 4. Sale Details
In addition to a company name or brand logo, business signs can feature essential information about your business. Many business owners take advantage of signs to provide information on sales, specials or promotions. Information on sales and deals you offer can increase interest in your brand.
An engaging business sign with details on a sale can provide a business with a competitive advantage that helps to set the brand apart. A sale or competitive pricepoint can increase revenue, attract potential buyers and improve the overall appeal of your product and brand. Research has found that 80% of American consumers felt encouraged to make a first-time purchase with a new brand if the brand offers a discount.
5. Grab Attention
Effective signage will be able to grab attention and promote your brand to a larger audience. Exterior and interior signage can act as a general branding effort and draw the attention of potential customers and those passing by. An attractive sign can make a good impression on potential customers and offer valuable information on new deals and unique promotions you may be running.
6. Impulse Buyers
The proper signage can draw the attention of potential customers who originally weren't planning on visiting your store. Some customers may simply see an attractive business sign and storefront and choose to visit the store. The average American consumer spends over $2,000 on impulse purchases every year.
Attracting impulse buyers can help to increase brand awareness and improve overall sales and revenue. An effective sign design can attract more customers to your store and help establish a lasting relationship between them and your brand. If your business provides a positive shopping experience and makes a good impression on the customer, it can increase the likelihood of them returning in the future.
7. Cohesive Branding
Store and product branding creates a unique identity for your company in the marketplace and helps to set your business apart from competitors. When conceptualizing your brand, you'll want to ensure all aspects of your branding are cohesive. If you maintain a consistent representation of your brand, your customers will always know what to expect, which makes buying from you easier.
Cohesive branding can ensure your brand appears steady throughout all platforms, including physical and virtual. Proper branding can help customers quickly recognize one of your products or your business as a whole. Elements to consider when working towards cohesive branding includes fonts, color schemes and illustrations or graphic.
8. Unique Appeal
As a brand, it's essential to set yourself apart from competitors and ensure customers know what makes your business different. Creating a unique product, service or store atmosphere can attract the attention of more customers. Differentiating your business from competitors can create a loyal customer base and increase overall sales.
9. Unobstructed View
The physical location of your sign is a vital aspect to consider when maximizing your brand's exposure. A crucial sign design trick is to ensure your sign is easily viewable, meaning trees, street lights or external factors don't obstruct it. It's best to find a balance of sign placement that maximizes exposure while ensuring functionality and readability.
While an unobstructed view is ideal, some businesses may be on a busy street where outdoor objects may be an issue. In these cases, you'll want to select a position for your sign that provides the best view with the fewest obstructions. Installing more than one sign can ensure customers know the necessary information even when they can only partially see another sign.
10. Pictures and Graphics
In addition to text, business signs can feature unique pictures, graphics and illustrations to grab a viewer's attention. However, while eye-catching designs are engaging, it's always best not to clutter a sign with too much information. White space or negative space can complement your design and help to make it stand out.
Negative space is the surface area of your sign that's free of design, text and graphics. A general rule of thumb is to incorporate some white space to enhance readability and help your message stand out. White space can improve the visual hierarchy of your sign and help viewers focus on the key elements and pivotal information of your sign.
11. Readability
Ensuring your sign is legible can enhance readability and help customers focus on the most critical aspects of your brand. You'll want to consider the color scheme of your sign, as your colors should match your existing brand to provide a cohesive appearance.
Some color combinations may make it more difficult for viewers to read your sign easily. For example, a light yellow background with white text would be too similar in color, making the message challenging to read. Choosing a color scheme with contrast can help you create an attention-grabbing design.
12. White Space
In addition to an eye-catching illustration or font, white space is a valuable design element that can draw attention. You can use white space to balance colorful designs and add neutral undertones to a sign. With white space, you can direct a viewer's gaze and emphasize other aspects of your sign and storefront.
Understanding the importance of white space in design can help you create a more effective and appealing sign. Creating micro and macro white space can offer a clean, sophisticated appearance to your design. Additionally, utilizing white space can help viewers focus on what matters, improving comprehension.
13. Location and Lighting
The location of your sign plays an important role in its visibility to those walking by your storefront. If you place a sign too high or out of view, fewer people may notice your sign, resulting in less walk-in traffic. An appropriately placed sign optimizes visibility and readability for those passing by.
Some business owners may also utilize exterior lighting with their business signs to ensure people can see them easily even at night. Exterior lighting can make your store look more inviting and draw additional attention to your business. Finding the right location can help improve your sign design and attract more customers.
14. Size and Scale
The size and scale of your sign will also affect the readability and appearance of your sign. A sign that's too large may appear disproportionate or may look less professional. On the other hand, if your sign is too small, it can negatively affect the readability and appearance of your sign.
In addition to the size of the sign, you should consider the scaling of any messaging or graphics. Scaling any text to an appropriate size can help people quickly read the information you're providing when they're walking or driving by. While you don't want to make your wording too large, it's smart to make it large enough so a person can read the sign from a decent distance.
15. Contrast
Contrast can add visual interest and a unique flair to your sign's overall design. Adding appropriate amounts of contrast allows you to highlight key elements of your sign and enhance your design's overall layout. A contrast in colors can add a dynamic appeal to your sign. Some of the best colors for signs can help improve visibility, enhance design elements and boost your marketing efforts.
16. Legibility
In addition to contrasting colors, a contrast in font size or other design elements can also help improve your sign's balance. Contrast can help establish a proper hierarchy in your sign that draws the viewers' attention to the most critical information first. Balancing contrast is key to an aesthetically pleasing, legible sign.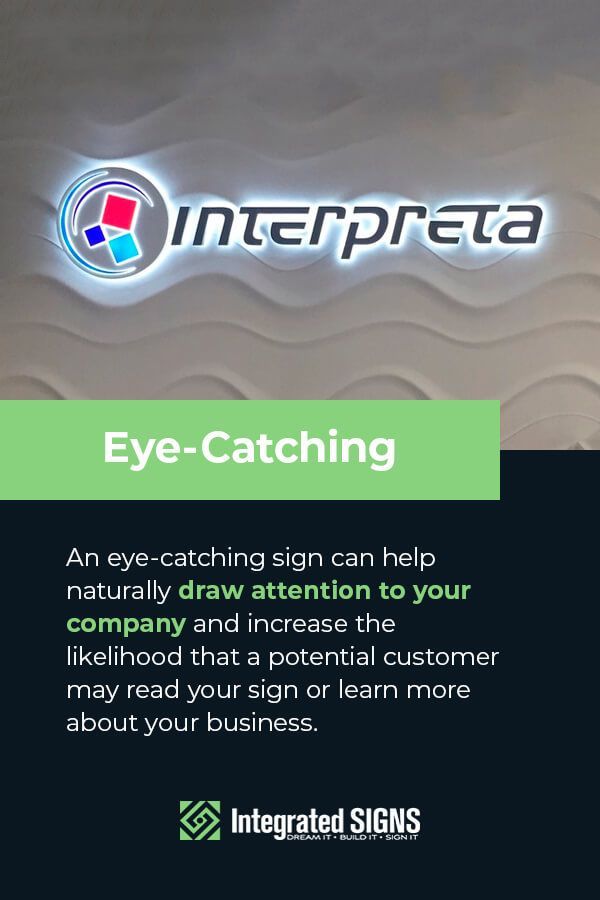 17. Eye-Catching
When potential customers are walking by your business, you only have a short window of opportunity to gain their attention. An eye-catching sign can help naturally draw attention to your company and increase the likelihood that a potential customer may read your sign or learn more about your business. A clean and attractive sign is more appealing and can help to promote a sense of polished professionalism.
18. Shape
While many may think of a traditional square or rectangle when considering a business sign, you can incorporate various shapes to create a dynamic sign. Classic sign shapes are always a popular choice when designing a business sign, but you can consider many other unique shapes. Customized signs come in various shapes and sizes so you can choose the combination that's right for your business.
19. Font
The font you use for your sign can help you achieve the appropriate tone of voice and branding for your business. When considering fonts, you'll always want to make sure most viewers can easily read the text. While cursive fonts may be appealing, it may be more difficult for some potential customers to read your sign. In addition to the font style, you'll also want to pay attention to the size of your font, ensuring it's an appropriate size.
20. Hierarchy
Creating a hierarchy of information on your sign is an essential aspect to consider during the design process. You'll want to prioritize placing the most critical information first on the sign with less important but still essential details following it. When a potential customer scans your sign, they should gain only the most essential information they need.
When deciding on your hierarchy, think about what you'd tell a potential client about your business first. After you sort out this information, it can be easier to segment it into a pyramid hierarchy, with the critical information at the top leading to additional relevant information below. For many businesses, putting their logo or name at the top of the sign is effective.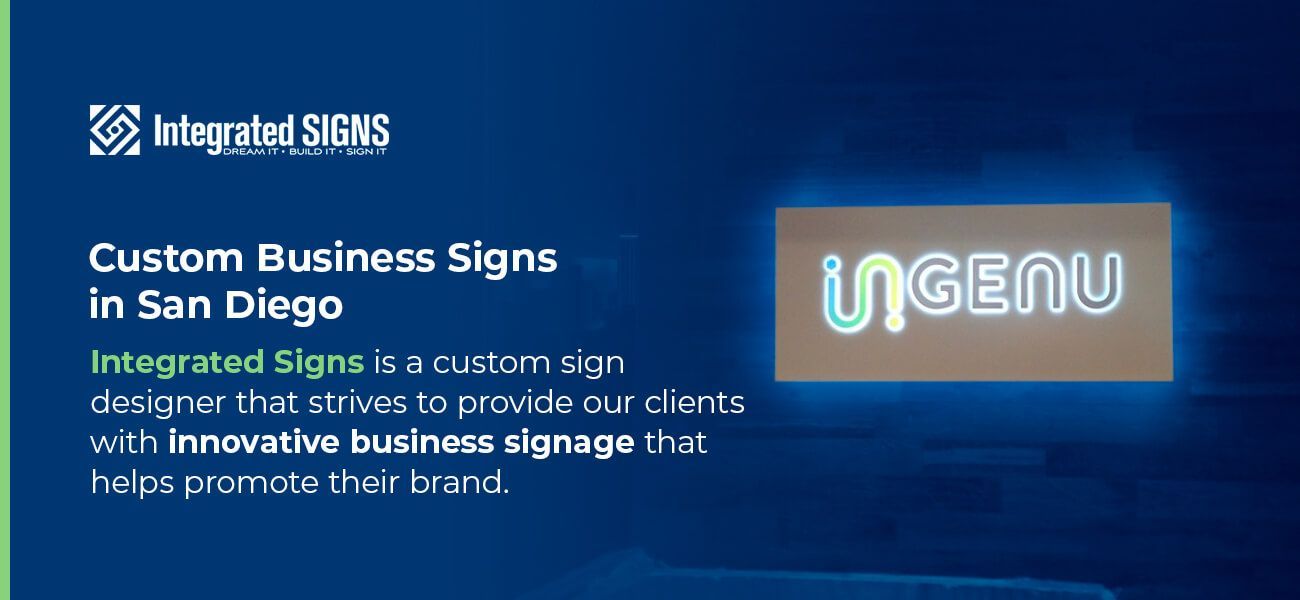 Custom Business Signs in San Diego
Integrated Signs is a custom sign designer that strives to provide our clients with innovative business signage that helps promote their brand. When manufacturing a business sign, we use only high-quality materials to ensure a beautiful, long-lasting and durable sign. Our goal is to create a sign that will maintain its beauty for years to come. We use state-of-the-art technology and software when manufacturing signs to provide our clients with the highest level of quality possible.
Get started creating your business sign today and contact us or call (619) 579-2229.