ADA Signage Placement and Requirements
Signs are everywhere. From company entrances to restrooms, signage is a standard part of building construction. In any commercial structure, signs are used to designate specific places and guide people through the building. They also have to be readable and accessible to any person who enters the building.
The Americans with Disabilities Act (ADA) establishes guidelines that a business's signage must follow to ensure it is easily identifiable by people across the disability spectrum. These guidelines are designed so that every person who enters a building can safely navigate the building's interior and easily find their way back out.
From conference room signs to exit signs and more, every type of signage needs to comply with state and federal regulations that are applicable. This includes signs in business offices, public places, schools, medical buildings and much more. Failure to comply with the now federally-enforcible ADA guidelines could result in the injury of a person visiting the building, along with lawsuits, investigations and other consequences.
ADA signage regulations, also known as code signage, may sound like a daunting hurdle to some, but they are fairly easy to implement. The following ADA signage guidelines provide a simple outline of code signage requirements for the common types of signs seen in most public buildings.
But first, it is important to understand the basics of the ADA.
What Is the Americans With Disabilities Act?

The Americans with Disabilities Act was created to make sure that people with visual and other impairments could safely and easily navigate public buildings and other structures. For businesses, this means signs need to meet certain technical specifications to be ADA-compliant. For example, all signs must have easily readable graphics, and they must be mounted within everyone's line of sight.
The ADA also authorizes the U.S. Department of Justice to regulate code signage and determine whether states, building codes and comparable ordinances meet ADA standards.
Types of Signage
Unless you work in construction or building regulation, you may be surprised to learn how many signage varieties exist in public spaces. The ADA now requires that every permanent space or room in a building incorporates ADA-compliant signs. Each space must also undergo a stringent construction and building process to ensure it is ready for use.
If you are in the process of constructing a building or simply want to make sure your business or facility is ready to pass an ADA inspection, you need to consider the following types of signs and their designated purposes in any facility. These types of signs can be regulated by the ADA:
Restroom signs: One of the most commonly recognized signage codes is restroom designation, which contains both words and universal symbols.
Permanent room identification signs: Permanent room identification signs are part of a broad category that could represent any permanent room in a building, including an office, conference room, break room, lobby and more.
Building exit signs: Building exit signs are usually ceiling-mounted or overhanging signs that designate the fastest and safest ways to exit a building.
Restricted access signs: It is important to designate restricted access areas in a building. Clearly indicating that certain areas are off-limits to the public saves people from injury and businesses from potential property damage.
Directional signs: Especially in large buildings like hospitals and schools, directional signs are necessary for helping people find their way around a vast and often confusing building layout.
Parking lot signs: In general, businesses with their own parking lots need to include spaces designated for disabled use only. These spaces must be identified with the universal handicap symbol.
Emergency signs: The ADA requires that all buildings subject to ADA compliance feature appropriate emergency signage, including emergency exit signs, elevator emergency signs and other related signage.
Different types of signage will require different technical specifications. It is crucial to create and place signs according to their purposes to ensure all of your signage complies with ADA regulations and all state building codes.
ADA Guidelines for Interior Signage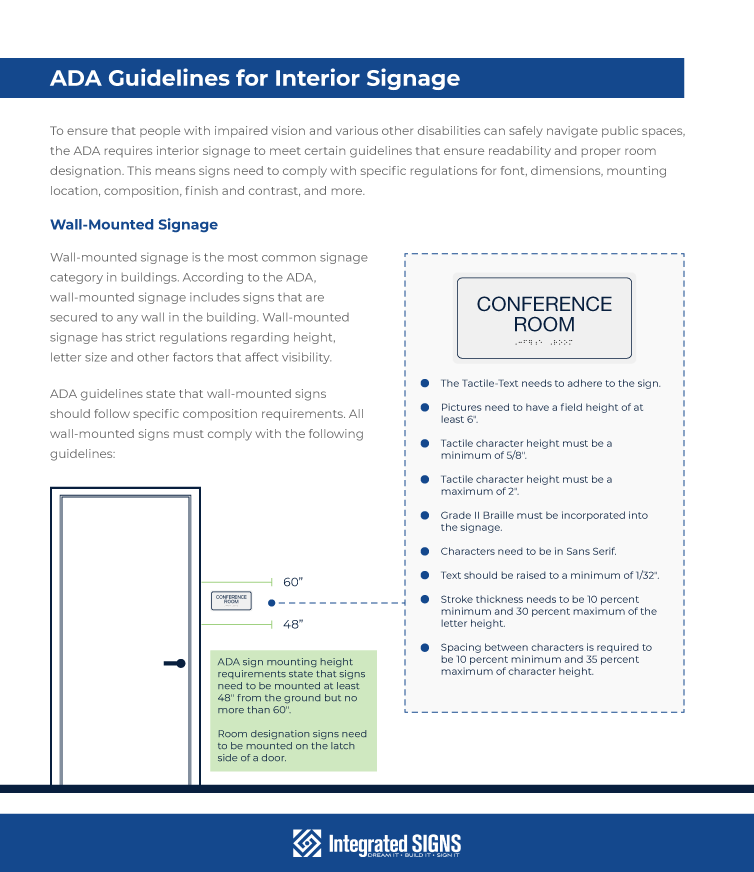 To ensure that people with impaired vision and various other disabilities can safely navigate public spaces, the ADA requires interior signage to meet certain guidelines that ensure readability and proper room designation. This means signs need to comply with specific regulations for font, dimensions, mounting location, composition, finish and contrast, and more.
Under the ADA's Standards for Accessible Design (SAD), as of March 2011, compliance with the following design standards is federally enforceable.
1. Wall-Mounted Signage
Wall-mounted signage is the most common signage category in buildings. According to the ADA, wall-mounted signage includes signs that are secured to any wall in the building. Wall-mounted signage has strict regulations regarding height, letter size and other factors that affect visibility.
Categories of Wall-Mounted Signage
Wall-mounted signage includes a variety of categories, and the following categories are covered by the ADA:
Identification of permanent room signs: These signs cover room designations that are not likely to change. Permanent room signs can include bathroom signs, office numbers, conference room signs and other permanent room signs.
Directional signs: Directional signs are designed to help people navigate through buildings and find specific rooms or other areas. They are typically located at building entrances or hallway intersections.
Informational: Informational signs are common in places like museums, galleries and other educational centers, but they can be found anywhere. Informational signs are designed to provide important information about a specific thing or place within a building.
Composition Wall-Mounted Signage
ADA guidelines state that wall-mounted signs should follow specific composition requirements. All wall-mounted signs must comply with the following guidelines:
The Tactile-Text needs to adhere to the sign.
Pictures need to have a field height of at least 6″.
Tactile character height must be a minimum of 5/8″.
Tactile character height must be a maximum of 2″.
Grade II Braille must be incorporated into the signage.
Characters need to be in Sans Serif.
Text should be raised to a minimum of 1/32″.
Stroke thickness needs to be 10 percent minimum and 30 percent maximum of the letter height.
Spacing between characters is required to be 10 percent minimum and 35 percent maximum of character height.
Mounting Signage on the Wall
Wall mounting standards refer to where wall signs are placed. The ADA requires the following:
Room designation signs need to be mounted on the latch side of a door.
ADA sign mounting height requirements state that signs need to be mounted at least 48″ from the ground but no more than 60″.
Finish and Contrast of Wall-Mounted Signage
The ADA has the following signage finish and contrast guidelines to ensure the text is clearly visible from far away:
Characters need to contrast with their backdrop.
Finish should be eggshell, matte or another non-glare finish.
2. Ceiling or Projected Mounted Signage

Ceiling or projected mounted signage does not require Braille because the signage is too high for someone to touch. However, this category of signage has requirements similar to wall-mounted signage.
Categories of Ceiling or Projected Mounted Signage
Ceiling or projected mounted signage usually come in Directional or Informational signs. They follow most of the same regulations as wall-mounted, with some exceptions.
Composition of Ceiling or Projected Mounted Signage
Ceiling signs do not need to use Braille.
If the sign is more than 10′ from the ground, a 2″ character minimum is required.
Mounting Ceiling or Projected Mounted Signage
The ADA requires that ceiling or projected mounted signs must have 80″ clear head space.
Finish and Contrast of Ceiling or Projected Mounted Signage
As with ADA wall-mounted signage, characters must contrast with their background enough to be visible from several meters away.
Characters should have non-glare finishes, such as matte or eggshell.
Choose Integrated Sign Associates for Your ADA-Compliant Signage Needs

Making sure your building's signs are compliant with ADA guidelines in 2020 and beyond may seem like a logistical challenge if you are new to the signage world. However, choosing the right signs and sign placement strategies for your building is simple with a partner like Integrated Sign Associates. We have been helping business owners and contractors alike create signs that are both aesthetically stunning and ADA-compliant.
If you're looking for signage for your building's interior or exterior, we have everything you need all in one place. From the drawing board to delivering the final product, the sign experts at Integrated Sign Associates are with you every step of the way to ensure that you get the design you want at an unbeatable quality.
Our processes are innovative and streamlined to ensure you get a beautiful product that outlasts anything you could get from traditional signage manufacturers. We're a one-stop-shop for all things signage, and we make sure the signs we craft for our customers tell the unique story of their brand through every detail.
If you have any questions about what we do or how we can help you meet ADA signage guidelines, give us a call today at 619-579-2229 or request a free estimate online.