Reverse channel letters, also called halo-lit channel letters, refer to individual letters with illumination behind their shape. They also shine and illuminate the wall behind them for easier reading. This delivers a wonderful ambiance with a soft, muted glow that's never too overpowering.
The channel letter has a fabricated face with returns made out of aluminum. These are painted to match any color and have clear backing to help diffuse the light in order to give off even illumination.
Reverse Channel Letters Company
At Integrated Signs, we can also do a combination of face lit and halo-lit, where the face of the letter is routed out with acrylic pushed-thru. It's all about the look that fits your business, and we're more than willing to work with you to come up with a design you're proud of!
To learn more about reverse channel letter signs and why Integrated Signs is a great choice, keep reading!
What Are Reverse Channel Letters?
If you're new to the world of signage, there is a wide variety to choose from. Some signs get the job done, and some signs get the job done with flare. Reverse pan channel letters get the job done with flare.
This kind of lighting is a unique way to label your building and provides a soft, high-class feel. It varies from face-lit channel letters in that the actual letters aren't lit but have a halo of light behind them. We can create the light halo in any color that offers a soft touch to any building.
When you work with Integrated Signs, we can also create a combination of a face-lit and reverse-lit channel letters to create a look that is perfect for your business. Read on to learn about the benefits of opting for reverse channel letter signs.
Reverse Channel Letters Benefits
How does incorporating channel letter fabrication benefit your business? Read on to find out!
1. They Offer a Soft Glow
If you're not keen on the harsh lighting that face-lit channel letters provide, reverse pan channel letters are perfect for you. This kind of signage generates a soft halo feel that isn't too harsh but still perfectly labels your business.
2. The Colors Are Customizable
If you're apprehensive about customization, reverse-lit channel letters still come with a fair share of customization options. You can choose any color for the backlight and we'll ensure your lettering matches your brand. We can customize colors for you if you opt for a combination of face-lit and halo-lit.
3. They Provide a High-Dollar Feel
If you want a sign that will make your business look top-dollar, reverse-lit channel letters are perfect. The halo they create makes the outside of your establishment look like something off Rodeo Drive while adding a touch of coziness to your location.
Reverse Channel Letter Applications
When you need large or deep letter forms, reverse pan channel letters are the perfect solution. All of our letters will make a big statement outside your business and are structurally strong. The back-lit feature will enhance your signage, making it easier to see, even from the highway. Whether you're a large grocery store or a huge warehouse, channel letter fabrication will ensure your brand gets noticed.
Best Font Types for Reverse Channel Letters
When landing on the perfect font type for your reverse channel sign, there are a few options that work best. The four primary categories for fonts include:
Block
Serif
Round
Script
Each group has a few typefaces that make for wonderful signs, such as the following:
Arial Black
Franklin Gothic Demi
Futura Bold
Helvetica Bold
Clarendon Bold
Copperplate Gothic Bold
Garamond Bold
Dom Bold
Brush Script
Kaufmann Bold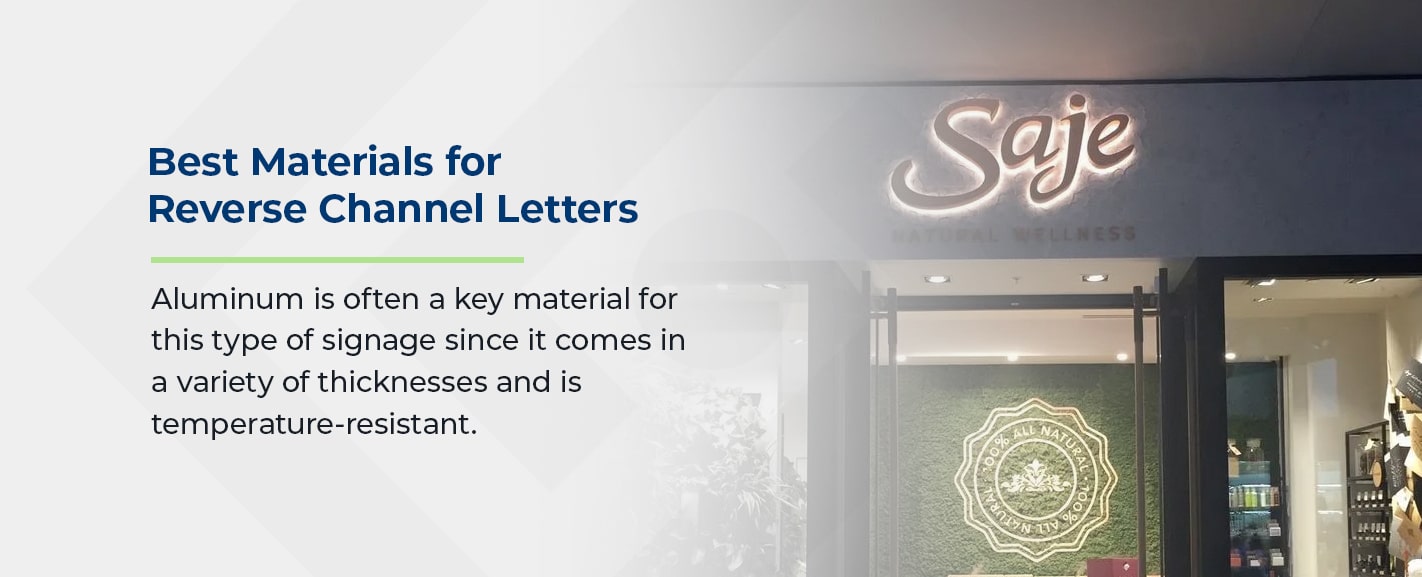 Best Materials for Reverse Channel Letters
When creating reverse-lit channel letters, it's important to use materials that look professional and diffuse the light effectively.
Aluminum is often a key material for this type of signage since it comes in a variety of thicknesses and is temperature-resistant. Manufacturers can use this for both faces and returns.
Acrylic is also a great material in the production of these signs because it effectively diffuses light and looks sleek, though this may not be the best option for outdoor signs.
Reverse Channel Sign Illumination Options
There are two primary options for lighting reverse channel signs – neon and LED.
Neon illumination is especially beautiful and visible at nighttime. It is both energy-efficient and durable. LED options are also environmentally friendly since they are low voltage and lightweight. Both can last for years on end.
Reverse Channel Sign Installation
When mounting a reverse-lit channel sign, there are many factors to consider, like the right letter placement and having tools powerful enough to drill through various materials.
Integrated Signs knows installing signage is an art form in itself, and our team is well-versed in getting it right every time.
In-House Fabrication for Reverse-Lit Channel Signs
Integrated Signs manufactures every sign in-house. Our technicians use the greatest computer numerical control (CNC) machinery available that is highly precise and works with handcrafting to create one-of-a-kind designs.
We choose the best materials and paint, so your sign lasts for years to come.
What Are the Specifications of Reverse-Lit Channel Letters?
Reverse-lit channel letters require different specifications than other signs. Our conceptual sign design team at Integrated Signs can work with you to determine the best dimensions and specifications for your project.
How Much Do Reverse Channel Letters Cost?
Because signs are often unique and customized, it is challenging to share an indefinite price. The overall price will include the following:
Full-service project management
Local permitting
Physical materials
Manufacturing
Delivery and installation
Choose Integrated Signs in San Diego for Channel Letter Design, Fabrication & Installtion for Your Business.
If you're interested in learning more about the possibilities that come with channel letter fabrication, Integrated Signs can't wait to talk to you. We work with a wide variety of clients in an array of industries and prioritize quality and customer service. We'll always update you on every step of the process, and we won't start your sign until you're enamored with the design.
We use only the best materials to create a high-quality sign that will last, and our equipment is up-to-date and ready to handle any project.
Whether you're in El Cajon, California, or someplace else nationwide, Integrated Signs is here for you. If you're interested in a free quote and a free sketch of your new sign, feel free to contact us today!