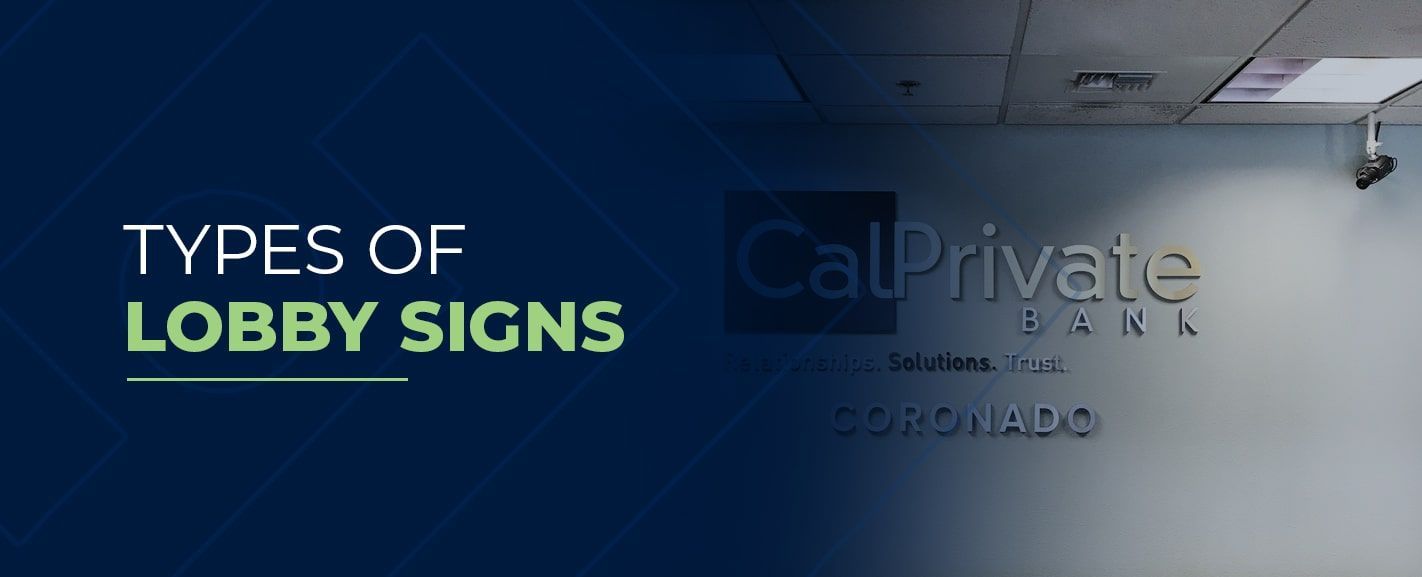 The first impression of your brand is a vital opportunity to showcase your products and services while building a relationship with a potential customer or client. Similar to a business card, lobby signs are a unique element that is often the first experience a customer may have with your brand when entering your business. Creating an impressive visual that blends functionality and professionalism is key to building lasting relationships with customers.
Interior Signage Company
If you want to take your business to the next level, it's important to consider interior signage. And if you're looking for one of the best sign companies to work with for your indoor signs, Integrated Signs is here for you.
Keep reading to learn more about lobby signs, the benefits of indoor wall signs and why Integrated Signs is your best choice.
What Is Interior Signage?
Interior signage is any brand signage that appears within your establishment. The goal of interior signage is to make visitors feel comfortable with your business and give them the information they need to find things. Not only does interior signage refer to lobby signs, but it also includes indoor signs such as door labels, murals and more.
When you work with Integrated Signs, we can create interior signage that speaks to your brand by using your colors, as well as integrating your logo. We can create everything from lobby signage to indoor wall signs that label the different sections of your building.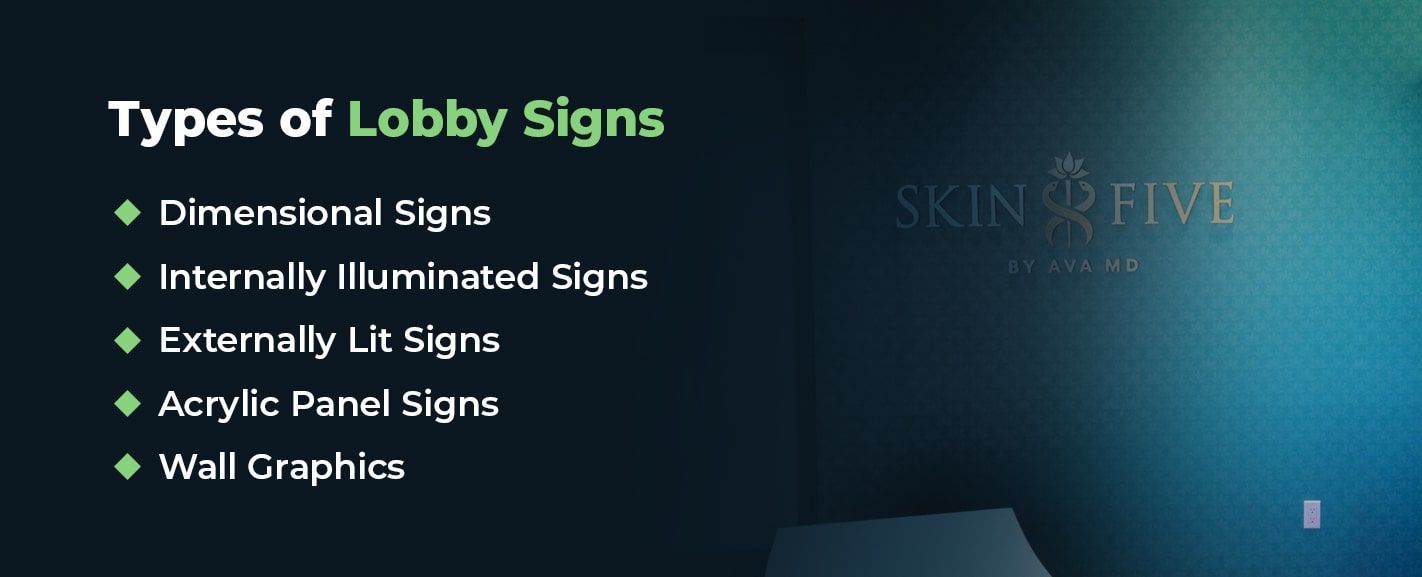 Types of Lobby Signs
Your lobby sign acts as your first impression and can help attract potential customers. Corporate lobby signs can create a strong brand presence and extend your marketing efforts. Potential clients and customers can get a feeling of your overall business and branding with a professional lobby sign.
Any signage for your business is an integral part of your marketing efforts. A sign is an effective way to promote your business that offers continuous and prominent exposure. Corporate signage is a popular method of advertising because it is cost-effective and can promote your business daily.
Here are some common types of signs for lobbies.
Dimensional Signs
Dimensional logo signs are a popular signage choice that features a simple, elegant and eye-catching design. Common lobby sign materials include acrylic, steel, aluminum and metal laminates. With dimensional lobby signs, each piece of the sign is cut individually and made with the utmost precision to create a balanced and aesthetically pleasing look. Dimensional lobby signs add additional aesthetic appeal with their three-dimensional design, providing depth and texture to the display.
Internally Illuminated Signs
Internally illuminated signs create a sophisticated appearance that can effectively showcase your company's logo with halo-lit channel letter signs. Internally illuminated signs offer a technologically advanced appearance that can showcase your modern brand. Energy-efficient LED lights are some of the most common lights when creating an internally illuminated sign. Internally lit signs are versatile lobby signs that can be free-standing or mounted on a storefront or internal wall.
Externally Lit Signs
Similar to internally illuminated signs, externally lit signs are a unique design that uses external light sources to add dimension to a sign. In some cases, overhead lighting showcases your sign and draws attention to its design. Other times, customizable lobby signs are paired with unique lighting sources for an attention-grabbing appearance. In addition to overhead lighting, externally lit signs often use recessed or underhead lighting for a dramatic effect.
Acrylic Panel Signs
Acrylic panel signs are created using a versatile acrylic glass commonly referred to as plexiglass. An acrylic panel sign is an ideal choice if you are looking for office signs or reception area signs with a sophisticated or innovative appearance. Durable and long-lasting acrylic panel signs come in various colors and can be used with internal and external lighting for an elevated look.
Wall Graphics
Wall graphics provide your business the opportunity to present your branding and messaging more in-depth. A wall graphic can feature a mission statement, services or other vital information relating to your business as well as a traditional logo or name. Wall graphics allow you to tell your brand's story, market your products and services, add unique design accents and convey accomplishments.
Interior Signage Benefits
Lobby signs provide various benefits and help support your existing branding and marketing strategies. A customer's first impression of your lobby can set the overall tone and experience they have with your company. An ergonomic and appealing design can improve a potential customer or client's perception of your brand.
Enhance customer experience: Improving customer experience can help build trust between the brand and consumer. Research has shown that customers are likely to spend 140% more after a positive experience with a brand than customers who had a negative experience.
Improve brand image: Cohesive branding is an essential aspect of any business looking to improve its overall marketing strategies. An ideal lobby sign can easily let potential customers know whose lobby or reception area they are visiting. Reception area signs, including wall graphics, can also help to provide additional information to customers.
Showcase products and services: Directory signs or signs with additional information can help customers navigate your business or learn about the most important aspects of your brand. Lobby signs can point potential customers in the right direction.
Advertise menus: Menu signs can effectively show potential customers the hours of operation, menu options and other relevant information.
Save staff time: Signs with a company logo can help to save staff time by providing frequently asked information directly to potential customers or clients. Logo signs or informational signs can help customers know what business they are in and some of the most important information or services your business offers. With this information readily available for customers, staff can spend less time answering frequently asked questions and focus on other essential job duties.
Interior Signage Applications
Lobby signage is a unique and customizable business aspect that uses various designs, colors, styles and lighting to attract and inform potential customers or clients. While many may think of a traditional business logo sign, various signage styles can help customers learn more about your brand or navigate throughout your business. Choosing the right sign for your company and industry can help increase sales and promote a positive experience for customers.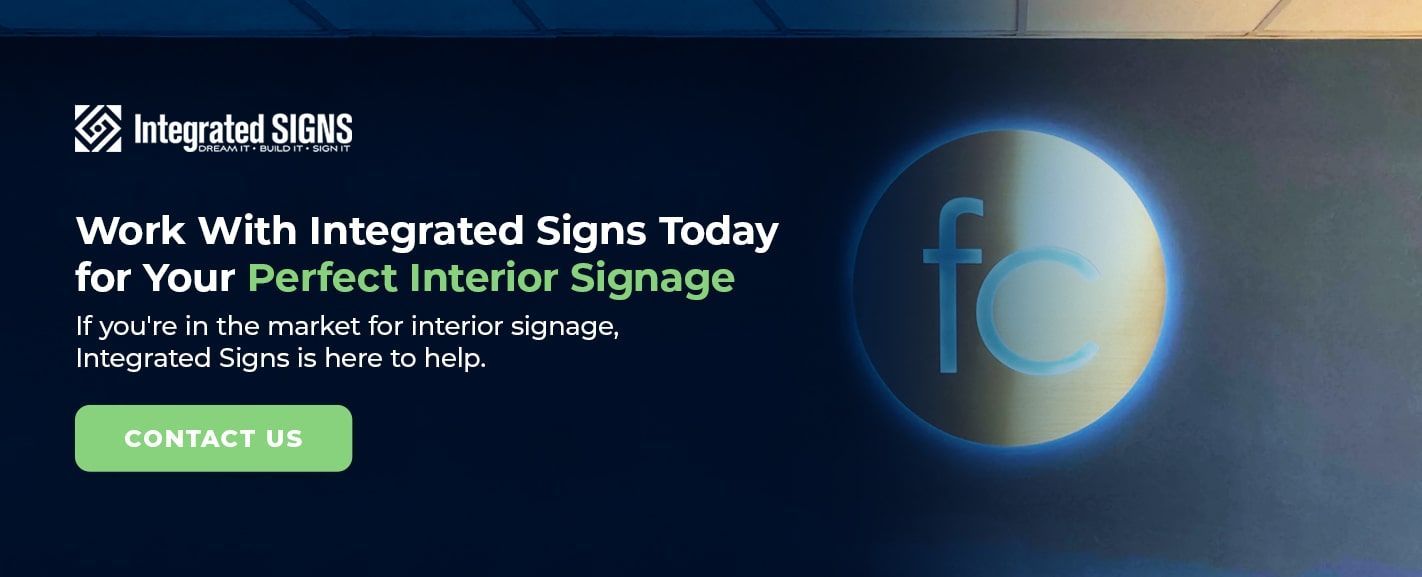 Work With Integrated Signs Today for Your Perfect Interior Signage
If you're in the market for interior signage, Integrated Signs is here to help. Contact us today for a free quote and free sketch to get you started.