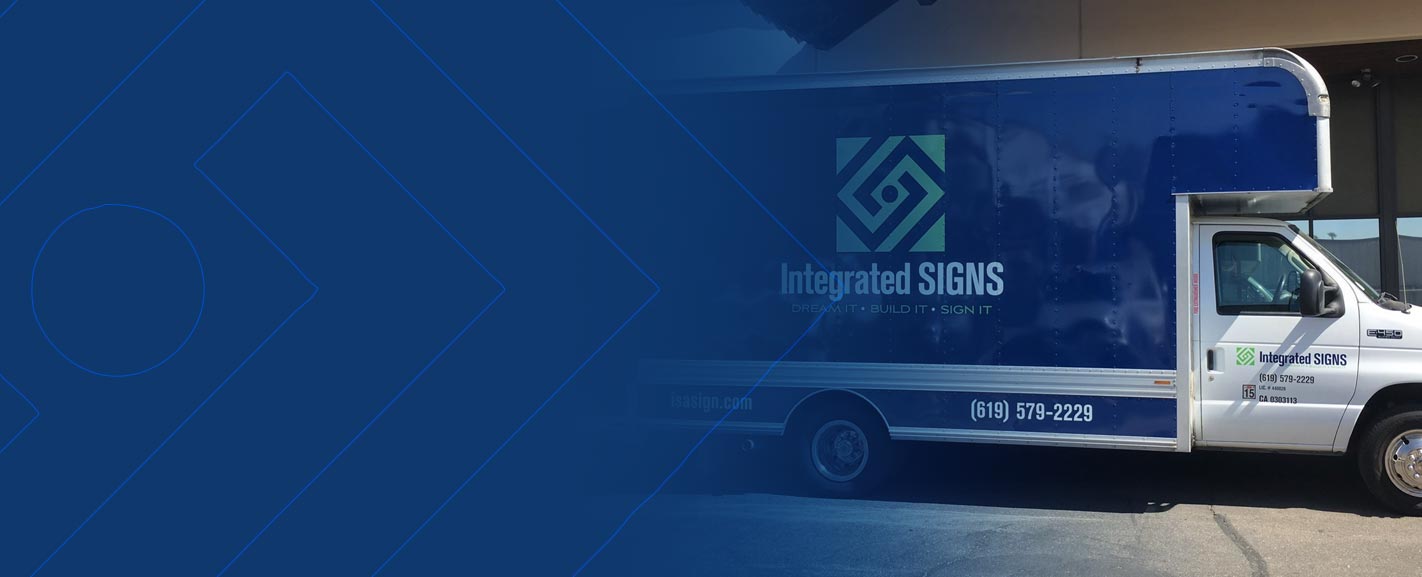 Vinyl Lettering for Windows, Walls & Fleet Vehicles in San Diego
Vinyl is a multipurpose product. Vinyl is best for glass door graphics like your logo and store hours or applying a nice decorative privacy film to windows and conference room glass. There are many options for vinyl graphics, so if you're looking for extreme customization, vinyl lettering is a great option. Vinyl signage is a cost-effective way to provide information to your customers, and it's also a great way to upgrade your interior spaces with a pop of color.
If your company uses vans, trucks or other vehicles to move to job sites or transport materials, you can use them as powerful marketing and branding tools. With vinyl lettering and graphics, you can transform your transportation methods into moving advertisements.
Your San Diego Fleet Vehicle Lettering and Custom Graphics Company
Integrated Signs specializes in all things signage, and vinyl graphics are no exception. If you're looking for custom lettering and decals in San Diego or beyond, we can help. Keep reading to learn more about vinyl lettering, the benefits of choosing them for your signage and why Integrated Signs is the perfect partner.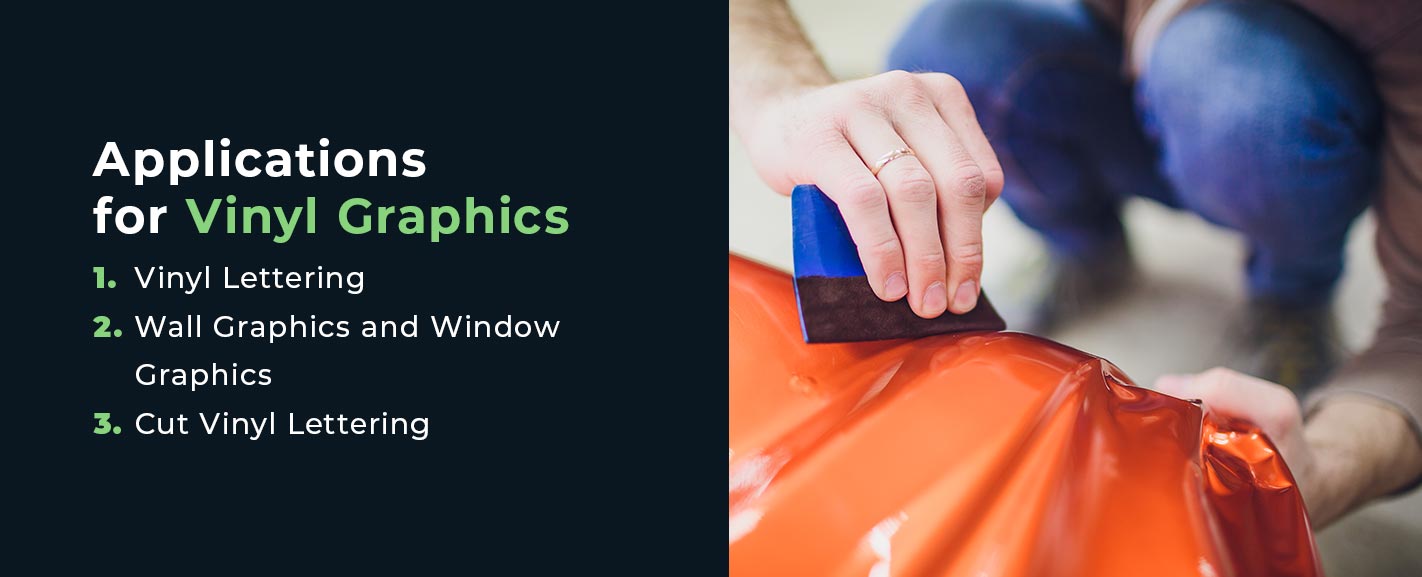 Applications for Vinyl Graphics
Almost any industry can benefit from vinyl graphics. Retail stores can use custom vinyl lettering to display their branding, and gyms can apply vinyl window graphics to give people working out a sense of privacy. If your company has a special set of messaging, custom vinyl graphics will help you show it off to customers in a professional and unique way.
1. Vinyl Lettering
Vinyl lettering uses easily range from interior communication to your customers about key business information like store hours to larger applications like applying branding and contact information on outdoor signs or vehicles. Vinyl lettering also provides many material choices and color options to help provide a cost-effective solution for your immediate business needs or a long-term investment for your business by utilizing higher-quality vinyl material options to withstand elements and provide higher durability and longevity.
The most common applications for vinyl letterings are essential storefront communications. Attention-grabbing vinyl window letterings let your customers know they're in the right place by identifying your business and convey your availability by clearly advertising storefront hours. Use them to notify current and potential customers about promotional offers or customer loyalty programs. Vinyl wall lettering is ideal for advertising discounts, deals and sales.
Plus, you can install vinyl lettering on your storefront floors. These decals are perfect for simple messages. For example, use them to reinforce social distancing, encourage entry and exit patterns or direct customers to your current promotions.
Common uses for vinyl graphics and lettering:
Contact information
Banners
Social media icons and handles
Signs
Safety measures
Car graphics
Business suite addresses
Addresses on mailboxes
And more!
2. Wall Graphics and Window Graphics
Integrated Signs can also help you dress up the interior or exterior of your business using window graphics. Add your logo and contact information to your office entrance, take advantage of empty window space across the front of your retail location to announce sales or promotions and many other dual-purpose options.
Perforated vinyl window graphics can be used for building windows, car windows or virtually any flat window surface. We can print a full-color design on the non-sticky side of the vinyl, giving the illusion of a solid printed vinyl window graphic, while at the same time, allowing you to have full visibility from the inside looking out. Perforated vinyl contains lots of tiny holes to allow a solid appearance on one side while allowing full visibility from the opposing side.
It's also a great way to cut down sun that beats down on the front of a building or provide privacy for windows on the back of businesses to avoid vandals and thieves from seeing materials inside your building. Lots of businesses chose perforated vinyl window graphics for advertising their brand or contact information on the rear windows of pickup trucks or delivery vans while they are out in the field traveling.
Frosted vinyl is another option that can be used for covering full windows or portions of windows for privacy. Frosted vinyl window graphics are also a cost-effective way to create a higher-end etched glass look while providing easier ways to update and change graphics or info without needing to swap out the pane of glass. Etched vinyl window graphics are also a great option for businesses leasing office space since they can be easily removed before vacating your space.
Any of these same materials can easily be applied to interior walls too. Wall graphics can range from full or partial coverage. Wall graphics are a great option for businesses looking to create a statement wall in a lobby, waiting area or meeting room.
Use colorful custom designs to help inspire creativity, encourage higher productivity and establish a sense of shared purpose. For example, you can implement them to reinforce a company value like sustainability or as a reminder of how far your business has come from its humble origins.
Other popular choices for wall graphics include:
Mission statements
Business history and timelines
Logos and branding
Printed photo wall murals
Graphic element wall murals
Unique selling points for your business like low price guarantees, 24/7 service, fast turnaround times, etc.
Directional queues within stores to differentiate departments
And more!

3. Cut Vinyl Lettering
Cut vinyl lettering allows you more design flexibility with two options for cutting — standard and reverse.
We digitally cut each piece of standard-cut lettering from your choice of vinyl, and it's ready for immediate installation. Conversely, reverse-cut lettering is a solid vinyl surface with the lettering removed. The resulting silhouette allows vehicle or wall colors to show through the letter outlines. In other words, standard-cut vinyl lettering comprises letters cut from the material, while reverse-cut style is lettering made from the vinyl's negative space.
This concept differs slightly from reverse-print vinyl, which Integrated Signs can also help with. With reverse-print, we design and cut the letters as a mirror image. When you install this letting on a window's interior, guests outside can read it easily.
Request An Estimate for Vinyl Signage
What Are Vinyl Graphics?
Vinyl graphics are giant vinyl stickers you can use to brand your workplace, as well as create private areas by adding privacy film. In terms of cost, they're on the lower end of pricing, which is why they're an extremely popular signage type among businesses. The best part is — they're no less effective than an expensive sign, and can brand your building just as well.
Vinyl graphics are extremely customizable, which means you can opt for your logo, a tagline, your company name and more — using a wide variety of colors and fonts. Not only can you use custom vinyl graphics for your signage, but you can also use them to create private areas of your building by opting for privacy graphics. They essentially make your glass look frosted.
The Difference Between Vinyl Lettering, Graphics and Wraps
With so many different vinyl applications, it can be confusing to select the right option for you with similar terms. Your vehicle vinyl lettering and wrapping come in many types, letting you find a solution that best works for your company and marketing purposes. In general, vinyl comes in lettering, graphics and wraps:
Lettering: Lettering consists of only written text, though it comes in various colors and styles to help meet your branding standards.
Graphics: Vinyl graphics add more visual elements, like pictures and logos, with the same level of visual variety. They can come in all sizes, from smaller stickers to larger decals, to help you fit them onto your vehicle.
Wraps: Wraps go around the entire vehicle and require a professional to design, fit and install. They include lettering and graphic elements, making them more versatile. Wraps can be complete or partial car wraps, meaning they only cover a small section of your vehicle.
You can apply vinyl visuals to various vehicles. Whether you need vinyl truck lettering or vinyl boat lettering, you can use these types and techniques for your vehicles for increased brand presence and marketing consistency.
The Benefits of Vinyl Graphics
If you're still on the fence about using custom vinyl lettering and graphics, see some of the benefits below:
1. They're Cost Effective
A lot of illuminated signs or even hanging signs you might want for your business can get pricey. That's because of all the wiring and design that goes into making them operational. With vinyl lettering, you can save a lot of money while also customizing your business with your logo and speaking to your brand.

You can create quality branding material with everything you need without breaking your budget with vinyl lettering and graphics. Further, removing the vinyl from vehicles is easy and doesn't harm the vehicle's exterior, letting you update and change your fleet as needed.
2. They're Easy to Install
Other signs can require wiring and mounting, but vinyl window graphics and more are quick and easy to hang. You can typically finish them in just one day, and without a ton of manpower.
3. They Strengthen Your Brand
Just like other signage types, vinyl lettering strengthens your brand. When customers walk in the door to see the name of your company and your logo, they'll have an immediate sense of your brand and company.

4. They're Durable and Long Lasting
Thanks to the inherent properties of vinyl, it's an ideal choice for interior and exterior applications. The material stands up to the elements, giving you long-lasting performance, individuality and visibility.
Vinyl is incredibly durable and has a long life span if properly installed and maintained. This material can withstand water, UV rays and other weather conditions, helping minimize fading, tearing and scratching. Some companies even use vinyl to decorate boats and airplanes. When you use vinyl to wrap or decorate vehicles, you ensure a long-lasting marketing tool you can depend on until you decide to update it.
Vinyl also comes in various thicknesses, offering increased protection when needed. If your vehicles experience more wear than typical, you can better protect them and your designs with more premium materials.
5. They're Customizable
Your vinyl lettering and graphics give you more control over your visual marketing and branding. You can choose every visual element involved, from colors and fonts to pictures and logos unique to your company. It's easy to express your brand's personality or echo its colors on storefronts, commercial vehicles and other surfaces. With several types and materials to choose from, you can create an advertisement and vehicle like no other, helping it attract customers' attention.
You can choose various vinyl finishes to customize your vehicle's aesthetic. Metallic touches give your designs some sparkle and visual appeal, while reflective materials increase visibility.
6. They're Visually Appealing
Vinyl wrapping and lettering look nice. The color and visual elements draw the eye, helping impress other motorists and pedestrians as you pass. Because you can completely customize and develop the design, you can create a cohesive look incorporating every aspect of your marketing strategies, from branding standards to color story.
These details help boost your fleet's professionalism and impression with potential and existing customers.
7. They're Comprehensive
Whether you choose car lettering or vinyl wraps, you can include extensive amounts of information on your vehicles. Lettering lets you share the company name and contact methods, including phone numbers, emails, websites and social media pages. You can even use lettering to display your slogan.
Graphics and wraps add to your marketing material, letting you include your logo, mascots, spokesperson or other visual elements that help customers understand and remember your company and its values.
Material Style Options for Our Vinyl Lettering
We offer various styles of vinyl to choose from, so you can create the ideal design for your specific needs. These include:
Standard vinyl: We use high-performance vinyl with intermediate thickness for an extended life span.
Premium vinyl: This option provides the longest durability with heavier material.
Metallic vinyl: Metallic vinyl adds a touch of sparkle to your lettering and comes in a standard thickness to deliver lasting performance.
Reflective vinyl: When using this option, light bounces off your lettering for increased visibility in low-light conditions.
Fluorescent vinyl: This option commands attention and makes a statement with bright colors that enliven your advertising.
Pricing
At Integrated Signs, we strive to provide cost-effective visual communication solutions. Our pricing is competitive and custom based on your project needs. As a result, prices vary depending on factors like:
Letter height: Mix different heights or make a bold statement with a consistent size across the entire message. Larger lettering generally costs more since it requires more material.
Material style: Maximize your advertising dollars with standard vinyl or upgrade it with options like metallic finishes, fluorescent colors or reflective properties. Premium selections typically increase the price because the vinyl is more expensive.
Letter count and word length: Be as concise as possible or impart additional key information — the choice is yours. You can opt for abbreviations when they make sense to help keep costs low.
Complexity: Showcase your brand's unique personality with custom fonts and logos or select a standard lettering style for ease. More intricate designs may raise your costs.
In all cases, we're committed to helping you find the best vinyl lettering solutions to meet your project and budget needs. Reach out for a custom quote to find out how affordable it is to attract attention!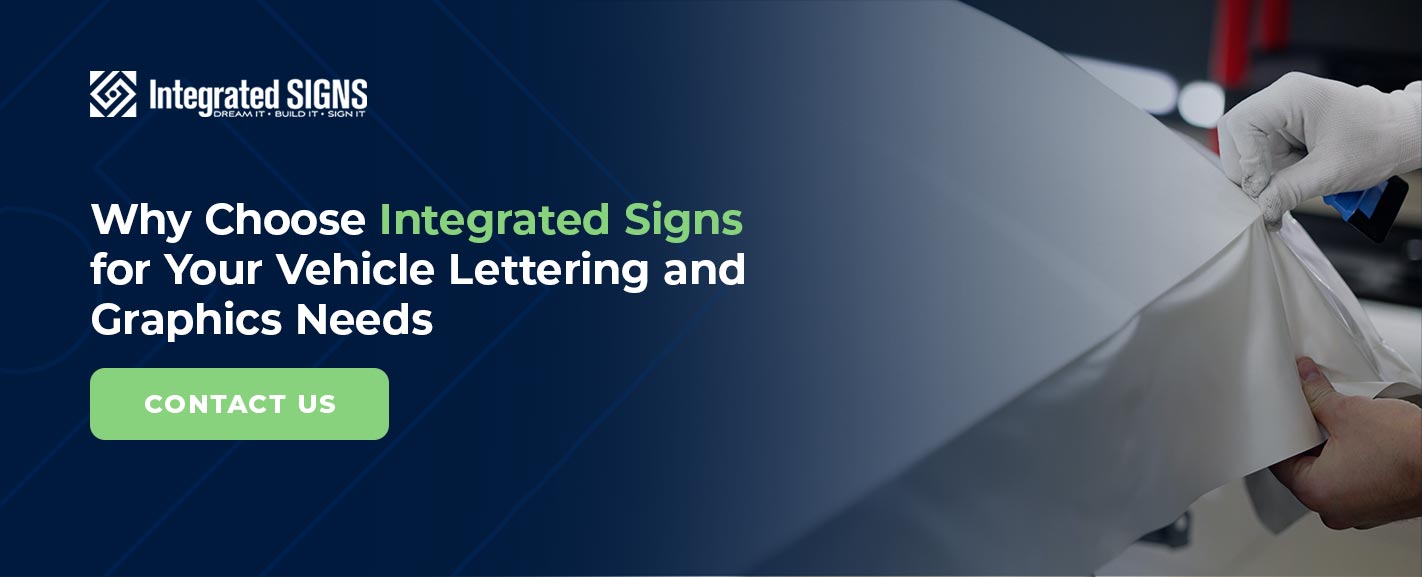 Why Choose Integrated Signs for Your Vinyl Lettering & Graphics Needs
If you're in the market for vinyl graphics, Integrated Signs is here for you. We make our customers our priority, and we'll always create a product you love. We'll even create a free set of sketches to show you our plans before we start on them to ensure you're satisfied. You'll always have the final say of whether or not your custom vinyl graphics go to print.
We also offer free quotes so you can determine if we fit your price range. Our company uses only the best-in-class printers and equipment to make sure your vinyl graphics look amazing every time.
To learn more about our vinyl graphics or the other signs we provide, feel free to contact us today!