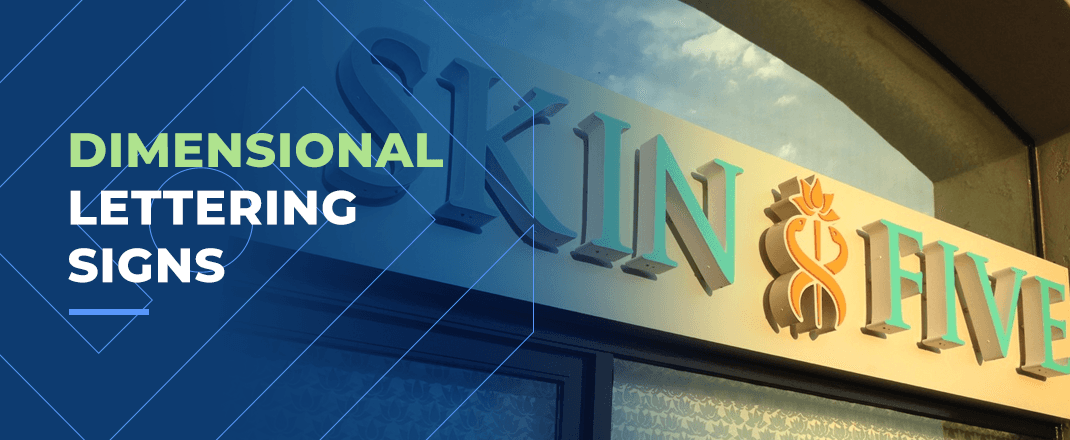 Dimensional lettering signs consist of distinct, solid, individual letters, logos or numbers. Whether flushed or raised, they offer visual depth, and they can serve various purposes — they can help anyone identify and locate your building or allow for internal wayfinding. They're mountable to almost any surface on the inside or outside of a building. Dimensional signs can incorporate internal illumination, exposed bulbs or backlit "halo" lighting for better nighttime visibility.
You can find custom dimensional signage in a wide array of materials, textures, sizes and styles. Large, durable lettering presents an opportunity for fine-tuning your brand image, contributing to a sleek, professional appearance and boosting your visibility.
About Dimensional Lettering Signs
The individual three-dimensional letters or symbols consist of a durable material such as metal and are either raised or mounted flush with the wall. You can customize their size, depth, material and finish depending on the look you prefer. They work well inside and outside, drawing attention from a distance or providing information to those inside your building.
Types of Dimensional Letters
Two main production methods are available for dimensional letter signage, including flat-cut and fabricated channel. Both are versatile in material and appearance.
Flat-Cut Letters
To create flat-cut letters, you use a computer numerical control machine, which adheres to a coded, programmed set of instructions. It uses a laser, water jet or router to cut out the correct shapes. This technology results in clean-cut, precise lettering. You can use many different materials with flat-cut lettering technology.
Fabricated Channel Letters
Fabricated channel letters consist of bent channels glued or welded into the correct shapes with automated technology. Inside, they have a "can" for housing electrical wiring. They're a long-lasting and durable option, allowing for various lighting techniques. Exterior face-lit channel letters are a popular choice, offering a stark and beautiful shine. Another option is reverse or halo-lit channel letters, with light glowing behind each letter. They create a softer ambiance and a more noticeable three-dimensional pop in dark surroundings.
The Benefits of Dimensional Lettering
Dimensional signs offer many benefits for businesses and organizations. They're an ideal option for a wide array of purposes, including advertising, location finding and wayfinding. Some notable advantages of dimensional lettering include the following.
Durability
Custom-built dimensional lettering can last for years, even if exposed to harsh outdoor conditions. Preferred material options for long-term durability are aluminum or stainless steel. These materials are corrosion-resistant and will not expand or contract with weather changes.
Visibility
Dimensional lettering stands out, easy to read from a distance. Its three-dimensional quality makes it eye-catching and various lighting options let each letter stand out in the dark. Visibility is an absolute must for any business or organization — the ability to catch attention from a glance can attract new customers, prevent lost business and reach audiences in real time.
Attractiveness
One of the primary reasons to choose dimensional lettering is its attractive and professional appearance. Raised and illuminated letters look stylish and sophisticated in any setting.
Versatility
Dimensional letter signs offer unmatched versatility. They allow you to customize every feature, including size, thickness, color, typeface and lighting. In that way, they provide an opportunity to define and display your unique brand image and personality.
Your Material Options for Dimensional Letters
You can choose your preferred material based on appearance, durability, cost and other factors. Material options include:
Temperature-resistant aluminum.
Dibond, an aluminum composite with a polyethylene core.
Acrylic.
Sintra board or polyvinyl chloride.
Plastic.
Stainless steel or corten steel.

Frequently Asked Questions About Dimensional Lettering Signs
Dimensional letter signs offer flexibility in design, lighting and finished look. Here are some of the most frequently asked questions about dimensional lettering.
What Typography Styles Are Available?
Custom typography, including line length, width, spacing and style, is one feature that makes a brand unique. You need to match your dimensional signage with your other materials to create cohesion and brand recognition. Custom sign design services let you create three-dimensional signage in your desired typography.
How Do You Mount Dimensional Letters?
Several techniques are available for mounting dimensional letters, either flush or raised. On a smooth surface, you can mount dimensional letters using double-sided tape. Studs let you mount letters on textured surfaces. The mounting technique will also depend on the lighting — halo-lit letters require elevation for the glow to shine. Other options include top or bottom rail mounts, which make letters appear to hang or stand upright.
What Lighting Options Are Available?
Several different methods allow dimensional signs to light up in the dark. The lighting options for dimensional letters include the following.
Face light: Most signs you see on buildings glow with a face light or front-lit channel. The letters shine thanks to LEDs organized behind a translucent face material. This lighting technique makes letters easy to read from a distance.
Halo light: Another popular method is halo-lit, also called reverse or backlighting. The light surrounds each letter's shape, which makes them appear to be floating.
Combination light: Some dimensional signage incorporates both face lighting and halo lighting. The letters themselves glow with halos of light around them. You can combine both lighting methods to create contrast and visual interest.
Spotlight: Another way to make your dimensional signs visible in the dark is to use one or more spotlights. Using spotlights on metal letters gives you more flexibility in design and mounting technique.
Non-illuminated: Not all signs require lighting — you can opt for non-illuminated signage for daytime or internal use.
What Are Some Examples of Dimensional Lettering?
You can check out real-life examples of dimensional lettering signs, as well as other types of signs, to help you decide what might work best for your purposes. Customization capability will allow you to incorporate features you like from finished projects to create the best dimensional sign for you.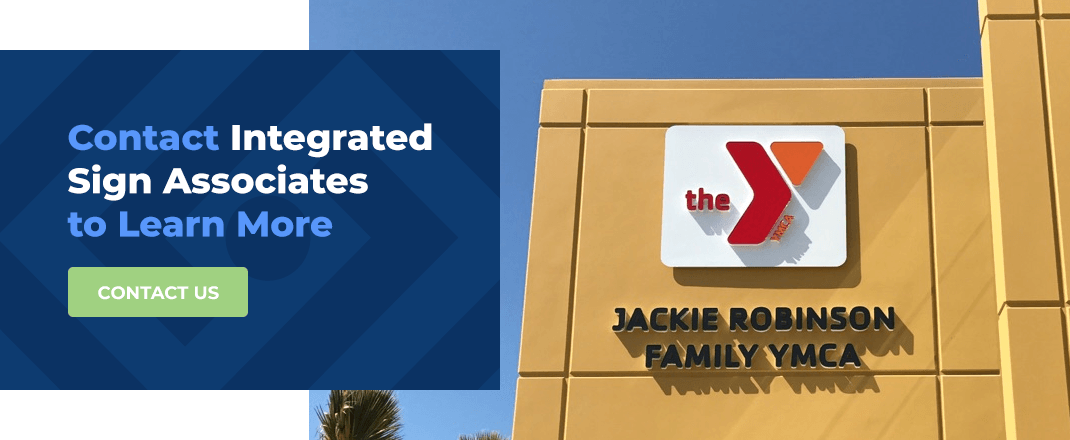 Contact Integrated Sign Associates to Learn More
Dimensional lettering signs allow a word, number, phrase or logo to stand out. Their durability makes them a wise long-term investment. Using dimensional signs is one of the most effective ways to convey information at a glance, thanks to their sharp and professional appearance. Whether you want your building to be noticeable from the highway, you need navigation signs for visitors or you're looking for a unique way to tell your story, dimensional lettering is an ideal option.
If you need custom-designed dimensional signage for your business or organization, consider Integrated Sign Associates. Here, we prioritize building high-quality, unique signs without cutting any corners. We can bring your vision to life with custom signs made from the best materials and finishes. Feel free to contact us today with any questions. If you're ready to create new custom signs, request an estimate with Integrated Sign Associates.