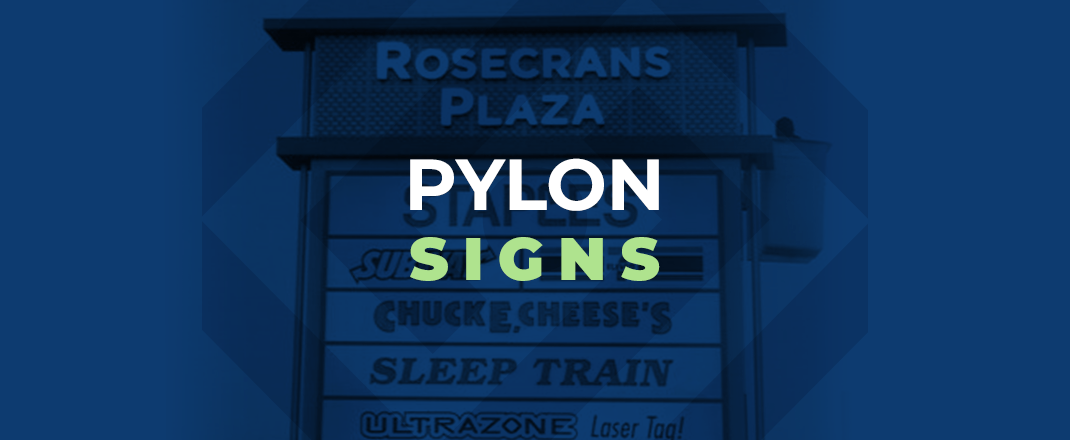 A gorgeous, eye-catching pylon sign is an excellent way to advertise your business. Whether you are the owner of a shopping center and want to provide your tenants with a way of bringing in business, or you want to advertise your own business, custom pylon signs are a classic, attractive way to pull in more customers.
Pylon signs, also called pole signs, offer additional value to any business. You can even have illuminated or digital pylon signs. Our designers can help you create one-of-a-kind signage, built to stand the test of time.
What Are Pylon Signs?
You may not be familiar with the term pylon sign, but you've certainly seen plenty of them around. This type of signage is very common and frequently used at shopping malls, gas stations, hotels and restaurants. Drive through any commercial area, and you're bound to see lots of pylon road signage. These outdoor signs are attractive, eye-catching advertisements that draw customers into a business.
Pylon highway signs are tall enough to see from the road but can be just about any size. The taller pylon signs can be seen from a distance to help motorists find the business location and exit at the right time. Pylon signs are mounted on one or two poles and are typically on the company's property but freestanding from the building. Pylon signs usually have lighting, often in the form of a lightbox inside the sign that uses fluorescent bulbs or LEDs, but can be unlit too.
All types of businesses use both single-sided pylon signs and double-sided pylon signs. These signs can advertise a single business with the company name and logo or a collection of businesses together, such as at a shopping mall. In the case of pylon signs for multiple businesses, each business can have its own lightbox on the sign. Whether there's one business or more, the lightboxes are arranged on a base that can be constructed from metal poles, brick or stonework.
Pylon signs are completely customizable, designed to fit the needs of the businesses they promote. The face of the sign is custom designed to feature the company name, logo or any other pertinent business information.
Other Names for Pylon Signs
You may have heard other names for pylon signs before, or wonder the differences between pylon sign vs. pole sign. The truth is that pylon signs go by several other names, including pole signs. These terms can usually be used interchangeably. Although pole sign is probably the most common, pylon signs are also referred to as highway signs, road signs, pylon road signs, freestanding signs and pylon expressway signs. When you work with Integrated Signs, you can feel free to use any of these terms, and we'll know what you mean.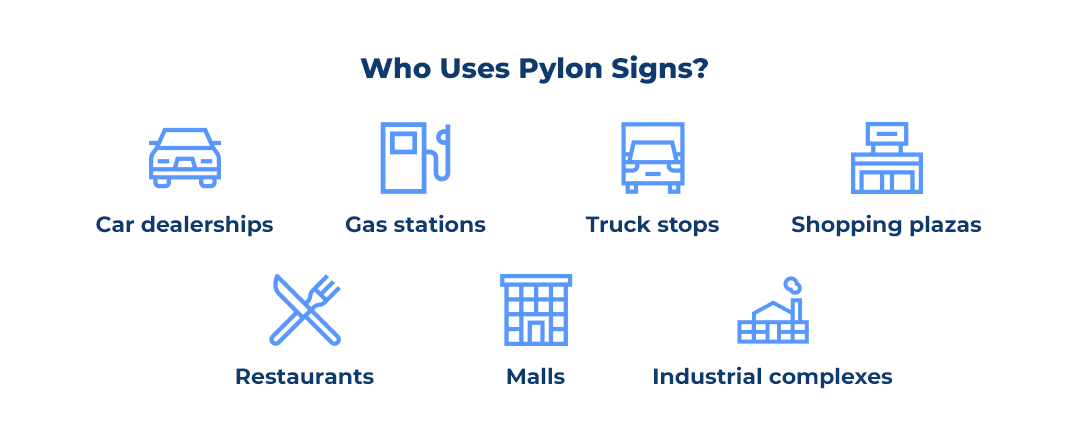 Who Uses Pylon Signs?
Pylon signs are a classic choice for many different types of businesses and are especially helpful for companies along a highway or busy roadway. The pylon sign attractively displays the company name and logo and can be seen from a good distance down the road. Any business that could use a bit more visibility with taller signage can benefit from a pylon sign.
You've probably noticed lots of pylon signs in different applications. Pylon signs are most commonly used at these types of businesses:
Car dealerships: In the competitive car dealership industry, it's essential that people notice you and that you stay on the minds of your customers as much as possible. Car dealerships often use large, tall pylon signs for maximum visibility. Signs for car dealerships include the name of the local dealership, along with large logos of the auto brands featured at their dealership.
Gas stations: For any traveler, being able to find a gas station is critical, and pylon highway signage helps. Many gas stations, especially those along busy highways, want to be seen from far away so motorists can easily find their location and prepare to exit the highway. Gas stations can have some of the highest pylon signs for this reason, usually displaying their logo high in the air. The sign may also include current gas prices and other information.
Truck stops: Much like gas stations, truck stops also use tall pylon signs. These travel centers appeal to travelers and truck drivers and typically have many different services, including convenience stores, restaurants, gas stations and places to rest. Pylon expressway signs boldly advertise the available services and allow drivers to find them.
Shopping plazas: Pylon signs for shopping plazas generally have the name of the plaza at the top with room for each business in the plaza to have their own lightbox sign. Rather than have individual signs for each company, a single large pylon sign attracts and informs customers with an uncluttered appearance.
Restaurants: Pylon signs are valuable advertisements for all sorts of restaurants, whether local or national chain, upscale or fast food. Many restaurants rely heavily on walk-in traffic, and large pylon signs attract the attention of their customers and direct them to their location. Restaurant signage implies the type of cuisine and atmosphere offered at that location as well.
Malls: Just like with shopping plazas, malls want to attract the attention of potential customers with their pylon signs and give customers a taste of the individual businesses inside. These signs will likely have the name of the mall at the top and may also have names or logos of some of the shops inside.
Industrial complexes: These clusters of related industrial businesses may or may not rely directly on customer interactions the way that retail shops or restaurants do, but they still need clear signage and frequently use pylon signs. The sign often includes the name of the complex and may list individual businesses in the cluster.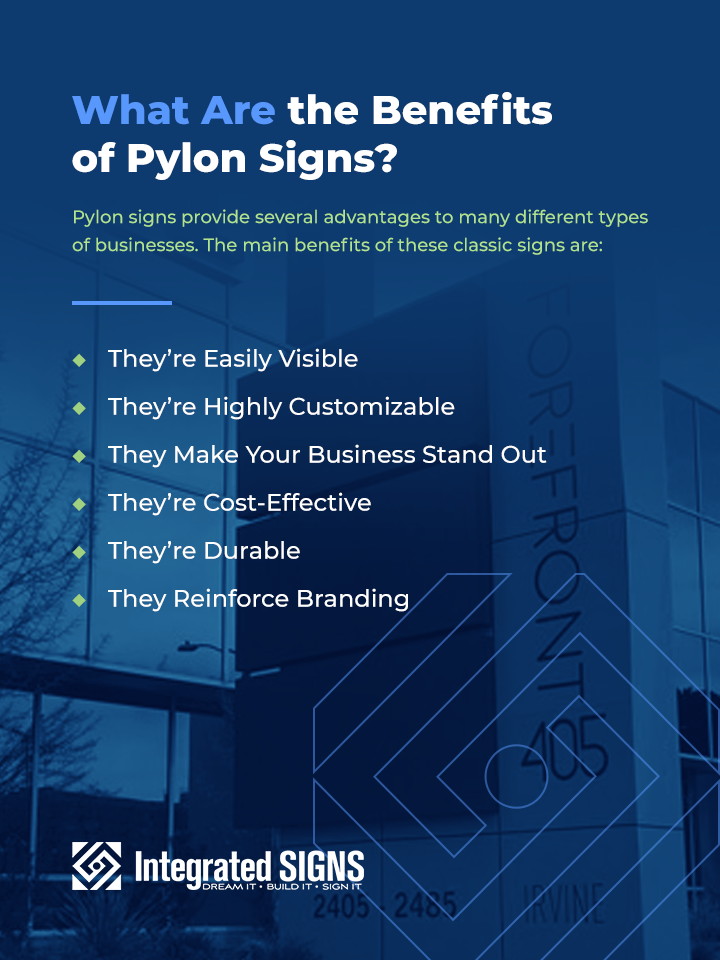 What Are the Benefits of Pylon Signs?
Pylon signs provide several advantages to many different types of businesses. The main benefits of these classic signs are:
1. They're Easily Visible
The height of pylon signs makes them easy to see from a highway or freeway. This means motorists will see you from a good distance away and have time to decide to visit your establishment. Pylon expressway signs are one of the more popular uses for this type of signage.
2. They're Highly Customizable
Pylon signs are one of the most highly customizable signage types available. You choose how your pylon sign is mounted — on one pole or two — and you can also choose the colors, font, material, subject matter, if it's single or double-sided or even if it's illuminated or not.
Another bonus to these signs is that you can swap them out as needed. If you want to change out your pylon sign insert to advertise a sale, holiday theme or new inventory, you can do that. Pylon sign images are as versatile as you need them to be, perfect for the fast-paced San Diego markets.
3. They Make Your Business Stand Out
If potential customers are driving along, they'll likely feel drawn to your business with the tall sign they can see rather than a store they might miss due to their non-existent or short signage. According to the Sign Research Foundation, 61% of American consumers have failed to find a business due to a small or unclear sign.
4. They're Cost-Effective
Pylon signs can be customized for any business affordably, giving valuable advertising space to the company they promote. Pylon signs give a polished, professional look that draws customers in. This, in turn, can increase a company's profits, giving an incredible return on investment (ROI) on the cost of the signage. Pylon signs are ideal for shopping malls, plazas, industrial complexes and other business clusters, where several different businesses can all advertise on the same sign, thus decreasing the individual cost for each business.
5. They're Durable
Pylon signs are freestanding structures that don't require anything else to support them. They are built to be strong and withstand the elements. These signs are versatile and do not need to be connected to the building they are advertising. Pylon signage is usually larger than other types of signs and is also more durable over time. Pylon sign materials are designed to be very resilient and last for many years, even with customized shapes and elaborate elements.
6. They Reinforce Branding
Branding is more important than ever in today's economy. A beautiful pylon sign with your company logo reinforces your brand and offers consistency with your company's image and other branded elements. Branded pylon signs attract the attention of your target audience and keep them coming back. Custom pylon signs give your company personality and a polished image that will attract customers.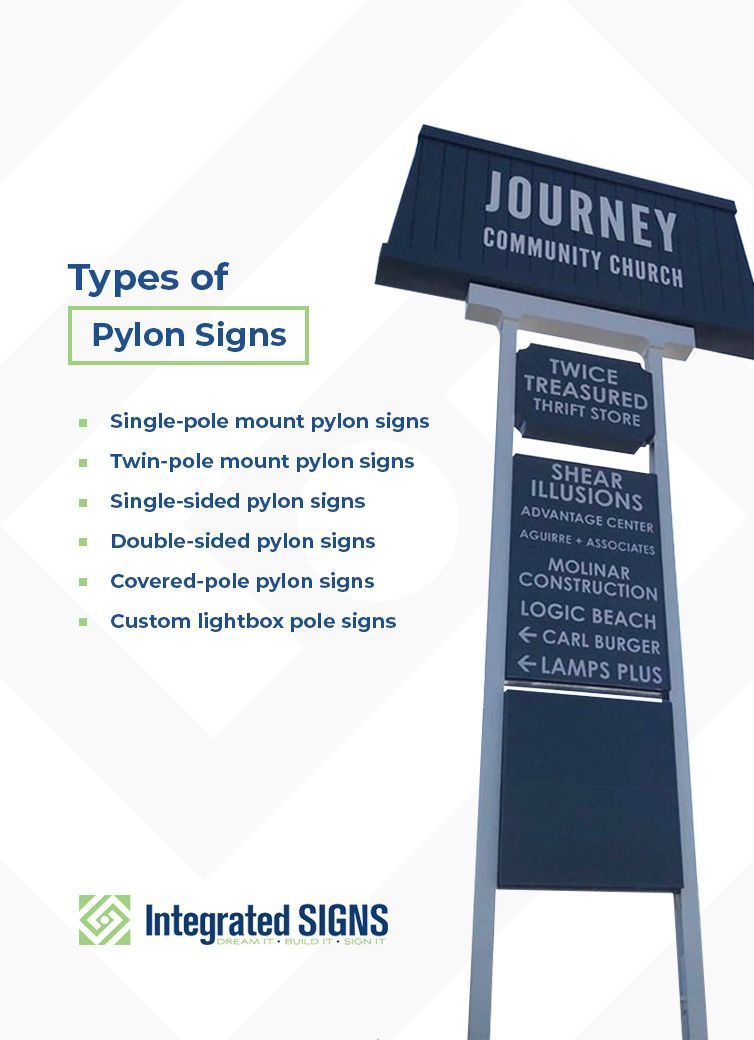 The Types of Pylon Signs
Pylon signs have many applications, and each different type is suited for different purposes. Depending on the type of business, brand image and marketing strategy, different types of signage may be best. Here's an overview of the different types of pylon signs available:
Single-pole mount pylon signs: This classic pylon choice is just what it sounds like — a bold sign mounted on a tall, single pole. A large metal pole extends high up from the ground to support the main part of the sign, which can be single- or double-sided, and have a variety of lighting options. This style is often the tallest and can be seen from farther away.
Twin-pole mount pylon signs: In a twin-pole mount, the pylon sign uses two large metal poles to support the signage, generally one pole on each side of the sign. This structure offers more stability and rigidity than a single-pole structure. This type of sign is very common and is better for larger signs.
Single-sided pylon signs: Sometimes a pylon sign only needs information on one side, and this is when a single-sided sign is used. This could be the case on a one-way road or near an entrance to a shopping center.
Double-sided pylon signs: Probably more common than single-sided pylons, the double-sided pylon provides imagery or information on both the front and back of the sign. These signs are visible from just about any direction and are very useful on busy roadways with traffic going both ways.
Covered-pole pylon signs: This type of sign covers the metal support pole with interesting details such as brick and mortar. Covered-pole pylon signs offer architectural interest and can be made to match the style of the building. This style is perfect for companies that don't want an exposed pole or crave a more unique appearance for their signage. They are perfect for smaller, shorter signs that don't tower into the air.
Custom lightbox pole signs: These tall pylon signs are internally lit, providing maximum visibility day or night. A custom lightbox pole sign may have one individual lightbox for a single business or a series of them, advertising each of the companies in the complex. This style is most commonly seen at shopping centers, with the sign showing a stacked arrangement of lightboxes displaying all of the different business names or logos.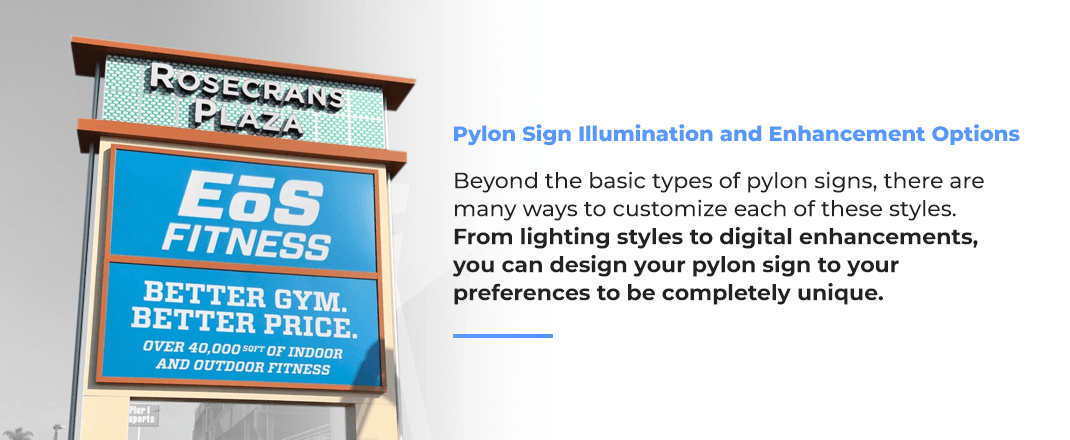 Pylon Sign Illumination and Enhancement Options
Beyond the basic types of pylon signs, there are many ways to customize each of these styles. From lighting styles to digital enhancements, you can design your pylon sign to your preferences to be completely unique. Some of the options for custom enhancements include:
Decorative accents: You can add some architectural style and interest to your sign with decorative accents of all kinds. Match the base of your sign to the architectural style of your building for a cohesive look, and add a sense of sophistication with brick, stonework or masonry. These elegant options bring a sign to the next level.
Lightbox illumination: Let your whole sign light up with a lightbox style. These signs are lit from within and offer a uniform glow that makes the sign easier to see, whatever the time of day.
Spotlights: Light up any style of signage with spotlights or similar external lighting. Spotlights can be positioned on the ground, shining up at the sign, or mounted directly on the sign for better illumination on taller signs.
LED message boards: Go customized and high-tech with LED message boards on your sign. This feature offers an illuminated message area on your sign that you can change as often as you want. Use it to display the time, temperature or weather conditions or announce an upcoming event, sale or featured product. These digital pylon signs are an easy way to provide information to passing motorists and pedestrians while attracting more attention to your sign and your business.
It is important to note, however, that property management companies and local municipalities may have certain rules you have to follow in terms of the size, height, lighting and design of your pylon sign.
Factors That Affect the Cost of Pylon Signs
Custom pylon signs are completely unique and designed for your business needs. Due to this customized nature, it can be hard to put a price on the average cost. So many factors can affect the cost, and one sign can vary greatly from another. The main factors that can affect the cost include:
Size: Larger signs use more materials and may have more difficult installation processes, leading to higher costs.
Materials used: Your sign could use metal, plastics, masonry, wood, lighting elements and electronic components. Each of these materials likely has a different cost that affects the total price.
Custom options used: Is the sign a simple design, or full of customized options? The more special custom features a sign has, the more it will cost to make.
Number of signs ordered: More signs in an order will have a higher overall cost, but multiples are easier to make and may come with a significantly reduced cost per sign. A single business isn't likely to need multiple signs, but a company with several branches may order a matching sign for each of its locations.
Colors: Depending on the materials and processes, black and white options or single color options may be lower cost than more elaborate designs that feature many colors.
Design: A more elaborate pylon sign design with customized shapes and elements may come with a higher price.
Lighting: Additional lighting options can add to the overall cost of the sign. It can also depend on the type of lighting used, such as lightboxes, spotlights or neon lights. Each of these options has a different total cost.
Installation costs: The overall cost of a new sign should also factor in the cost of installation. This amount can vary, depending on the complexity of the sign, as well as where it will be installed.
Each business is unique, so the cost will be different for each custom pylon sign. A higher-quality pylon sign may cost more money but will last longer and have more impact on customers. This means better overall value and a higher ROI.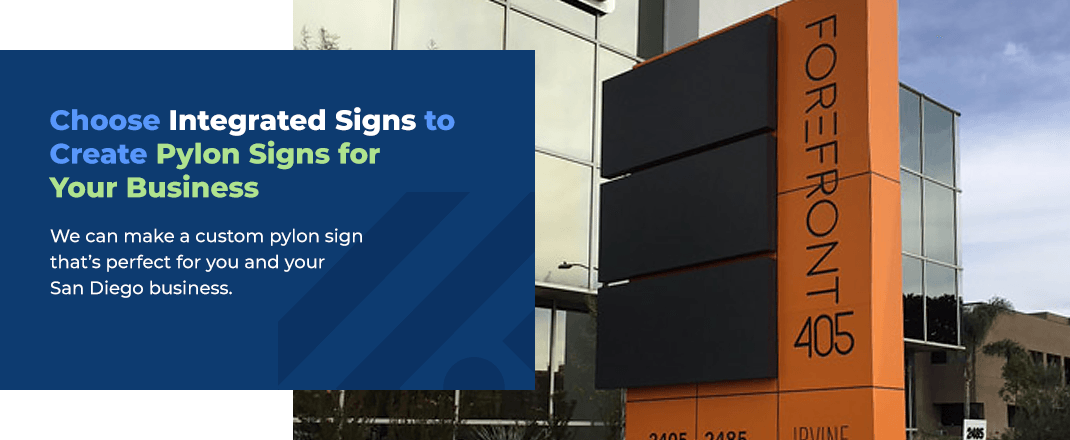 Choose Integrated Signs in San Diego to Create Pylon Signs for Your Business
For pylon signs and more, Integrated Signs is your go-to. We are proud to be a full-service pylon sign company with experts who can help you every step of the way. We can make a custom pylon sign that's perfect for you and your San Diego business. To get started, give us a call at (619)-579-2229 or fill out our quick and easy online form.