Face lit channel letters are probably the most common of illuminated signs. They are fabricated channel letters with internal lighting that makes the face of the letter illuminate. The returns are aluminum and the face is acrylic with a trim-cap edge. These types of letters can also be built without trim-cap for a more elegant looking letter. The depth of the letter makes a huge difference in the readability of the sign. With the newest technology, we are able to build letters that are 2" deep. Standard depths are 3" and 5" deep.
Face Lit Channel Letters Company
If you're interested in face lit channel letters for your business, Integrated Signs can help. We use the best machinery in the industry to ensure your sign is effective and beautiful. Read on to learn about illuminated sign letters, also known as channel letters, and why they're beneficial to your business.
What Are Exterior Face Lit Channel Letter Signs?
With so many signs out there, you might be curious about what sets face lit channel letters apart. When you opt for channel letter signs for your building, visitors can locate your business easily. The depth of channel letters, typically ranging anywhere from 2 to 5 inches, allows them to glow beautifully — guiding customers directly to your business. Not only do illuminated sign letters look wonderful at night, but they're a beautiful addition to your building for any time of day.

Not only can you opt to have the name of your business in lights, but when you work with a custom sign firm such as Integrated Signs, we'll integrate your custom logo as well.
Channel Letter Sign Benefits
If you're not sure if face lit channel letters are right for you, check out some of the benefits they have to offer: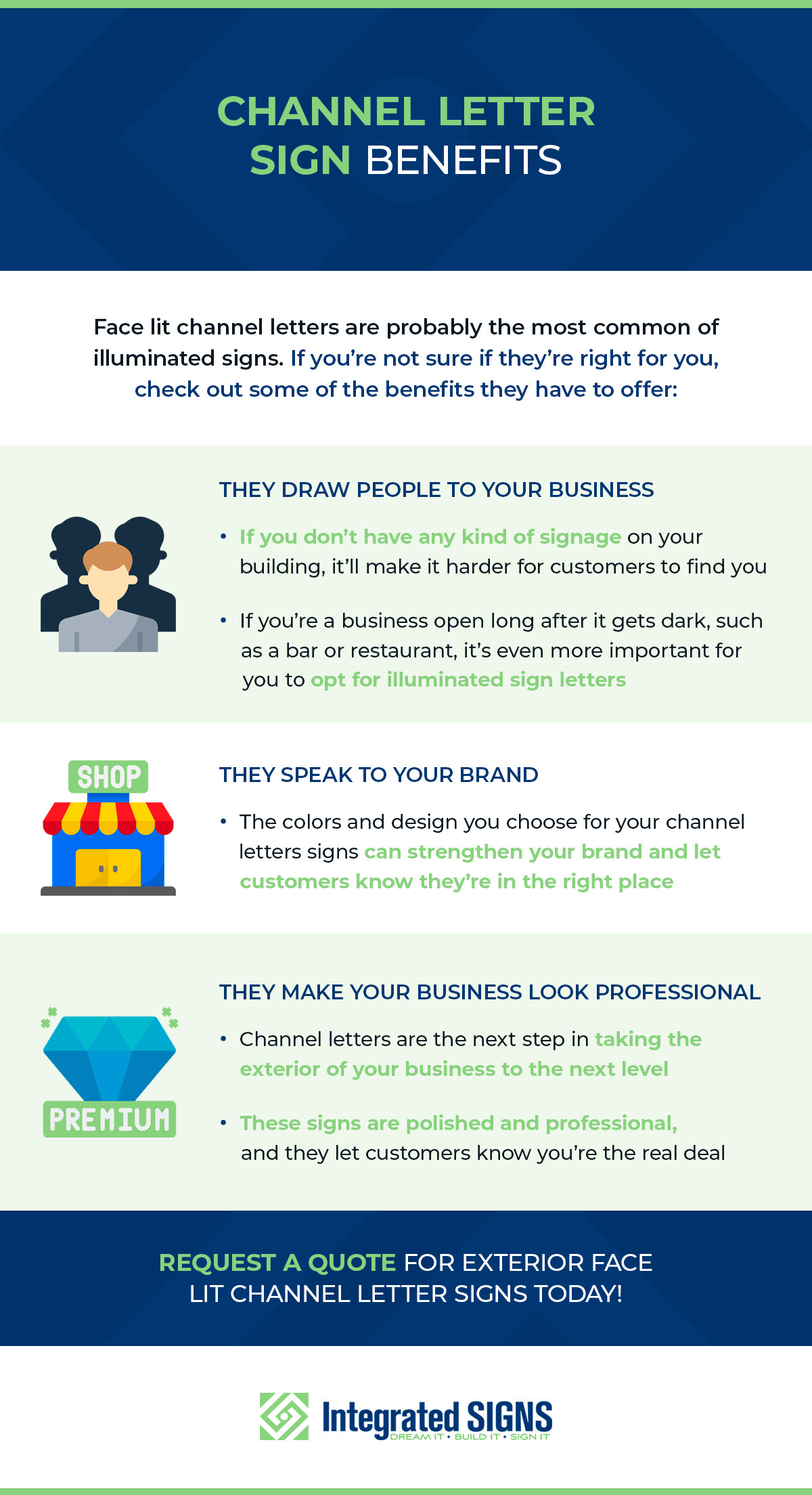 1. They Draw People to Your Business
If you don't have any kind of signage on your building, especially something that customers can see at night, it'll make it harder for them to find you. If you're a business open long after it gets dark, such as a bar or restaurant, it's even more important for you to opt for illuminated sign letters.
2. They Speak to Your Brand
The colors and design you choose for your channel letters signs can strengthen your brand and let visiting customers know they're in the right place. Like we mentioned before, not only can you customize the color of your face lit channel letters, but you can also incorporate your logo, so customers know exactly where they are.
3. They Make Your Business Look Professional
If you want to take the exterior of your business to the next level, channel letters are the next step. These signs are polished and professional, and they let customers know you're the real deal.
Face Lit Channel Letters Applications
Do you have a sign on the exterior of your building that shows people your location? Does that sign light up when it gets dark? Commercial buildings such as retail stores, hospitals, movie theaters, and more all operate even when it's dark. Illuminated sign letters can incorporate your branding to show people exactly where you're located and broadcast that you're open for business.

Choose Integrated Signs in San Diego for your Exterior face lit signs!
If you're still not sure who to trust with your face lit letter signage, rest assured that Integrated Signs is the best option. We were founded on 20 August 1982 in San Diego County, and therefore have decades of experience across many different industries. We use top-of-the-line equipment, machinery, and materials to ensure that your sign lasts. Not to mention, we do free custom quotes and custom sketches, so you'll never have to commit without knowing that we're the right fit for you.
If you're interested in learning more about Integrated Signs and what we can do for your business, feel free to contact us today!