It's a certainty that your signs are going to need maintenance or repair if you keep them up for an extended period. Even signs made with the most high-quality materials can fade or become damaged by some force outside your control. No company will want to leave a damaged sign up, as it may create a negative perception of the type of work a company offers.
To restore a sign to its day-one looks, you'll need to find a company that offers sign maintenance services. These companies will be able to assess the damage, determine what materials need to be used to fix your signage and conduct the repairs to get everything looking pristine once again.
If you require one of these sign repair companies, you'll need to know about some of the primary types of sign repair available. Additionally, it's important to be aware of common issues that experienced repair companies should be able to address.
Main Types of Sign Repair

As you consider sign maintenance services, there are a few different types of repair services that you should be aware of. Below, you can find some of the top sign repair options:
Commercial Sign Repair
Commercial signs are usually the most straightforward type of signage repair. These signs may need to be repaired due to the graphics fading over time or from damage like peeling or cracking. At times, commercial signs will also feature lighting fixtures that may have been damaged or need replacement. A sign with improper lighting or obvious damage on its surface can reflect poorly on your company and should be repaired as soon as possible.
An experienced sign repair company will be able to assess the damage and fix the issue. For example, various problems can cause a faded sign. A quality repair specialist will determine what's causing the fading and take steps to restore the sign's original vibrant coloring. The best specialists can even add features that help prevent the fading from happening again, such as adding a new laminate.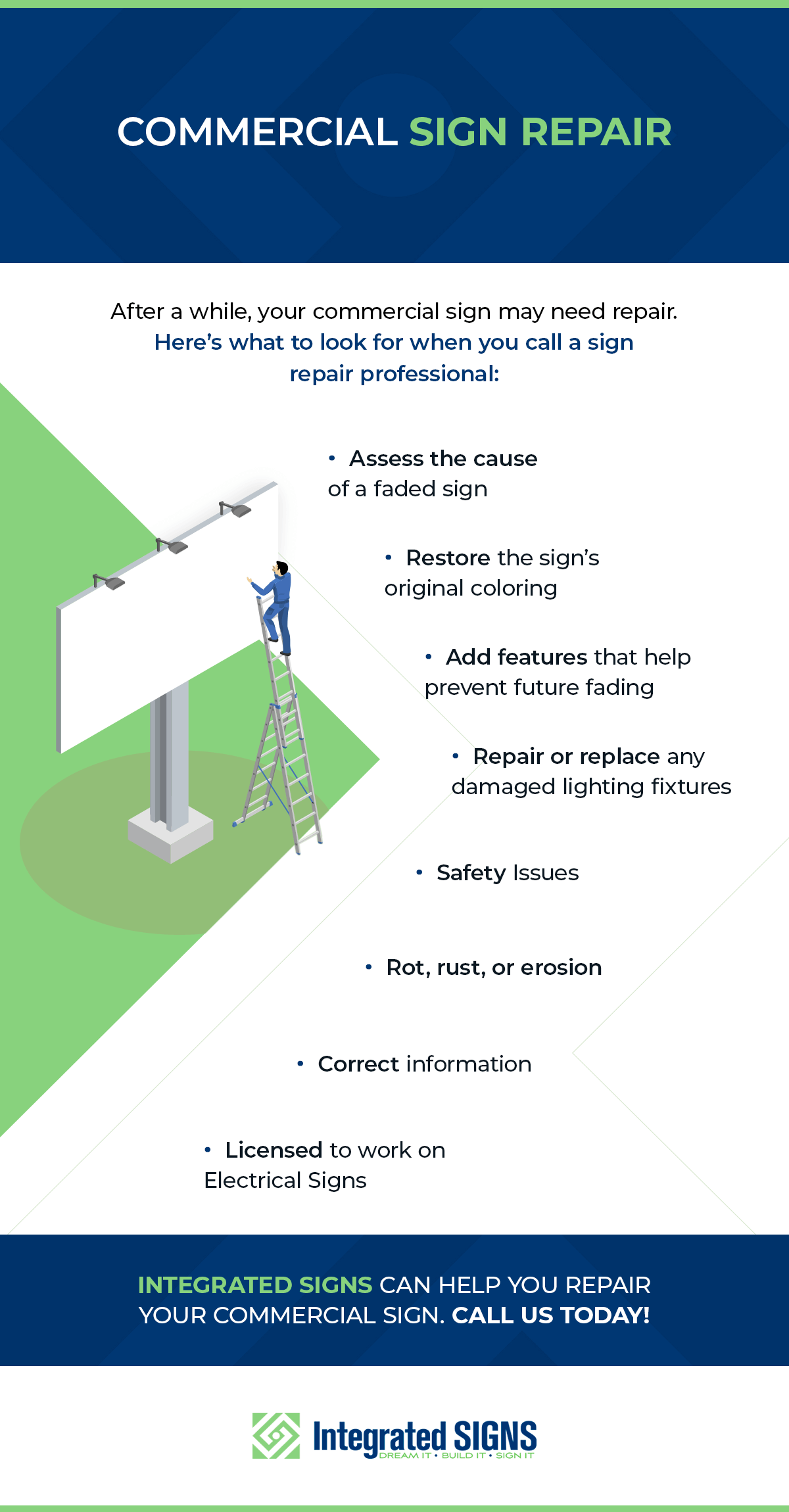 When choosing a repair professional, you should check for the following:
Assessment: Your repair company should determine what's causing the sign to fade so they can repair it correctly.
Restoration methods: The professionals should be able to tell you how they'll restore the original coloring of your sign before they do it.
Features for prevention: The repair company should tell you what features they offer and add to help stop fading after the restoration.
Lighting fixture repair and replacement: Your repair professionals should be willing to repair or replace damaged lights on your sign.
Safety issues: These workers should also take the time to address any safety issues on your sign to ensure they meet standards.
Rust, rot and erosion check: The company must check for these issues and have a plan in place for repairing and stopping them throughout the sign repair process.
Correct and honest information: Repair professionals should thoroughly understand why you asked for help and ways to fix the issue. They also need to be honest with you about their next steps throughout the process.
Sign repair companies have a responsibility to provide efficient service that will help you extend the life of your products. If you're noticing wear, lighting issues, decreased readability or otherwise bothersome issues, please get in touch with a commercial sign repair company to have them address your concerns.
Neon Sign Repair
Repairing a neon sign requires a professional who's familiar with the material and how neon signage works. Businesses that are looking to draw attention to themselves with the neon's bright colors and warm glow commonly use these signs. Though neon lights are durable and long-lasting, they can occasionally become damaged.
Neon light repair services can ensure that your sign continues to illuminate your message. A busted light can harm the entire appearance of the sign and call attention to it for all the wrong reasons. As such, a sign repair company should know how to handle neon properly and restore it to its original appearance quickly.
Pylon Sign Repair
This type of signage is often mounted high in the air and held up by poles. Typically, pylon signs are used to try to get the attention of motorists who are passing by a location. Sometimes, these signs can begin to fade or suffer from weather damage. When this happens, a professional will need to be called to determine the repairs needed.
As pylon signs are often mounted on poles, a sign repair company will need to have the equipment to get their staff safely up in the air to work on the damaged sign. Additionally, if the sign was poorly installed and isn't secured tightly to the pole, the signage could even represent a public safety threat if not repaired. In the repair process, a specialist will ensure that your signage is secured as tight as possible while also restoring the sign's graphics.
Factors to Consider During a Repair
When a sign specialist looks over your sign to determine what kind of maintenance work needs to be done to restore it to its former glory, they'll be looking at various factors. An experienced sign repair specialist should know how to fix issues related to exterior lighting, signage material and electrical work. Below, you can find out more about why specialists pay special attention to these three areas in their repairs:
Exterior Lighting
One of the main reasons for outdoor sign repairs is making sure that people can always see your signs. Often, exteriors signs are lit directly or indirectly from various light fixtures. A lack of exterior lighting can make it difficult for viewers to see your sign, causing it to be a must-fix issue.
Whether your company has spotlights illuminating the signage or you rely on indirect lighting from parking lots to make your sign visible at night, a sign repair specialist should be able to fix any lighting issues with speed and precision.
Paint and Plastics
The paint or plastic used to craft your signage can serve your company for years before it needs repairs. Over time, however, signage can be damaged due to accidents, vandalism and weather. When your sign is damaged, key parts of the plastic or paint might be obstructed or removed entirely. Even if the damage is only slight, it can still harm your company's reputation, as people will associate your company with a run-down appearance.
Regardless of what's caused the damage, a sign repair company should be familiar with the type of material the signage is made out of. For instance, there will be a different repair process for a sign that's handpainted versus one that's printed on vinyl.
Basic Electrical Troubleshooting
Electrical troubleshooting isn't always required, as some signs don't incorporate any lighting or other elements that need power. However, for many that utilize internal or external light, electrical troubleshooting is a must.
If you notice a light is out, or your sign isn't glowing as brightly as it used to, a maintenance specialist can help find the cause. For signs with neon or internal lighting, electrical troubleshooting is especially important to get the best effect. Electrical work can be dangerous and complex, so this kind of repair needs to be left to a professional who specializes in the type of wiring that powers the lighting and digital elements of signage.
Choose Integrated Signs for Your Sign Repair Services

At Integrated Signs, we can handle every stage of your sign's life. From its initial design to its installation to its repair, we have the staff and equipment needed to ensure your signage impresses those who see it. Our repair services are extensive, as we can even assess and repair signs that we did not manufacture. Staff members will quickly determine the best course of action for your signage and then go about making it as good as new.
If you're looking for sign repair services near you or have wondered how you can make your commercial signage pop again, you've come to the right place. Fill out our online contact form or call us at (619) 579-2229 to speak with one of our representatives about our fast, efficient and reliable repair services.