If you're looking for an eye-catching sign that drives foot traffic to your location, blade signs are the perfect choice.
A blade sign is one of the most eye-catching sign types. Because they project out from the side of a building façade or storefront, they are one of the best ways to catch foot traffic to your business. They can be designed to mount with a simple pole or frame system, or a more decorative armature bracket. Blade signs can be many shapes and sizes and be either illuminated or non-illuminated.
Blade Sign Company
At Integrated Signs, we offer a wide variety of blade sign designs for any storefront. We'll work with you to help craft a sign that speaks to the uniqueness of your business and helps you stand out to passers-by. Keep reading to learn more about blade signs and why Integrated Signs is the best option.
What Is a Blade Sign?
A blade sign effortlessly catches the attention of traffic that passes by your storefront daily. Whether you own a deli or a fashion retail store, a custom blade sign is a great option to help you draw customers into your store. But why are blade signs such a great option for catching the attention of customers? Because they project out of your building.
Picture this, you're walking down the street on a warm, sunny day, and you're in search of a cafe that offers lemonade. The first cafe that will really stand out is one with a custom projecting sign. Not only does it physically stand out, but you can also opt to design an illuminated blade sign for extra visibility. Illuminated blade signs are extremely popular among bars and restaurants that operate during nighttime hours.
Blade Sign Benefits
If you're having trouble deciding on what kind of sign best fits your business, it's beneficial to consider the benefits of each sign type: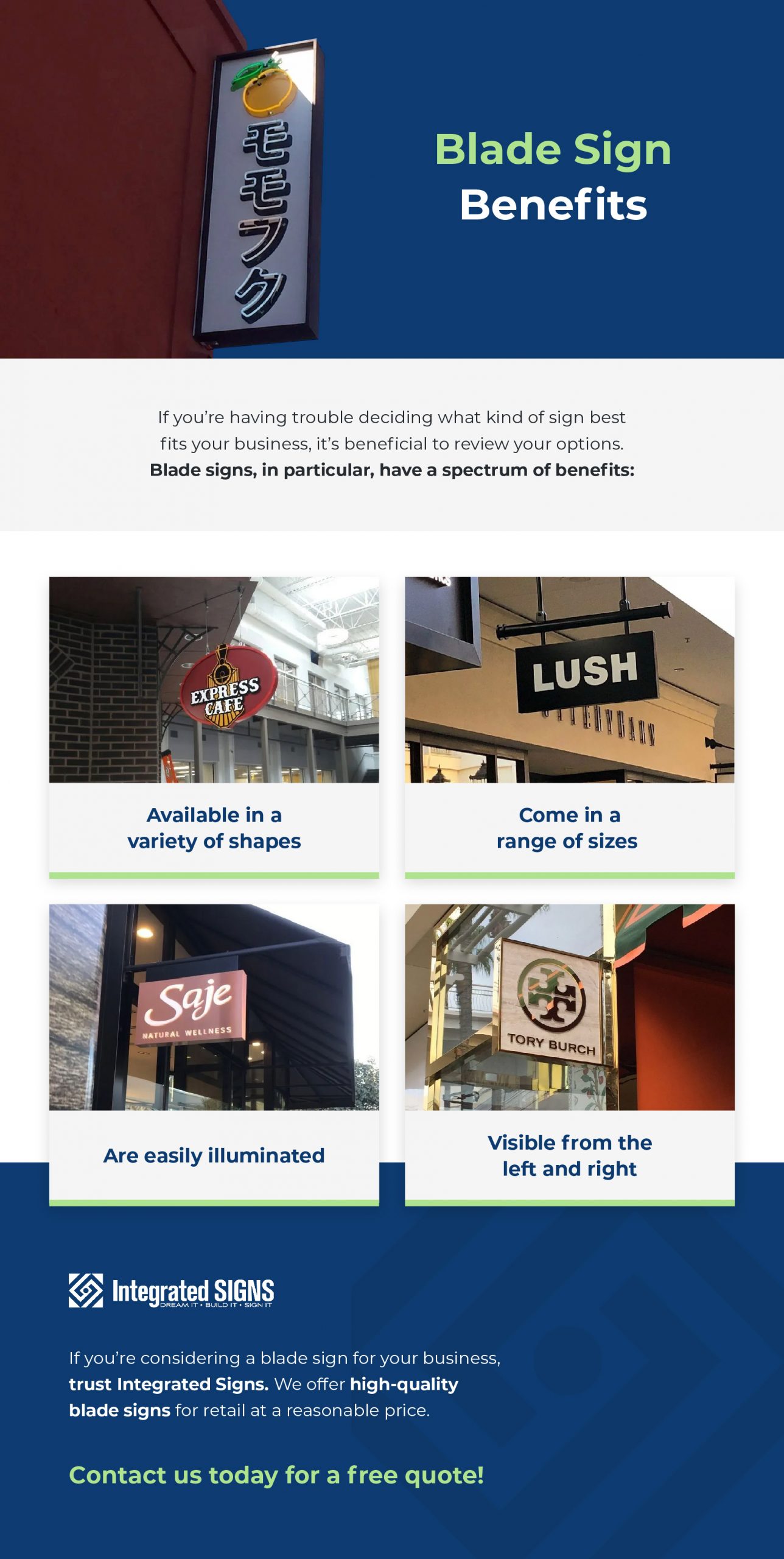 1. Blade Signs Come in a Variety of Shapes
If you tend to shy away from more traditional signage and are looking for something that experts can design in a variety of shapes, blade signs are a great option. You can choose between several shapes, and even create a custom shape that outlines your logo, for example.
2. Blade Signs Come in a Variety of Sizes
Just as you can choose the shape of your sign, you can choose the size as well. It's important to keep your blade sign for retail proportionate to your storefront — so if you have a small boutique store, you likely won't want a huge sign. However, if you own a large restaurant that takes up an entire street corner, you can opt for a larger custom blade sign.
3. Blade Signs Can Bring Light to Your Storefront
As we mentioned before, you can choose a blade sign design that illuminates. Not only does this catch customers' attention, but it can also add style and flair to your storefront while doubling as functional lighting.
4. Blade Signs Are Visible From the Left and Right
Having a blade sign also helps direct patrons to your store. These signs protrude from the building, offering visibility whether you are approaching the storefront from the left or right. Patrons will know what establishment they're heading toward without breaking their stride.
Businesses with walkways next to their building can significantly benefit from blade signs. If you have a wall sign with limited visibility because it's flush with the building, a blade sign is a perfect way to help people find your location.
Blade Sign Applications
A custom blade sign can attract foot traffic from both directions around your storefront. It's the perfect way to catch someone's eye who may just be walking by and entice them to enter your building. When your blade sign design also reflects your brand and the overall area, you can help your storefront stand out and reinforce your branding.
Mounting a Blade Sign
A blade sign is the perfect choice for an eye-catching option that drives foot traffic, as your design will be visible from the front and sides. We can install your new blade sign in a vertical or horizontal orientation.
So, how do you mount a blade sign to your building? Three different methods can ensure your sign has stability on your building:
Pole: Your blade sign can hang from a pole installed perpendicular to your building. A pole is a classic mounting solution for blade signs.
Frame system: A frame system ensures that your blade sign has maximum support. We can install an option that matches your shop and blade sign theme.
Decorative armature brackets: Using decorative brackets to mount your blade sign adds another feature to your design, elevating it to reflect your store's aesthetic even more.
Whatever blade sign design you choose, we ensure our mounting technique will provide the most stability against your building. If there's a specific mounting method you prefer, we'll design your blade sign to fit the necessary requirements. A blade sign mounted to your building will encourage new patrons to stop by.
Advantages of an Illuminated Sign
An illuminated projecting sign can be beneficial to your business for various reasons. These signs can provide:
Functional lighting: A blade sign can help patrons find your store's location once it becomes dark outside. Also, the lights in the sign often offer enough glow for people to see ahead of them, especially if they're waiting in front of the store.
Visual intrigue: Lights and other bright objects can attract peoples' eyes and attention. As a result, an illuminated blade sign can interest people and inspire them to visit your business.
Visibility from the left and right: Patrons can see your store's location better when there's an illuminated blade sign. This product increases visibility to also include the left and right sides.
If you're interested in an illuminated blade sign, trust Integrated Signs. We offer some of the highest quality blade signs for retail available.
Why Choose Integrated Signs?
At Integrated Signs, we offer some of the highest quality blade signs for retail available. Our goal is to create a sign that lasts years at a competitive price. If you're interested in a custom blade sign for your storefront, contact us today for a free quote!