Are you interested in a sign that not only speaks to your brand but looks amazing while doing it? Push-through signs could be perfect for you!
Integrated Signs: Your Push-Through Signage Company
At Integrated Signs, we specialize in push-through acrylic letters and will work with you to create a custom sign you love. Keep reading to learn more about push-through signs, the benefits of choosing them and why Integrated Signs is the company to work with.
What Are Push-Through Signs?
Push-through letters create very distinct signs with dimensional letters and a soft glow to enhance any space. They're also highly customizable allowing you to choose from a variety of styles and colors.
Push-through acrylic signage has a signature look resulting from the process of making the sign. The surface gets routed out from an aluminum sheet, and then acrylic gets pushed through the face. The illumination makes the sign look elegant but powerful and adds a professional touch to any business.
How Do Push-Through Letter Signs Work?
A push-through sign is when the aluminum or cabinet face is routed out and the acrylic is pushed through the face. This gives the sign dimension and greater readability when done right.
The sign can illuminate from the face and sides of the letters or just the sides, giving it a nice edge lighting and elegance. Depending on the architectural details of the building, the back of the cabinet can also illuminate for additional impact.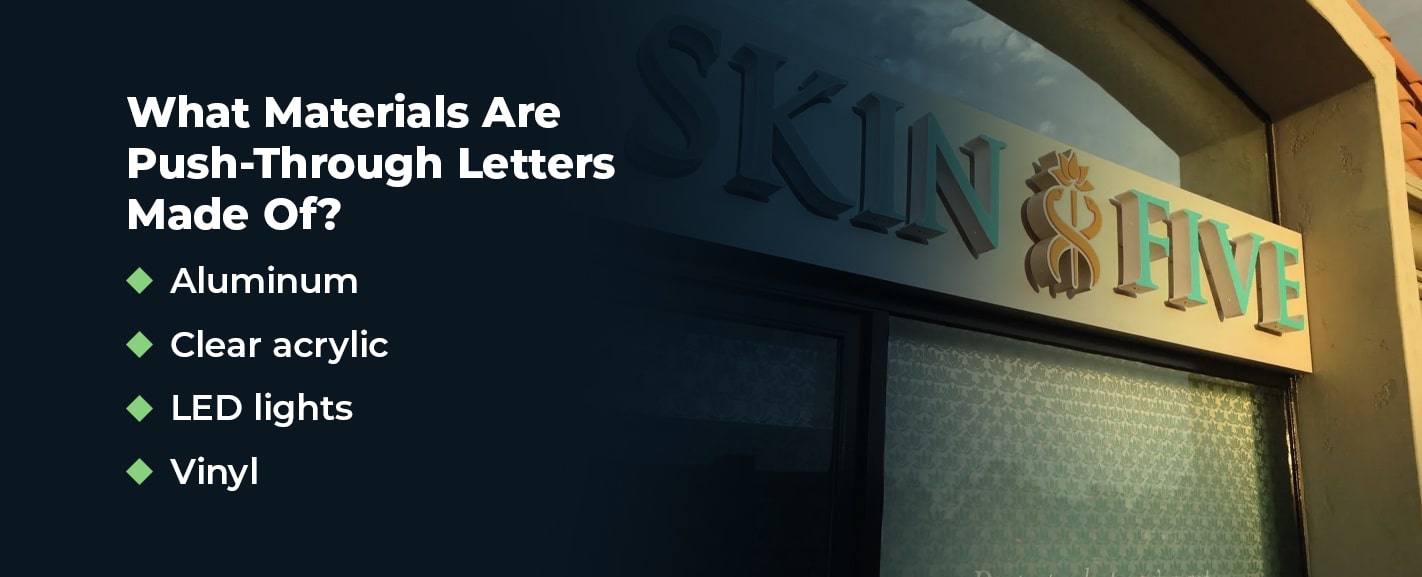 What Materials Are Push-Through Letters Made Of?
Making push-through letter signs requires a few different materials:
Aluminum: We use aluminum as the sign's surface because sheets come in multiple different thicknesses and it's especially temperature-resistant.
Clear acrylic: Acrylic has a smooth, durable surface that can withstand harsh weather conditions, so it's suitable for use on both indoor and outdoor signage.
LED lights: Internal LED lights illuminate your sign, providing your business with excellent visibility at any time of day.
Vinyl: Laying a vinyl film over your letters allows us to customize the colors in your design.
We only use the highest-quality materials to create your signs. The build process follows these steps:
We cut the outline of your design from a sheet of aluminum.
We create matching acrylic shapes to fit the aluminum outlines.
We push the acrylic letters through the aluminum — these become the front face of your sign.
Finally, we insert bright LED lights and a vinyl film to meet your color and lighting specifications. Depending on the sign style you choose, it might illuminate from the sides, the front or both sides.
Styles of Push-Through Signs
There are several different styles of push-through signs that produce different looks and effects. Depending on your space, one style might work better than others. Here are some examples:
Single-sided: These signs only feature push-through graphics on the cabinet's front. Single-sided signs are suitable for walls or building entrances, where people will only see them from one direction.
Double-sided: Double-sided signs contain push-through graphics on both sides of the cabinet. These are great choices for hanging, blade or monument-style signs.
Double pan: The cabinet containing the push-through graphics is mounted onto another cabinet with 1-2 inches of space in between to create a striking halo effect.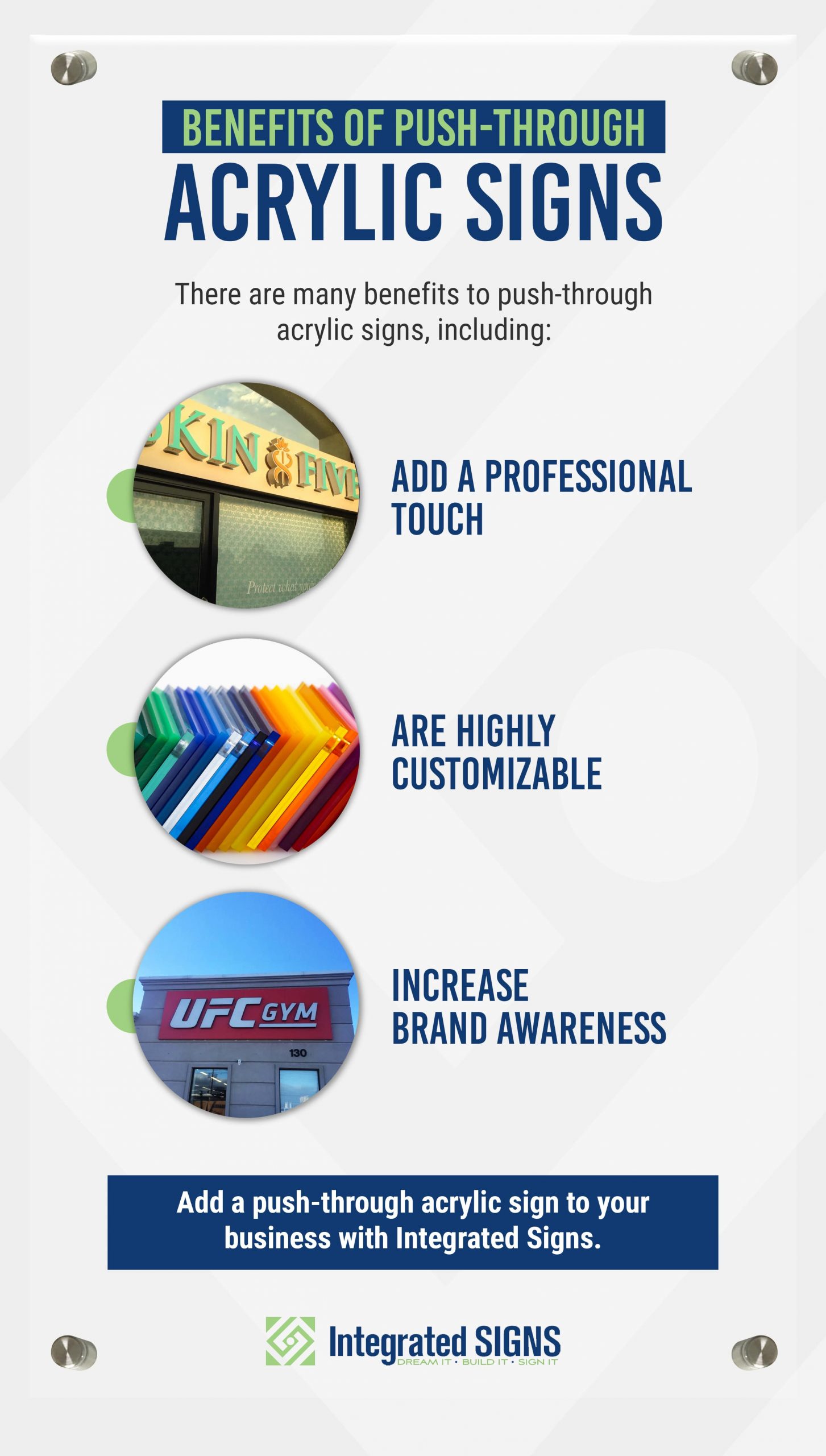 The Benefits of Push-Through Acrylic Signs
If you're looking to add signage to your business, push-through acrylic signs are a great option. The benefits include:
1. They Add a Professional Touch
Signage adds a professional touch to any business, and push-through signs are no exception. These signs are polished and clean, and with your personal touches such as your colors and logo, they will speak to your unique brand.
2. They're Highly Customizable
The design possibilities are truly endless with acrylic push-through signs. They're highly adaptable, so they're a great way to customize your space. You can choose from a wide variety of materials, colors and shapes to ensure your sign is exactly how you envisioned it. Customizing your sign with your logo and colors will also reinforce your branding and cause people to recognize your store, even from far away.
3. They Increase Brand Awareness
When you walk into a business with no signage, you aren't sure where you are and there's no sense of brand. To create a memorable customer experience, you need signage that matches your brand's aesthetic.
Custom illuminated push-through signs provide 24/7 visibility to your business, which leaves a big impression on customers and passersby. When you opt for push-through acrylic letters, you are displaying your brand and logo to everyone who walks through your doors — automatically increasing brand awareness.
Where Can Push-Through Signs Be Used?
Push-through signs are incredibly versatile and durable, so you can use them in almost any space. Whether you install your sign outside your business or in a hotel lobby, this striking type of sign is sure to leave an impression.
Push-Through Sign Applications
You can use push-through signs in various settings, including:
Indoors: Install a hanging double-sided push-through sign outside a retail space in a mall or office lobby to point potential customers toward your business. Because acrylic is a lightweight material, you can also use push-through signs to direct guests at events like conferences and fairs.
Outdoors: Push-through acrylic signage is the perfect solution for a crowded marketplace. If your retail store sits on a crowded street, push-through letters with front or side illumination will help you stand out.
What Is the Cost of Push-Through Signs?
LED signs can cost anywhere from $750 to $30,000 — it all depends on your sign specs and application. We'll discuss your sign type, size, complexity, materials and other factors to determine a quote.
Choose Integrated Signs for Custom Push-Through Illuminated Acrylic Signs
If you're looking for a sign company that can create a wide variety of signage for your business, Integrated Signs is here for you. We're professionals in our field, and our top priority is the customer and the quality of our products, whether you're located near us in San Diego or are somewhere nationwide.
We'll work with you to learn more about your business, what look you want and your personal style. We'll also help you decide whether you should opt for interior or exterior signage, what colors would look best with your location and more.
We offer free quotes and free sketches for all of our customers, which means you'll always know exactly what you're getting. Browse our gallery to see our work in action, or contact us today to learn more about our push-through sign services. We can't wait to make you a custom sign!