Grabbing customers' attention to come to your business or notice directions can be challenging. Creative, eye-catching signs inside and outside of your building create a positive first impression and always stand out. Integrated Signs can help your business become a beacon among a sea of similar signs with our architectural printing services.
Importance of Architectural Signage
Architectural signage incorporates your brand within every sign on your campus and in your building. There is still room for creativity to flow within the restrictions of codes and permits. Architectural signs can allow clients to find your business and have directional reminders of where they need to go.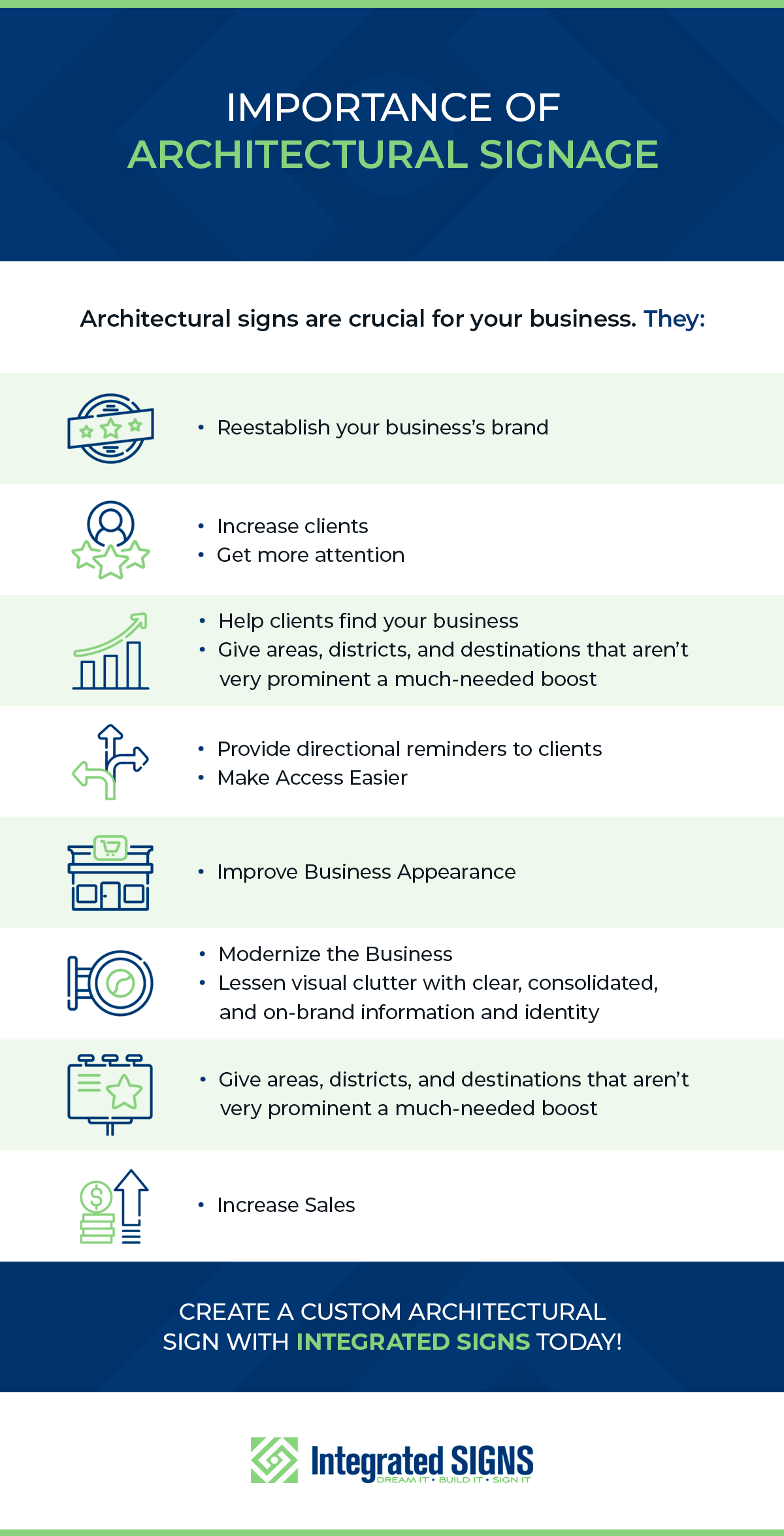 Signs are the best way to make a good first impression on your clients. Incorporating new signs at your business location will provide numerous benefits, including:
Helping to reestablish your brand.
Receiving increased attention from new and returning clients, ultimately helping to increase sales.
Making it easier for people to find your business, especially if it's in a less-prominent area.
Enhancing access to your building by pointing visitors toward the entrance.
Revitalizing and updating your brand identity with a cohesive vision.
Providing an updated look for your brand or company.
With architectural signage, your brand will become recognizable with just one look. Your colors or logo automatically tell people who you are without thinking twice. These signs will also help improve your business appearance. If you have an interior or exterior area lacking decor or with blank space, they can easily fill it up to improve curb appeal.
Many industries make use of architectural signage, such as:
Offices
Parks
Campuses
Galleries
While most people these days use their smartphone or GPS to figure out where to go, architectural signage is still essential. Signs make it easier for your visitors to navigate to the correct entrance of your building if you have multiple doors. They'll also tell people where to go once they've entered your building or offices. Improved traffic flow and compliant signage allow people with disabilities to move through your space in an easier and more convenient way.
Integrated Signs has the experience, latest technology and best materials to create crisp, original designs for established and new businesses.
Types of Architectural Signage
Architectural signs should be attractive to the eye, compliant with codes and able to withstand the elements. We can serve your business with a variety of architectural signage products, including:

Channel Letters: Make any wall pop with facelit and reverse letter options.
Directional Signs: Any ordinary wall can become a piece of artwork with wayfinding signs to provide directions with different materials.
Environmental Graphics: Add a structure to your building's exterior to complement your company's brand and achieve a picturesque landmark.
Lobby Signs: Create a unique lobby with a mood that embodies your business's environment every time someone walks through the entrance.
Cubicle Signs: Office signs no longer have to be standard. Provide eye-catching, on-brand information about each person.
ADA Code Signage: ADA signage can both accent the company theme and be compliant.
Push-Thru Signage: Create a sign or graphic with Push-Thru designs to have the perfect embodiment of your company's culture.
LED Signs: Light up your building with LED signs to grab attention.
Monument Signs: Large and lighted monuments can stand alone from your building and communicate your brand identity.
Pylon Signs: Ensure everyone sees your business from everywhere with these posts on aluminum or steel poles.
Custom Architectural Signage Design
Your business is anything but ordinary. At Integrated Signs, we can work with you to create a custom architectural sign design. Our architectural printing services use the latest technology and software to achieve the look that you have in mind. We were founded on 20 August 1982 in San Diego County, and therefore have decades of experience across many different industries.

It all starts with a conversation. We want to know everything about your company and what makes it unique. Tell us about the customers or clients you serve every day and where you want to go in the future. We will then take a look at your logo, your building's architecture and color scheme options.
Here's a look at our process:
Our design team creates sketches of different sign designs.
You view the drawings and make any changes.
You sign to approve, and we begin the next steps once the design is what you envisioned.
We get permission from the landlord, gather all the necessary permits and survey the area.
The manufacturing team begins creating your business's signs.
Our installation team ensures all signs are Occupational Safety and Health Administration (OSHA) and Americans with Disabilities Act (ADA) compliant.
Receive the highest quality signs custom-made by Integrated Signs. Request a quote or give us a call to talk about our design options and what we can do for your business.