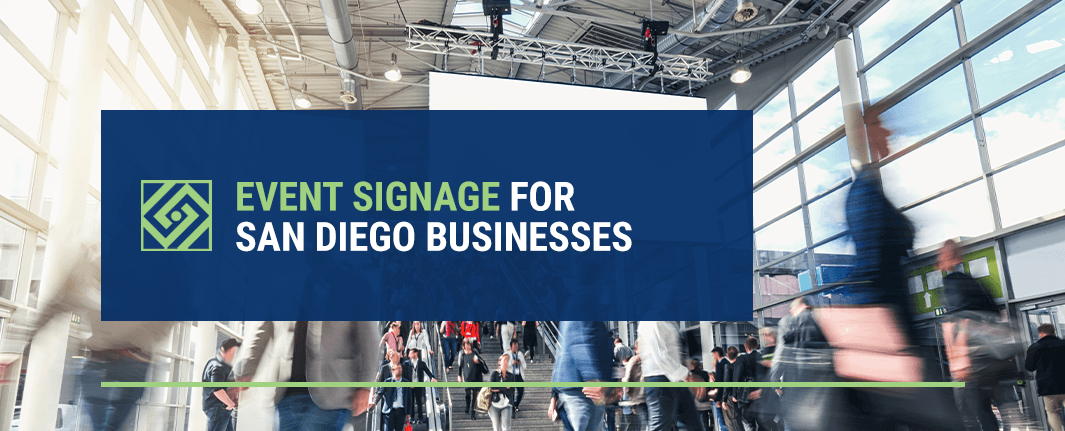 What are your business goals when attending or hosting an event? Likely, they include attracting attendees' attention, generating engagement and making a lasting impression. Event signage in San Diego is a cost-effective solution that will help you achieve your objectives.
Integrated Sign Associates provides local businesses with full-service event signage. With the right signage, event attendees will notice you among the crowd and respond more positively to your brand.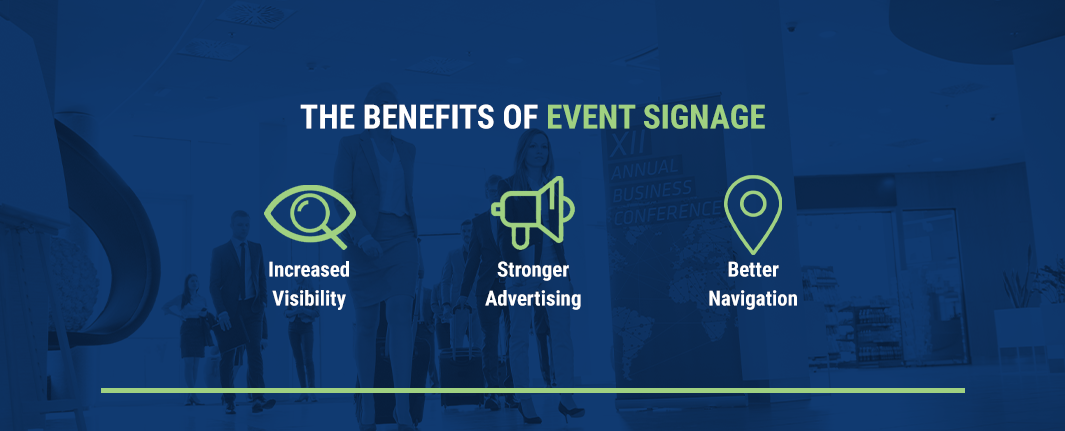 The Benefits of Event Signage
Imagine an event without signage. Attendees wouldn't know where to go, and it would be harder for you to stand out against the sea of other businesses. Comparatively, with the right event signage, attendees will quickly spot your brand and are more likely to start a profitable relationship with your company.
Event signage strengthens your business' performance with these benefits.
1. Increased Visibility
Your first task is to make a splash. Consumers attend events expecting exhibitors will market to them. They have a goal in mind, and they're going to visit the booths or brands that appear the most professional and inviting.
While other businesses stick to underwhelming tablecloths and simple color schemes, event signage gives your business more visibility using three-dimensional backdrops, eye-catching colors, attention-grabbing lighting, unique messaging and more.
2. Stronger Advertising
Now that you've successfully distinguished yourself from your competition, keep attendees' attention with a robust advertising strategy. Event signage tells a complete story about your brand. Informational signage showcases your brand's logo, slogan and services, acting as a conversation starter and generating more profitable leads.
3. Better Navigation
If you're facilitating an event, event signage also helps with the bigger picture — generating safe navigation with directional indicators and identification signs, as well as maps labeled with room names, bathrooms, cafeterias and common routes for larger conferences.
Event Signage We Supply
Integrated Sign Associates creates custom signs for all businesses. Consider choosing us for your San Diego business signage when hosting or attending events like these.
Tradeshow booths: Tradeshows can be stressful and chaotic. Using LED signs and digital message displays gives your brand a professional, innovative appearance, while providing tradeshow attendees with actionable information.
Sporting events: Fans love supporting their favorite teams at sporting events. With so many passionate attendees, it's essential to have plenty of directional and code signage, like where to find their seating entrances, food and beverage stands and restrooms. And, if you're a vendor at a sporting event, attract sports fans with sports-branded LED signs and message displays.
Press conferences: At a press conference, all eyes are on you, and you want to put your best foot forward. Because you're likely going to be in front of the media and audience members, you'll require a backdrop that accurately reflects your brand and reason for speaking.
Product launches: Your product deserves a proper entrance into the market. Product launches make a crucial first impression on the public, so maximize it with the right signage. Select signage based on where you choose to market. For example, if you decide to advertise at a tradeshow booth, have a digitally printed sign dedicated to your new product. Or, if you're hosting an event at your store, attract passersby with an LED message display or neon sign.
Grand openings: Typically, brick-and-mortar stores advertise grand openings at a storefront a few weeks beforehand. Get people to notice your opening event with a large exterior pylon sign or branded non-illuminated sign. Larger events are excellent places to advertise your grand opening, too. Create a versatile and long-lasting sign, like a digitally printed sign, to take with you to events throughout your business' lifetime.
Conventions: Like tradeshows, conventions generate traffic that requires directional signage to help attendees navigate. Attendees need visual guidance to reach their convention room and other relevant areas, like restrooms, emergency exits and food vendors. If you're a business leader attending a convention, consider using informational and branded signage — like a digitally printed backdrop or LED message display — so your audience can connect and remember your brand long after the convention ends.
Corporate events: Corporate event signage is professional, sleek, informational and eye-catching without being over the top. Branding is crucial for every sign, but particularly for corporate events. Create an event banner and digitally printed backdrop that suits every corporate event you attend. If your business is hosting an event, ensure you have plenty of navigational signage, like directories and room or cubicle signage.
Political: If you're hosting a political event with a specific agenda, advertise to the right people using strategic event signage. Political events have a massive influence on economic activities, and companies that facilitate and participate in these events should appear professional and growth-oriented. Appealing event signage plays a vital role in this. Create educational signage using digitally printed signs, like banners and backdrops, both patriotic and actionable.
Community events: Community events bring community members together and keep the community healthy by promoting positive change and local funding. Compared to other event types, community events are versatile and frequently changing. You'll want a lightweight, portable event sign that reflects your growth mindset and community-focused morals. If you're organizing the event, you'll also want eye-catching exterior signage to navigate locals to the event venue.
Concerts and theaters: Concerts and theaters require noticeable event signage that effectively directs attendees to their theater or seating entrance, to emergency exits, food vendors, restrooms, parking and so on. Brands at concerts and theaters require more vibrant and larger-scale interior and exterior signs, like reverse-lit channel signs, high-rise signage and neon signs.
Charitable events: One of the primary reasons to host charity events is to boost attendance and awareness of your cause. For your next fundraiser, consider using digitally printed banners and backdrops with powerful messages and photos.
The right event signage for your business depends on your industry, event type and event goals. Talk to a trusted professional about your strategic objectives, and they'll design and construct the most effective sign for you. With the right signage, you'll be a leader at your next event and at events in years to come.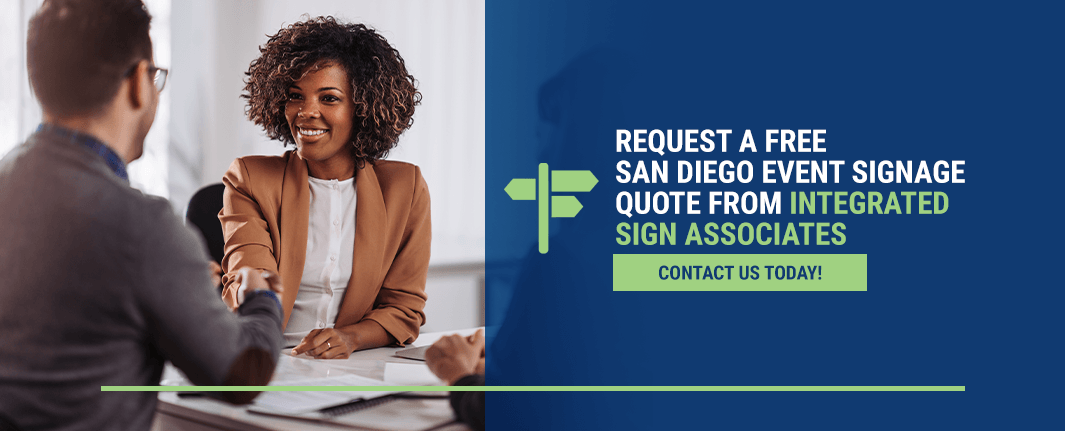 Request a Free San Diego Event Signage Quote From Integrated Sign Associates
Integrated Sign Associates proudly takes a customer-oriented approach to professional signage. If you're hosting or attending an event in San Diego and need signage, call one of our representatives to tell us about your business needs. We'll work with you to design a reliable sign that corresponds with your venue's demographic and size.
Request a free estimate today by visiting us online. Or, if you have any questions, please give us a call at 619-597-2085. We look forward to learning how we can boost your advertising strategy and sales.