Best Sign Materials for Outdoor Signs
Outdoor signage is one of the first things people see when they come to your business. You want it to give the right impression. Whether your company's brand is modern, fun, classic or something else, the right sign can portray that image to your guests and passersby. So how do you decide what kind of sign that is? It's hard enough to know how to choose the best materials for your sign, but when you realize how many unique options there are, it can become a whole different ballgame.
Finding out what the best material is for outdoor signs can be a challenge, but we'll try to walk you through as much of it as we can. From wood to aluminum to plastic, we'll go over outdoor signboard materials and what they can mean for your business.
What Are the Different Materials for Signage?
Signs may seem pretty straightforward until you take a closer look at them. Once you do, you'll realize a vast array of options can influence the look and functionality of your sign.
The material you need to use depends heavily on your intended usage, unique business needs and your budget. We'll go into the determining factors later, but for now, let's dive into the types of materials you can have.
1. Sintra Board
Sintra board is an excellent option for semi-permanent signage like real estate signs, promotions and pop-up displays. It uses polyvinyl chloride to form rigid paneling that stands up to the elements. The composition of it makes Sintra board resistant to bending, breakage and warping. You can print directly onto the board or dye it, but the standard color is an off-white shade with a matte finish. These boards are very durable and lightweight.
2. Dibond
This gorgeous aluminum composite material pins a core of solid polyethylene between two sheets of aluminum. The core makes it light, while the aluminum provides durability. It offers a unique, professional appearance that comes in a variety of finishing options. The metal panel can be matte or glossy. Dibond signs look good in both indoor and outdoor settings. Its sleek appearance makes it look modern and high-quality in any environment, but the light core makes it more affordable than pure aluminum of a similar thickness. You can have the attractive depth of a solid aluminum sign without the cost.
Another benefit to Dibond signs is design flexibility. You can cut it into intricate shapes, which are suitable for cutouts or lettering. You could also print photos directly onto them for a slick image advertisement.

3. Coroplast
Sign material such as Coroplast is better as a temporary solution. Signs for campaigns, real estate, special events and sales advertisements can benefit from a material like Coroplast, which has a plastic core made of corrugated sheets. Its design is similar to cardboard but uses waterproof and weather-resistant plastic. Most signs that use plastic material reap this benefit. The design makes it lightweight and accepting of various print methods, including double-sided printing.
Coroplast will work well outdoors, but don't expect it to last for too long. It will eventually fade in the sunlight over a few years, but it is excellent for short-term events like sales and pop-up markets. Coroplast also makes exceptional handheld signs, such as arrow spinners or trade show graphics.
4. Aluminum
Aluminum signs come in a few different varieties. Typical aluminum signs, like those you might find in a lobby or displaying a business name on the outside of a building, have a variety of thicknesses. Aluminum signs can be galvanized or brushed and provide a unique, attractive appearance.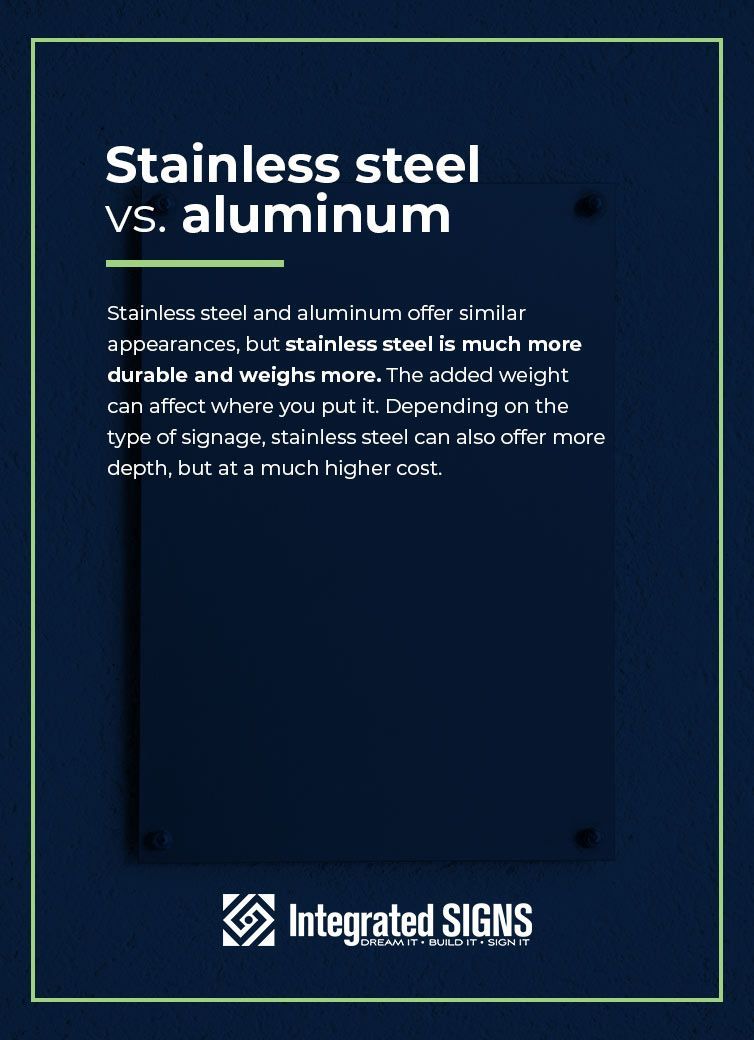 5. Stainless Steel
Stainless steel offers a similar appearance to aluminum with a sleek metal look. It is exceptionally durable and can stand up to scratches and the elements. It's also easy to clean and corrosion-resistant. Many businesses use stainless steel to create extruded lettering that offers depth and sophistication.
6. Corten Steel
Corten steel is a particularly unique type of signage. Like steel, it offers exceptional durability, but in Corten steel, this is in part due to the layer of dark brown oxidation that forms on the surface. If that sounds like rust to you, you're on the right track. Corten steel develops a rusted appearance after exposure to the elements, but this "rust" layer is permanent and protects it from corrosion. This material is popular for backdrops and architectural formations.
7. Acrylic
While acrylic signs are popular indoors for their elegance and clean look, you can also use them outdoors. The most significant drawback with acrylic signs in an exterior environment is that, depending on the weather, their expansion and contraction can pose a problem. They are, however, very lightweight and common in 3D lettering across businesses. They are also shatter-resistant, making them a little less dangerous to move around.

8. Vinyl
Vinyl is a high-end sticker with adhesive on one side. The adhesive is invisible, so you can view the color and image through it if necessary. Vinyl comes in multiple colors and styles to give each user a unique look.
9. Neon
Neon signs offer a vintage feel if you want them to, but plenty of modern-looking businesses use them, as well. Often, dimly lit bars and restaurants will use neon signs to grab the attention of their guests. These signs are incredibly customizable with a unique look. The glass can be blown in different shapes and designs.
What Is the Best Material for Outdoor Signs?
How to know what signage material to use for an outdoor sign depends significantly on your unique needs. If it wasn't evident from the list above, plenty of options and configurations can influence the result of your sign. You'll have to think about specific physical aspects of your sign and its location as you look at all the choices. Some of the factors you should consider include the following.
Length of time needed: Are you advertising an upcoming sale or installing a permanent sign for your storefront? Most exterior sign materials will last anywhere from eight to 12 years, but some, like Coroplast and banners, will last only months. Some surface coatings can add ultraviolet resistance or waterproofing for less-durable materials.
Waterproofing: For an exterior sign, you'll need something waterproof. Typically, you'll want to avoid untreated wood or plywood signs because they will warp on contact with rain and moisture. Plastic and aluminum, on the other hand, can handle excessive water from the environment.
Impact and scratch resistance: Is your sign going to be somewhere that it may bump into other surfaces and become damaged or scratched? High winds can cause this, as well as a high-traffic location. Aluminum, steel and acrylic-based signs tend to have substantial resistance to impacts, but some softer substrates damage more readily.
Temperature exposure: Some signs will hold up better at extremely high or low temperatures than others. If you live in an area subject to this kind of weather, you may want something particularly resistant to temperatures, like aluminum.
Lighting needs: Does your business run on a typical 9-to-5 schedule, or do you need it to be visible later in the day? If it's the latter, consider a channel-lit sign that provides a glow to your business name, illuminating it at all times of the day. For a sign that doesn't use 3D lettering, you may need to consider the cost of additional exterior lighting.
Beyond the physical considerations, you'll also want to think about your business specifically and what your marketing and aesthetic goals look like. Try and find a sign that will support your business' branding and budget.
When considering the aesthetic tone of your company, factor in your decor or ideal image. What do the exterior and interior of your building look like? Do you maintain a classic appearance that might look better with carved wood, or something sophisticated and sleek that could benefit from brushed aluminum? Will your sign need to fit in with a strict decorating scheme, or do you have some wiggle room? Make sure the tone of your sign fits with the rest of your business. A fun, youthful company may be a better match for bright 3D letters than a sophisticated law firm that wants to appear elegant at all times. They might benefit more from acrylic or an aluminum-based sign, like Dibond, for a polished look.
Next, consider your budget. You might be at a stage in your company where you're ready to invest in a genuinely beautiful, long-lasting sign. Spending more on a sign will often net you higher quality and more longevity, but some businesses need something more temporary or aren't ready to spend that much on a sign.
For permanent sign options that are affordable, consider a material like Dibond or composite board. With their core structures, you get similar depth to a more expensive product for a lower cost.
For temporary or semi-permanent solutions, materials like Sintra and Coroplast are excellent choices. These vibrant signs won't last for years, but will stand up to the elements for a short time.
Finally, if you're ready to make a substantial investment in your building, the sky is the limit. 3D lettering, aluminum, carved acrylic and stainless steel are all great ways to put quality and longevity at the forefront of your sign. Remember the value a quality sign can add to your business. Just over a third of people report making assumptions about the quality of a company based on their signage, and nearly half of people fail or struggle to find a business because of small or unclear signage. This investment can elevate the reputation of any business, large or small, and offer significant improvements to your image and customer perceptions.
These may seem like a lot of factors to consider, but they will help you select the perfect sign that will serve your company for years to come. With a better idea of what kind of sign you need, let's take a closer look at the differences between some of the materials we mentioned.
How Do the Materials for Outdoor Signs Compare?
Below are commonalities and differences between some of the more similar sign materials.
Coroplast vs. Sintra board: While both are great for outdoor use, Coroplast is more translucent and lighter than Sintra board. Sintra board offers better resistance to degradation, holding its color and form for longer. Coroplast's corrugation makes it more likely to bend and fade.
Dibond vs. Sintra board and Coroplast: Dibond's appearance is in a league of its own. The aluminum coating helps create a beautifully unique brushed metallic look. Dibond also lends itself to more intricate shapes and supports vinyl applications or direct printing. Coroplast and Sintra board offer simpler panels with neutral-colored backgrounds. They are typically better options for short-term displays, such as sales, special events or construction site signage. To help with long-term use, Dibond is also noncorrosive.
Dibond vs. aluminum: The most noticeable difference between Dibond signs and aluminum signs lies in their core. Dibond has a core made of solid polyethylene, while standard aluminum signs are entirely metal. This polyethylene core allows Dibond to be less expensive but not as strong or durable. It provides a similar, high-quality depth to regular aluminum signs.
Stainless steel vs. aluminum: Stainless steel and aluminum offer similar appearances, but stainless steel is much more durable and weighs more. The added weight can affect where you put it. Depending on the type of signage, stainless steel can also offer more depth, but at a much higher cost.
Wood: Generally, wood doesn't have a reputation for outdoor longevity, but if you choose to go this route, you'll need to know what wood lasts the longest outdoors. The best woods for outdoor signs include cedar and white oak, which naturally resist insects, water damage and rotting.
How Do I Know What Signage Material to Use?
There are a lot of options, and each one can determine the quality of one of the first things people see when they come to your business. Revisit the list of considerations above and try to get an idea for the kinds of features your sign will need, such as resistance to heat or design for long-term use. Then, identify the tone and image you want. According to the International Sign Association, the most effective attributes of a sign are legibility, an enjoyable viewing experience, informativeness, quality, appropriate scale and uniqueness. Consider how and if your signage material plays into these factors.
Once you have an idea — or if you have no idea where to start — contact the experts at Integrated Signs. We know the characteristics of these sign materials inside and out and can help evaluate any number of details to find you the perfect one. Not sure if your climate counts as having "extreme" temperatures? Wondering how the costs of different materials compare? We can help answer these questions and more with consideration to the specific requirements of your business.
Our world-class team of representatives understands each business is different. Your budget and needs are significantly distinct from those of your competitor down the road. That's why we will work with you to identify and meet the standards set forth by your company. The right sign can mean the difference between one that stands faded and in disrepair after a short while and one that looks vibrant and brings guests into your building for years to come. Let us help you find that sign.
Find the Best Material for Exterior Signs With Integrated Signs
Hopefully, you now have a better idea for the kind of sign your business needs. It should be one that stands up to the elements and provides an aesthetic that matches your company's tone and feel. You'll also need one that provides the right value and lasts for an appropriate amount of time with the best material for exterior signs.
For help with this selection, and a sign company that delivers high-quality results, businesses all over the country turn to Integrated Signs. We are a full-service company that can help you choose the best materials for your sign, with an unparalleled focus on customer service. Reach out today to request an estimate or get more information on the types of signage material we offer.