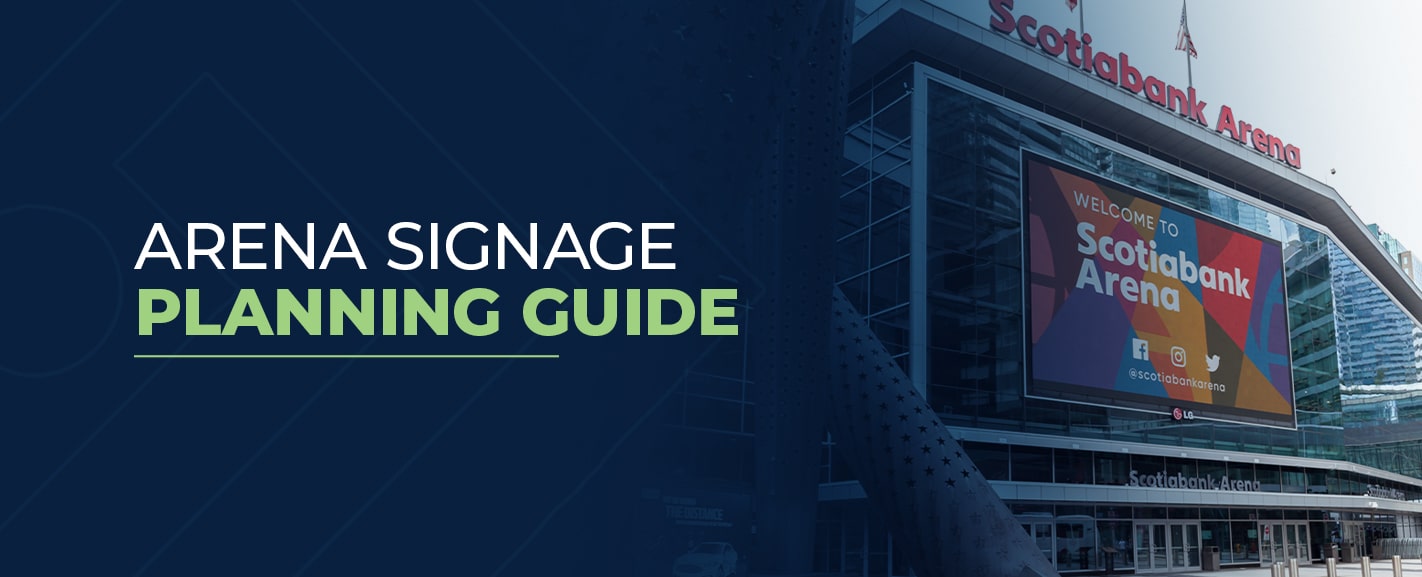 Arena Signage Planning Guide
Sports stadiums across the globe use signage around every part of their facility. Communication is the driving force behind sign usage, which is vital for the large, diverse crowds at sporting events.
Signs are an integral part of a visitor's experience in an arena. On the exterior of arenas, you can find pole banners, billboard banners, championship flags and large hanging banners draped along the facility's side. Inside, you can find more flags, banners, wayfinding signage, floor decals, scoreboards, concession signage and more.
Integrated Signs has a guide for arena signage to help arena staff refresh the arena, enhance fan experiences and take advantage of unused space.
Table of Contents
Exterior Arena Signage
There are several signs you can find outside arenas to draw people in.
Arena Signage
Many arenas serve as local landmarks, but it's important to have exterior signage that will make a lasting impression if you have people visiting. People will refer to your stadium by name instead of "that stadium in San Diego."
A classic arena signage choice would be a monument sign near the parking lot or arena entrances to let people know they're in the right spot. Another stand-out choice would be reverse-lit channel letters on the side of the stadium that people can read as they drive by.
Vehicle Wraps and Graphics
Vehicle wraps provide a fun way to showcase your brand or sponsor on the road. Taking a wrapped vehicle to an outside event will surely garner some impressions, and the car provides a unique photo opportunity for fans. Partial decals are also available to display your signage.
Building Banners and Pole Banners

Your arena parking lot is a massive space that you can utilize for branding. One way you can polish this area is through pole banners attached to your light poles. You can easily hang and change pole banners to show seasonal or long-standing messages, brands or sponsorships.

Use custom digital printing services to get the exact color, image and message for your advertisement. You can fill the space on the side of your arena with promotional banners.
Window Graphics and Door Decals
Many opportunities lie in your blank window space. Graphics for your glass can add color and excitement outside of your windows.
Full window graphics are a centerpiece for team branding or sponsor inventory. You can place smaller decals for polished, subtle branding. Vinyl signage can be a cost-effective branding solution.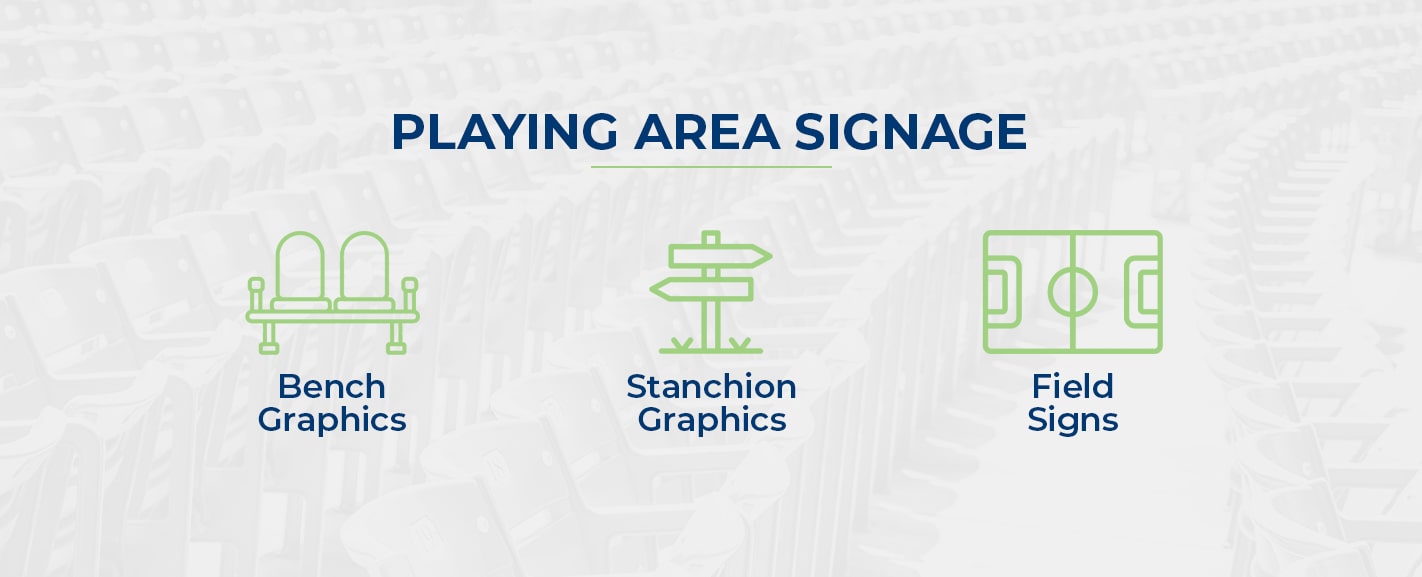 Playing Area Signage
Take advantage of the main attraction with carefully placed signage.
Bench Graphics
A prime spot for television cameras to focus on in your arena is the player bench. When the cameras zoom in here, they can capture the players and your signs. Some examples include:
Basketball: Signs can be underneath the player's chairs
Baseball: Hang banners on the dugout fence.
Ice hockey: Post information on the wall behind the bench.
You can take these areas advantage of with solid vinyl decals or one-way viewable graphics. You can use many types of signage here while maintaining a fun viewing environment.
Stanchion Graphics
A stanchion is an upright bar forming a support or barrier. In arenas, they are often portable posts used to manage lines and queues. You can place displays on the stanchion to advertise sponsors, merchandise, concessions, and more.
The post attached to the hoop in basketball is also considered a stanchion. The basketball stanchion can be an exciting opportunity to advertise from the sponsor inventory.
Field Signs
Field signs can take several forms. These can be vinyl banners hung around the perimeter of the playing field promoting the stadium's name or the home teams. They can also be names and logos from the sponsor inventory. In many arenas, field signs will include a combination of both.
Seating Area Signage
Place signs close to your guests with seating area signage options.
Scoreboard Signage
The second most viewed area of every arena is the scoreboard. Modern scoreboards are capable of much more than identifying points, innings, and quarters.
New scoreboards can showcase branding, a variety of sponsorships, and even videos. Upgrading to a new scoreboard can simplify your advertisements.
Indoor Ribbon Displays
Ribbon boards are becoming a standard for indoor arenas. They offer endless opportunities to display content during events, including game information or promotional material. Most ribbon boards are made with LED technology, delivering incredible resolution and wide viewing angles.
Section Signs
Section signs are one of the most important arena signage to have. If your arena staff receives multiple questions from visitors about where their section is, it may be time to update your section signage.
With highly visible section signs, you can help your fans navigate to their seats as well as mark handicap seating areas. You can even brand your signage with your branding or a sponsorship opportunity.
Concourse Signage
There are two main types of concourse signage — LED signs and directional signs.
LED Signs
LED signs are universal to arena signage. For arenas that host various events, the display can change between branding, sponsorships, upcoming events, and more. By placing LED signage in high traffic areas, you can brighten up otherwise blank and unused walls in your arena.
Directional Signage
Directional signage, also known as wayfinding signage, is crucial in directing guests to navigate your arena. Wayfinding signs help guests find their way around to their seats, the restroom or the nearest food and beverage area. Your arena can use basic arrow signs or more creative and fun directional signage.
Directional signage also includes directory signs. Adding arrows or color-coding your signs to certain sections can help people navigate your arena easily.
Other Types of Arena Signage
There are other specialized signs for your arena.
Environmental Graphics
Environmental graphics are art that plays off your surrounding environment. In arenas, environmental graphics will typically lean on your branding.
A typical example is adhesive murals. Place these onto bare walls to create an impression at an affordable price point. Wall murals can enhance the fan experience with your arena branding.
You can also use environmental graphics in your front office signage. Graphics can include player images, arena panoramas, or dimensional logos to welcome your staff and guests.
ADA Signage
Quality ADA signage is important to your arena. State and federal guidelines require code signs through the Americans with Disabilities Act (ADA). Implementing raised lettering and braille on your common rooms, restrooms, fire routes and more is important to meeting standards and making your arena accessible to all fans.
Regulatory Signage
Regulatory signage communicates rules and regulations of the arena, such as "no smoking" or "no entrance." These are necessary for restricting access to areas such as the locker room or press box.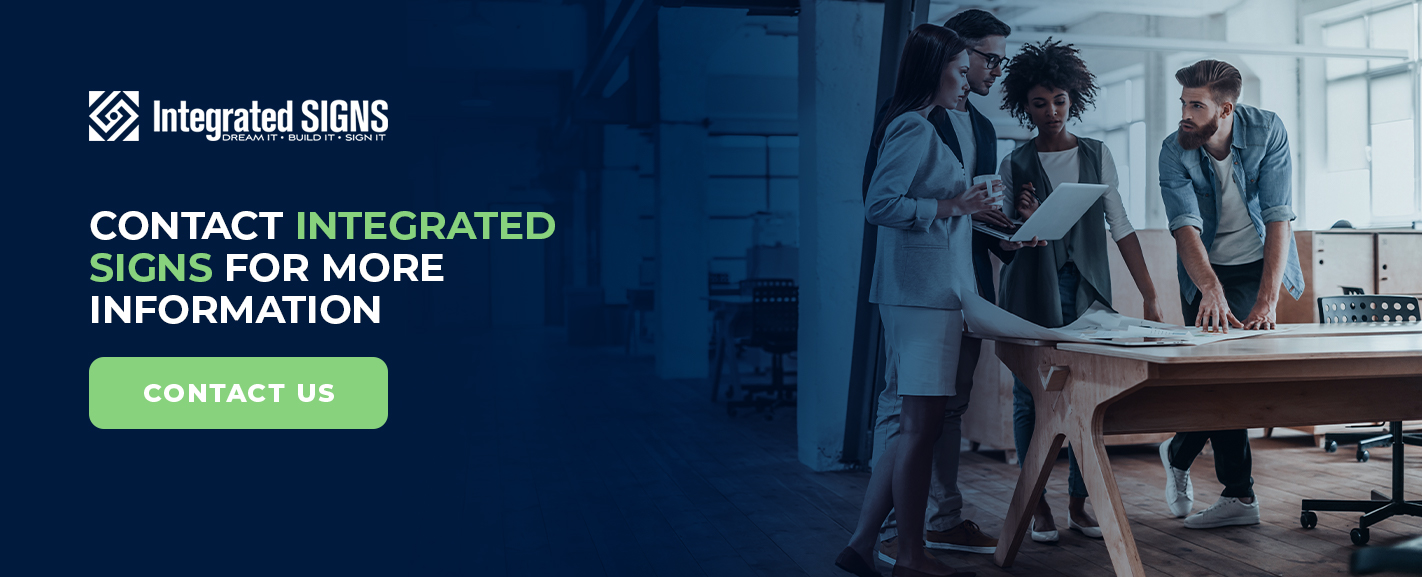 Contact Integrated Signs for More Information
Finding the right arena signage can communicate with dedicated fans and first-timers and create the ultimate viewing experience. Turn to Integrated Signs to upgrade your sports stadium signage.
We take a "customer comes first" approach and commits ourselves to provide an excellent experience with quality signs that look fantastic and last for years. Our top-down management structure ensures we will be with you every step of the way, from design to installation.
For arena signage in San Diego, look no further. Contact us today for a free estimate.