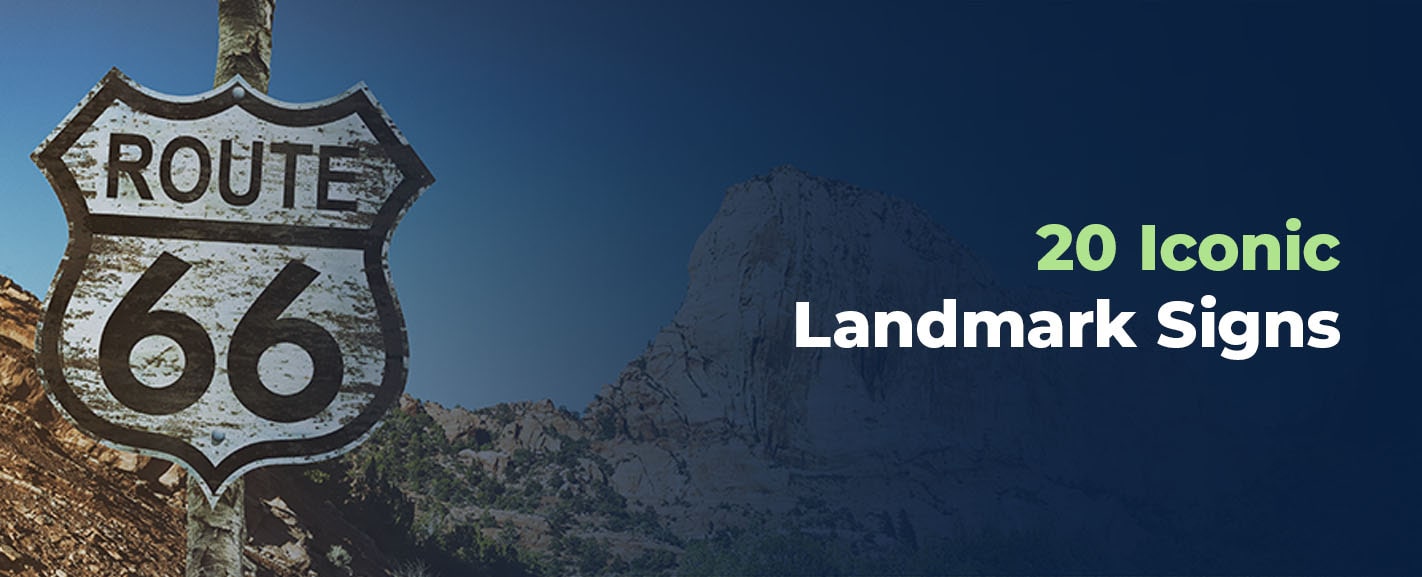 20 Iconic Landmark Signs
Signs surround our daily lives and most don't stand out, yet there are some that not only capture the essence of a place but are so well-known that they've become their own landmark. Some are located in America and others are around the globe. They can be recognized for their enormous size, their rich history, their visual interest, their location, their attention to detail or a little bit of each.
It's rare for a sign to be so popular that it becomes a landmark, but it happens, and this article outlines where they're located, their history and what makes them so famous. Whether you're interested in visiting these signs or you hope to design one just as iconic for your own business, there's something you can learn here. From the Hollywood sign in California to the fiction-inspired Platform 9 3/4 sign in London, these 20 iconic landmark signs are worth more than a passing glance.
Table of Contents
Iconic Signs in Other Countries
Iconic Signs in America
Many signs in America are simple and mundane, like speed limit signs or stop signs. You might be so accustomed to seeing these signs that you barely glance at them anymore — and you only do when you need the information. But there are a handful of signs that turn heads and draw tourists. Some of the most known signs in the world are located in America, from California to Louisiana. Here are 10 signs in the United States that have become their own landmarks:
1. Route 66 Signs
As the world's most traveled road, Route 66 originally spanned almost 2,500 miles across the United States from Illinois to California. The famous road lives on in songs, movies and television shows. Driving along it is a dream of many travelers. The original was constructed in 1962, but only parts of the first Route 66 remain, the rest having been replaced by the Interstate Highway System in 1985.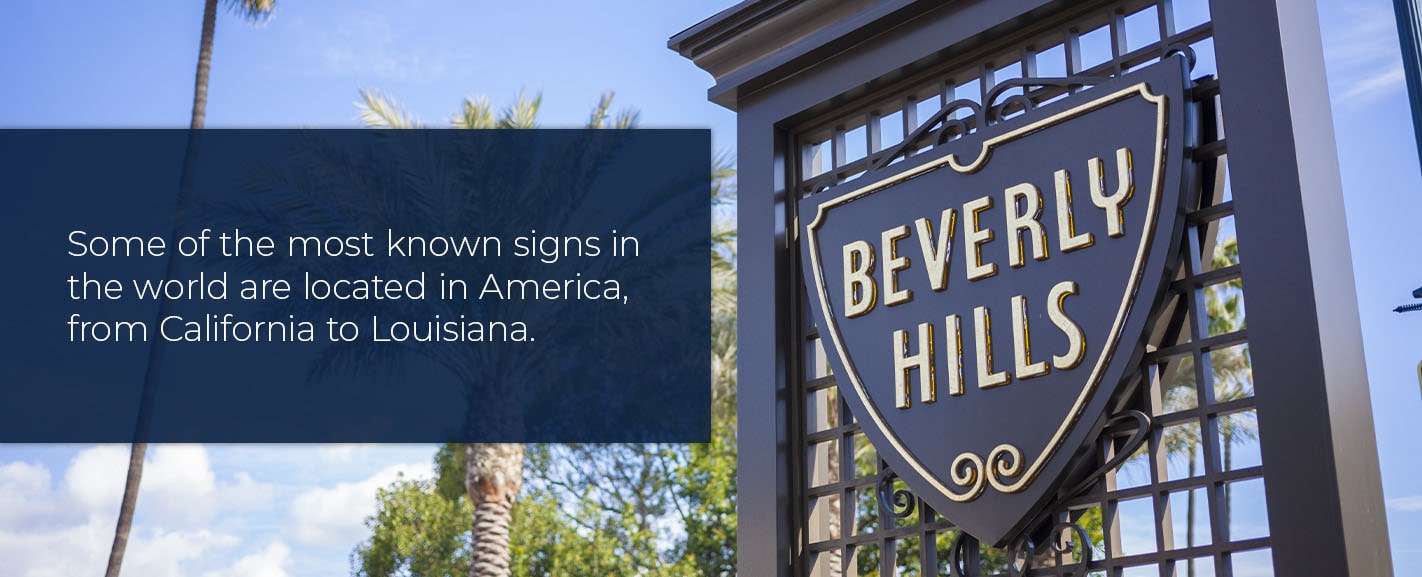 2. Beverly Hills Sign in Los Angeles, California
Known as a glamorous city, Beverly Hills bears the signature shield sign that is recognized as a landmark around the world. There are 33 signposts throughout the city, located in popular areas like Moreno Drive, Beverly Gardens, the Beverly Hills Visitor Center and Little Santa Monica Blvd. Many of the signs are their own tourist attraction as well as marking areas tourists would like to explore.
3. Hollywood Hills Sign in Los Angeles, California
Probably one of the most famous signs on this list, the Hollywood sign is featured in plenty of shows and movies. Located in Los Angeles, a place known for dreams coming true, the sign has graced the Mount Lee summit since it originated in 1923. It overlooks the Hollywood district and is easily visible, even from a distance. The sign is 110 meters long, and each letter is 14 meters tall. This iconic sign is one of the most recognized and most photographed globally.
4. Tower Records Sign in Sacramento, California
This neon sign depicts teens dancing on top of a record. The dancers' legs move back and forth while music bars flash. Designed for Clayton and Russ Solomon, founders of Tower Records, the sign was one of few that was an exception to the Sacramento city ordinance that outlawed animated signs.
5. Chicago Theater Sign in Chicago, Illinois
The theater sign in Chicago has also appeared in many movies and television shows. It's 18 meters tall and has remained since the venue was built in 1921. It's famous for the entertainment it produces.
6. Coca-Cola Sign in Baton Rouge, Louisiana
Coca-Cola is a widely known brand, and its logo is just as easily recognizable. The Coke sign in Baton Rouge originally remained unlit for years, until a restoration was completed. The owner of the building where the sign hung covered it with a tarp for over a year, claiming that the arts council that completed the restoration had no right to do so. After 15 months, the disagreement was resolved. The sign now shines bright, attracting tourists interested in getting a look at a piece of history.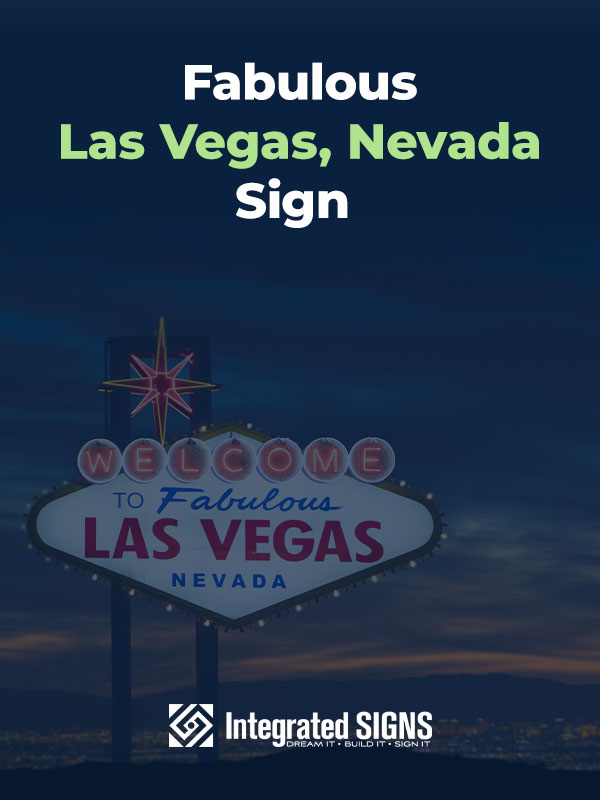 7. Fabulous Las Vegas Sign in Las Vegas, Nevada
Another widely known sign, the Fabulous Las Vegas sign, welcomes visitors to Sin City and has since 1959. It is 7.6 meters tall, located at 5100 Las Vegas Boulevard South. Many tourists see the sign and its flashing lights as a representation of the fun and glamor that comes with Vegas. It was also added to Nevada's list of registered historic places in 2013.
8. The Reno Arch in Reno, Nevada
Also in Nevada, the Reno Arch is a neon sign which features the city's motto: "The Biggest Little City in the World." Reno, similar to Las Vegas, is famous for its casinos. This sign also shares the essence of its location. The original arch was built in 1926 and was twice replaced. The current sign was installed in 1987.
9. Extraterrestrial Highway Sign in Nevada
Nevada is not only known for its gambling and casinos, but also for the mysterious Area 51. The Extraterrestrial Highway sign fits that theme. Also known as Nevada State Route 375, this road is a place where many people reported alien encounters and UFO sightings, making it a destination for those interested in the otherworldly. Nevada officially named it Extraterrestrial Highway in April of 1996.
10. Broadway Street Signs in New York City, New York
Broadway is one of the biggest attractions in New York City and has signs in varying locations. It is one of the most recognized streets around the world, running 33 miles long. Broadway dates back to 1642 and is famous for its shows and theaters.
These 10 iconic signs in America are only the beginning. There are many more well-known and less-known signs that tourists make a point of visiting on their travels or that are admired by those in the local area. You might be more inclined to visit some of the better-known ones, but it's important to remember that they're all famous for a reason. That reason sometimes isn't visible through an image, but rather through the experience of an in-person sighting.
Iconic Signs in Other Countries
While the U.S. holds plenty of globally known signs, there are many in other countries that are just as recognizable. Some, like the wildlife signs in Australia, are nothing more than mundane for locals. Others, like the Signpost Forest, are not only a tourist attraction but a common visit for locals as well. And a few, like the Skipping Girl, might be more appreciated by locals than visitors. Take a look at these 10 iconic signs:
1. Road Signs of Australia
Australia is widely known for its unique, sometimes strange and often large wildlife. The country is covered in animal warning signs not often seen in other locations. From crocodile warnings to kangaroo and koala crossings, they're a part of everyday road travel for locals, but they capture the attention of visitors.
2. Nylex Plastics Clock in Melbourne, Australia
While this sign is not as picture perfect as the others, it's iconic for its closeness to the Melbourne Cricket Ground and tennis center, where the country's biggest sporting events are held. The clock was broken for numerous years and is on concrete grain storage silos — nothing special. It shows the time and temperature and dates back to when the area was an industrial zone. It's a landmark since it's remained for so long.
3. Little Audrey the Skipping Girl Sign in Melbourne, Australia
This sign is leftover from a vinegar company and depicts a little girl, dubbed Little Audrey, in neon lights. At night, a jump rope lights up and flashes around her, making her appear to be jumping it. The original girl was removed back in the 1960s, but people erupted in a mass outcry. In response, she was restored and placed in a new location close to the original. This landmark is so well known that there is a Wikipedia page about the Skipping Girl.
4. Farine Five Roses Sign in Montreal, Canada
This sign is well-known for representing the essence of Montreal's bilingual history. "Farine" is the French word for flour, while the company's name is written in English. The sign represents what many call "Franglais," a combination of the English and French languages.
5. Signpost Forest in Watson Lake, Canada
Along the Alaska Highway in Canada, the Signpost Forest is an actual forest full of street signs and license plates. It originated in 1942 when Private Carl K. Lindley, who was repairing a damaged signpost in the area, decided to add a sign with the distance to his hometown of Danville, Illinois. Soldiers then followed his example and by 2008, the number of signs reached over 65,000. Anywhere from 2,500 to 4,000 signs are estimated to be added to the landmark every year.
6. Penny Lane Sign in Liverpool, England
Often known for its reference in the Beatles song, the Penny Lane sign is recognized around the world. John Lennon and Paul McCartney would meet to catch the bus into town here. After they released their song, the original sign was stolen and it became a constant target by thieves. Because of this, "Penny Lane" was instead painted on the bricks above where the sign stood. However, Penny Lane now uses street signs, but occasional thefts do still occur.
7. London Underground in London, England
Located at all entrances to the London Underground, the red and blue station signs have been used since 1908. They're internationally recognized and can be bought with some of the station names on them from the Transport for London online shop. Locals refer to the transport as "the tube." It has been in use since the late 1800s.
8. Platform 9 3/4 sign in London, England
This sign is the only sign on the list that does not signify an actual location. It is at Kings Cross Station in London and references the fictional platform used in the Harry Potter series by students to get to Hogwarts School of Witchcraft and Wizardry. Fans visited this sign so often that it had to be moved from the original location on a platform to a brick wall next to a themed gift shop.
9. Moulin Rouge Windmill and Sign in Paris
Located in Paris, the Moulin Rouge windmill and sign has been up since 1889. The venue is a cabaret, famous for shows inspired by the circus in its early days. The original location, founded by Charles Zidler and Joseph Oller, burned down in 1915. The new location opened shortly after in 1921. It is still a popular attraction for entertainment.
10. Valdivieso Sign in Santiago, Chile
Valdivieso, a wine brand and vineyard, put up this sign between 1954 and 1955. The sign became an official national monument in 2010. Then, in 2017, there was a controversy that arose from a change in the phrasing of the sign which originally read "Y hoy, por qué no?" (And today, why not?) to "Desde Siempre" (Since always).
While the area surrounding a sign can add to the wonder of it, it can be hard to travel globally to visit all of these. Yet, if you can't see these signs in person, they are noteworthy enough that you should at least look at pictures of each.
Learn More About Signs
As you can see from this list, signs can be much more than a location guide. Signs, when created correctly, can bring together a community, can represent an area and its people or beliefs and can be a travel destination. Sometimes, the right design can turn heads, like with the Skipping Girl. Sometimes, it's more about history, like the Route 66 signs. Other times, it's about the sense people get from seeing it, like the Hollywood sign or the Fabulous Las Vegas sign.
If you want to learn more about signs or if you're interested in getting an iconic sign created for your business, reach out to one of our sign specialists. We've worked with local, national and international clients for over 35 years, creating the perfect signs for their brands. Based in San Diego, our creativity and attention to detail are one of the many reasons businesses chose our team for their business sign investment.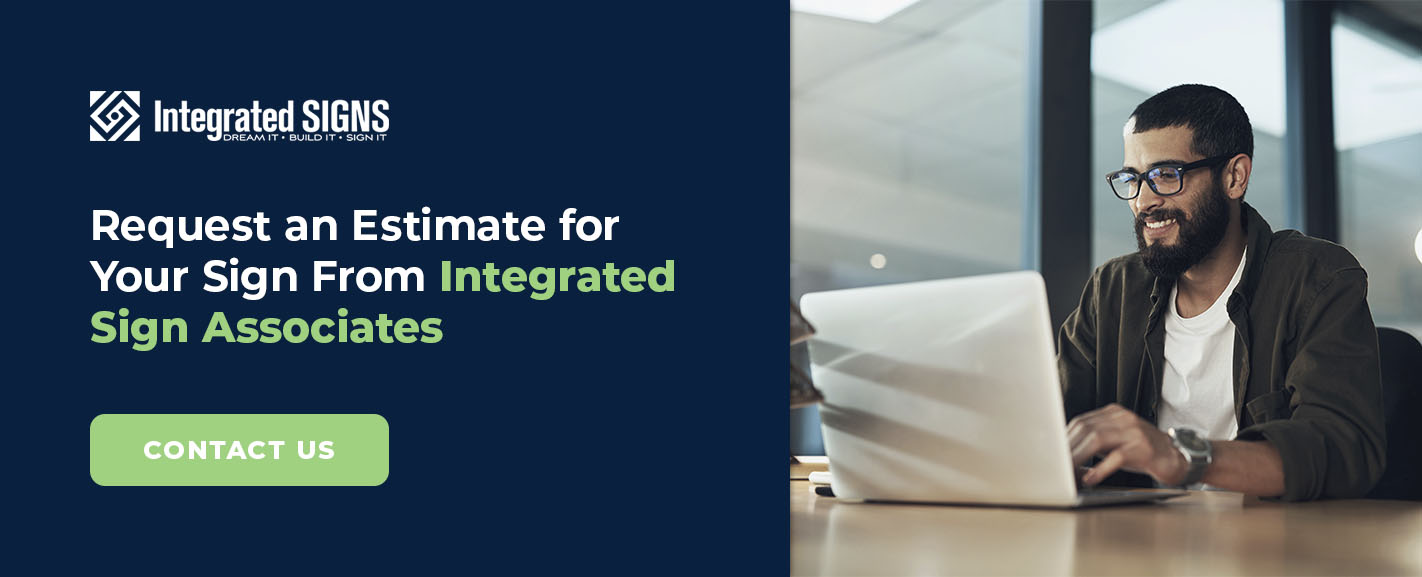 If you love signs as much as we do, check out some of our other helpful articles about tips for effective design and environmental graphic design examples.