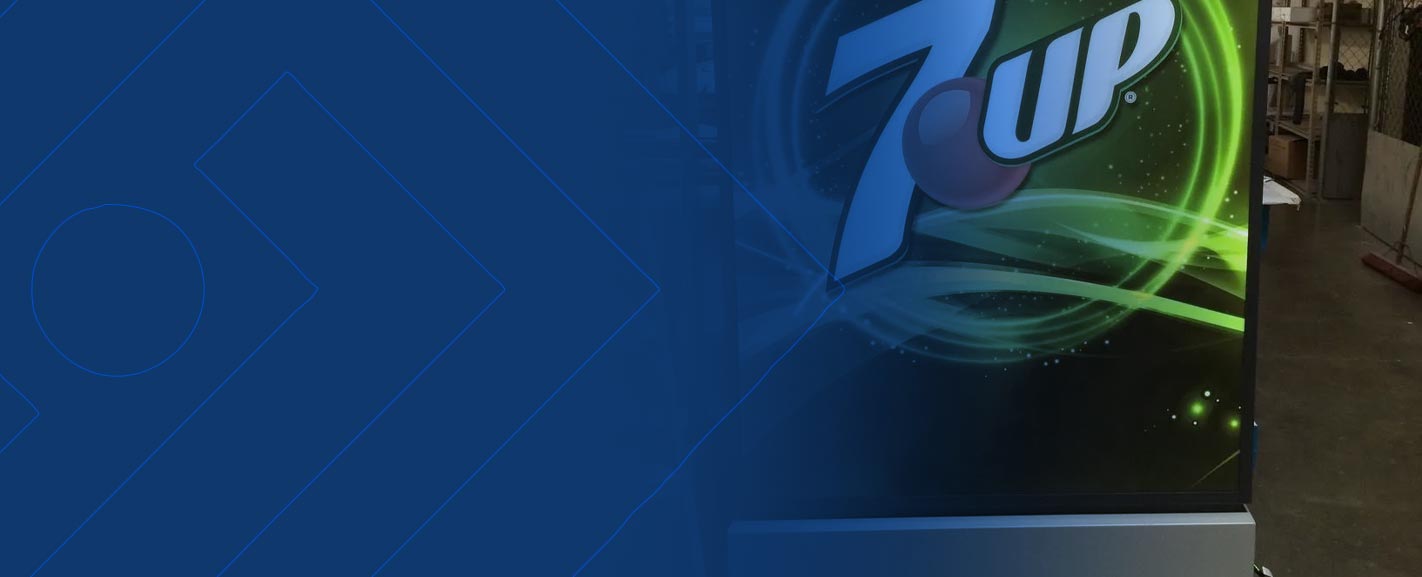 How Digital Signage Is Revolutionizing Venue Branding
Digital signage is changing how you can implement your marketing and branding standards at your venue. Learning about this sign type can help your venue decide if you need to switch to digital sign solutions.
In This Article
Digital Signage vs. Static Signage
Digital signs are a modern solution to traditional advertising and information sharing. With digital signs, you have screens that share changing messages. You can use digital signage to display advertisements, navigate visitors through your venue, direct traffic and broadcast live events. Because they can change, you can increase their functionality, use them for multiple purposes and update them as needed to match your marketing and branding goals.
Static signs are more common in the marketing sphere. They are permanent fixtures with an unchanging message or one that needs physical updates. While software solutions control digital signage displays, changing a static sign requires commissioning a new sign or changing its various design elements. Static signs are excellent navigation and branding tools, incorporating lighting, shapes and color theory to engage your target audience.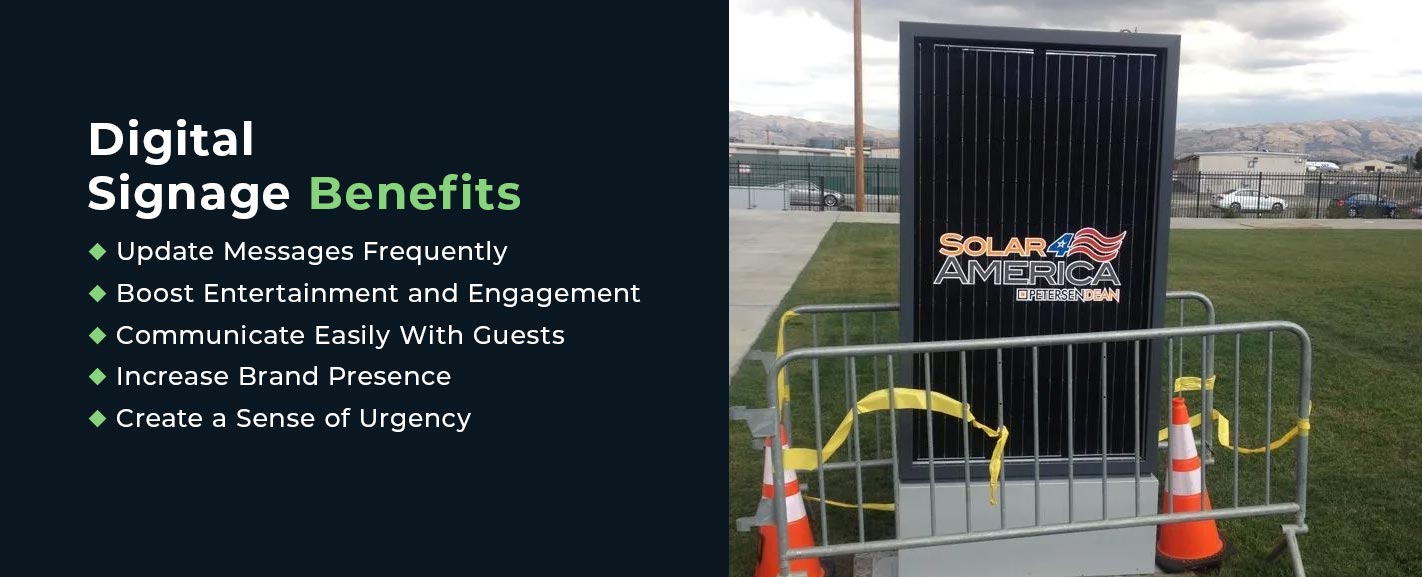 Digital Signage Benefits
While many organizations and companies still rely on static signs, digital signage can offer unique benefits for your venue. Understanding these advantages can help your venue determine if this advertising and marketing tactic suits your facility and audience.
1. Update Messages Frequently
One of the biggest perks of digital signage is changing your displays as needed. This system lets you seamlessly swap between promotional advertisements from sponsors, essential information about the event, entertainment materials and live broadcasts. You can program content to change automatically, making it more cost-effective than static methods. If you need to make last-minute additions, you just update your software solution to reflect changes, making it more adaptable to your needs.
2. Boost Entertainment and Engagement
You can use digital signs to share all kinds of things, moving beyond informational. Whether you use your venues for sports games, concerts or other purposes, digital signage can increase visibility. You can broadcast live events and action to everyone in your venue, helping create a more positive experience. Your guests will stay entertained throughout their entire visit with content they can easily see.
When the action gets slow, or there are breaks in games or concerts, you can use your digital signage to keep the audience engaged. Many stadiums use digital screens for "kiss cams," creating an interactive experience unique to that game day. You can also play other games, like trivia, scavenger hunts or social media challenges. Your guests will continue having fun while paying attention to your digital signage and what it can offer.
Changing content means your season ticketholders or returning guests can experience something new each time they are at your venue. You can continue engaging their interests and give them something else to look forward to.
3. Communicate Easily With Guests
You may want to communicate various information to your visitors when hosting an event at your venue. Without digital signs, you might have to rely on verbal announcements, which can be hard to hear over others. Static signs can also help, but they can become outdated or inaccurate if situations change. Digital signage lets you make adjustments relevant to that specific event and audience, from changed details and various languages.
Digital signs as communication tools can take on various functions. You can use them throughout your venue to help direct foot and vehicle traffic. At the end of your event, digital signs can display instructions on how to safely and efficiently exit. You can use them in parking lots to highlight or direct visitors toward open lots. Equip your concession stands with digital signs to help update menus to accommodate special or sold-out items.
4. Increase Brand Presence
Digital signage can help you create unique fixtures that let your venue stand out. You can work with a sign designer to customize its shape and dimensions to create a solution that best fits your needs and catches your visitors' attention. For example, you can try wrap-around screens and custom shapes.
These signs can help your stadium and its fixtures become local monuments, making them more attractive to visitors and locals. Guests can take pictures in front of the screen to post on social media, gaining you more attention when they tag your location. Clear visual elements make it easier to find your venue, further cultivating a more comprehensive positive experience.
When you use the latest technology and innovative solutions, you can better compete with other venues. As your venue increases in recognition and visitor experience, you can see increased revenue and customer loyalty.
5. Create a Sense of Urgency
Because you can update and change your digital signs anytime, you can increase the urgency surrounding products and deals. Temporary advertisements can communicate to your target audience that your goods are limited, causing them to act sooner. Static signs can help create some urgency, but some customers might ignore them after a while, forgetting their message and possibly leading to fewer sales. A dynamic, digital solution might be the answer when you want to increase purchases at your venue.
Digital Signage Aspects to Consider
Like all sign solutions, digital signage has unique factors to consider before committing. When you understand how these factors impact your digital signage use, you can better determine whether this sign option is right for your venue. Some digital venue sign aspects to consider include:
Initial costs: While digital signs are less expensive to maintain and update, you will have higher upfront costs. Digital technology required for this sign option will increase installation fees and purchase costs. If you have a budget in mind, you might need to reconsider this signage method.
Expertise and maintenance: Software solutions help make digital signs easier to update for venues. However, you will need to program updates yourself, which can be challenging for teams with little technical experience. You will need someone who can serve as a technical expert and understands how to work software, run software updates and tackle technical issues.
Speed and missed opportunities: When programming your advertisements and digital content, you need to ensure your space and time optimize viewership. Moving or temporary messages mean viewers might miss information and opportunities. Timing and repetition can help but lack the same surety that comes with static signs.
With so many digital signage venue benefits, knowing the considerations can give you a more well-rounded picture of what investing in this sign type looks like.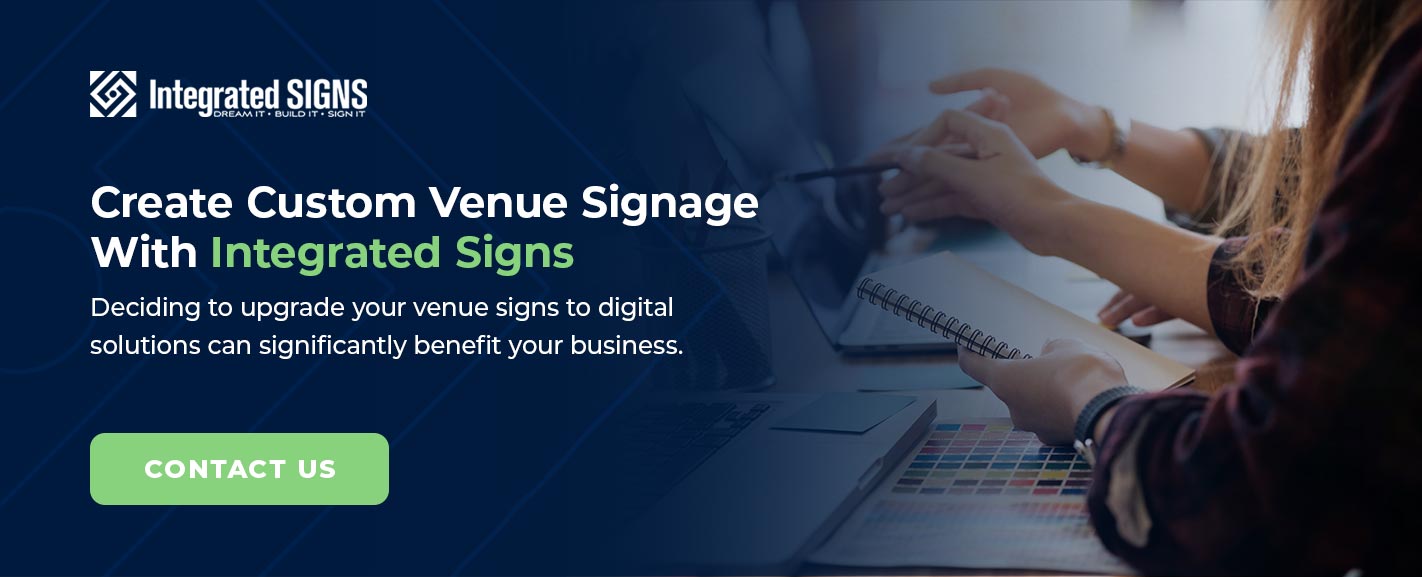 Create Custom Venue Signage With Integrated Signs
Deciding to upgrade your venue signs to digital solutions can significantly benefit your business. You can better engage and reach your audience with various types of content to entertain and inform them.
When integrating digital sign solutions into your venue, you need the right partner. Integrated Signs can help you design and implement custom digital signage at your venue. With experience and expertise, we can help you optimize sign space and goals to create a personalized solution that best meets your needs.
Contact Integrated Signs today for a free quote, and discover how we can transform your venue into a more interactive and informative space.