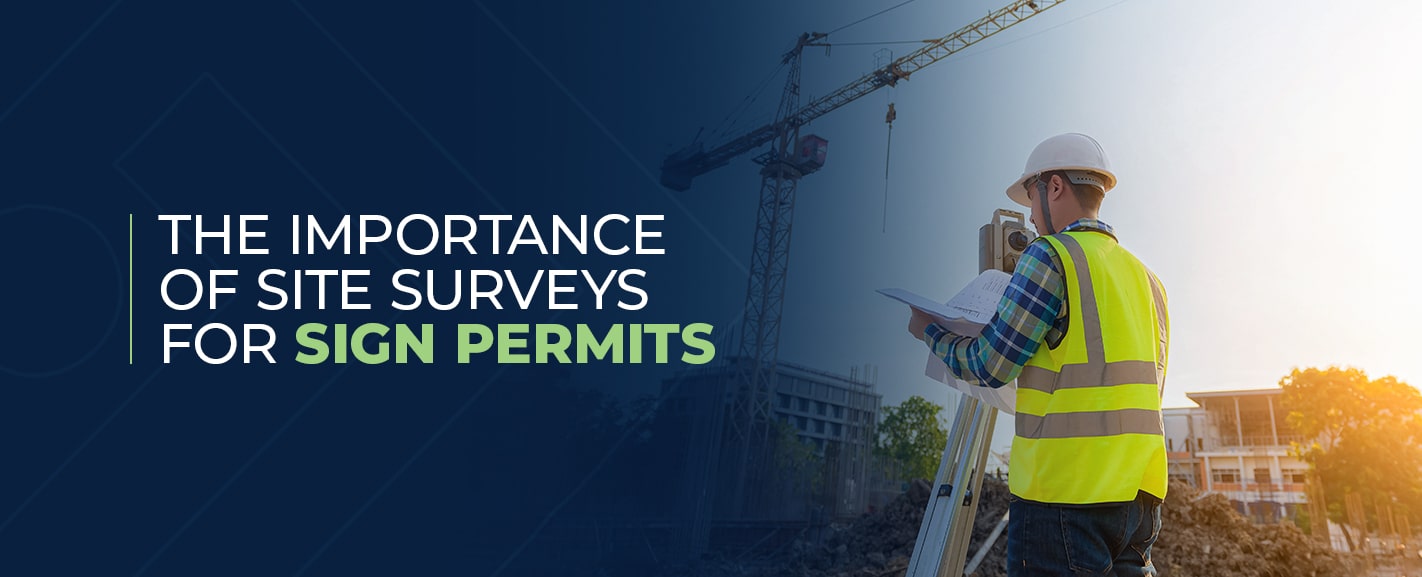 The Importance of Site Surveys for Sign Permits
Have you ever seen a sign that stuck with you? Is your attention drawn to the design? This is precisely the effect the sign is intended to have on you. Business owners and managers know the importance of their sign projects. If they can create something that can attract people, they've achieved their goal.
At Integrated Signs, we take the time to learn about your business and its needs. We will study your logo and the theme of your company and building. We will examine the building and the area the sign will be in. We look at all the details. By doing these things, Integrated Signs can help create the perfect sign for your business.
While every step in the process is essential for the best results, one of the most critical steps is the sign site survey.
In This Article:
What Is a Site Survey?
Before we look at why the site survey is so important, let's first define what a site survey is. A site survey for signage is like an inspection of the property or area where the sign will be mounted. It is probably the most important step in the signage process.
Our team would look for access points and study the area, your building and surrounding buildings. All this information helps us build a custom sign, especially for your business.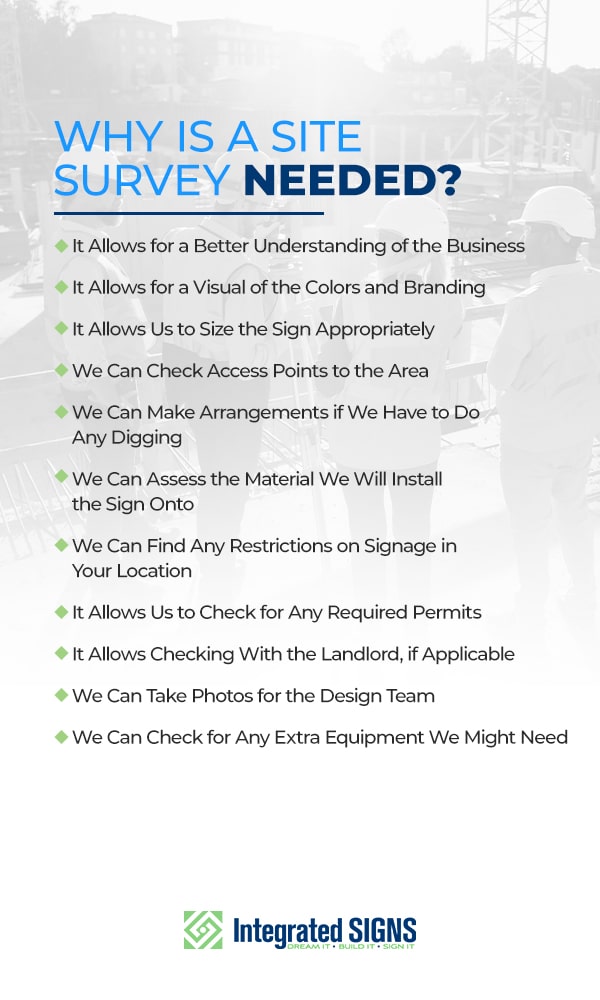 Why Is a Site Survey Needed?
You may be thinking a signage site survey isn't a necessary step to have a sign made and hung for your business. You may think it's just a small step in the process. However, it will benefit you in the end. Through the survey process, our experts can evaluate the area where the sign will be installed and make recommendations to ensure it looks its best. Let's look at why you need a site survey when it comes to your signs.
1. It Allows for a Better Understanding of the Business
By looking at the location and building in person, we can create a sign that connects with the business and its surroundings and fits your company's unique brand and culture.
2. It Allows for a Visual of the Colors and Branding
With a site survey, we consider your business plan and the actual colors and branding of the business to make sure that everything works together.
3. It Allows Us to Size the Sign Appropriately
We can take measurements of the area to make sure the sign is made at the correct size.
4. We Can Check Access Points to the Area
Especially for bigger signs, we'll have to make sure that we have an area we can work with. We might look at the area underneath the sign's chosen location to ensure we can access the mounting area with the necessary equipment. If we need an alternative means of access, we'll look in the surrounding area to determine the best installation access points.
5. We Can Make Arrangements if We Have to Do Any Digging
Site surveys for outdoor business signs, especially monument and other ground-mounted signs, help us determine if we must dig around the mounting location. If someone wants their sign to be outdoors in a grassy area, holes may be dug to install the sign. Our team can plan where the sign should go and make digging arrangements as needed.
6. We Can Assess the Material We Will Install the Sign Onto
Sometimes, two materials aren't compatible for hanging a sign. If we can look over the sign's mounting area, we can give you your material options to ensure no compatibility issues later on. If imperfections on the mounting surface could cause issues when hanging the sign, we want to find those quickly and make sure they're fixed before the sign gets hung up.
Our site surveys do not end at the site meeting, but we also have homework to do past the initial site visit.
7. We Can Find Any Restrictions on Signage in Your Location
In some areas, some designs or colors aren't allowed. Some towns or counties have restrictions, and some malls, plazas or office parks might have rules and regulations as well. A site survey could help bring these things to your attention before it's too late. Certain areas also have rules and regulations regarding sizing or how the sign has to be secured in the event of a severe storm.
8. It Allows Us to Check for Any Required Permits
In addition to any restrictions, there could be permits necessary for specific areas due to local codes. For example, in San Diego, most exterior signs require a permit, and some require an inspection from the city.
9. It Allows Checking With the Landlord, if Applicable
If you don't own your building, landlords usually want to know what's being done to their building. Our team can meet with them and gain the necessary approvals. If the landlord has any questions about the installation, tools used or the process, our team can answer all questions in detail.
10. We Can Take Photos for the Design Team
We'll want to have some pictures of the site on file. Site surveys let us document the area and get photos for our designers to give them an idea of where the sign will go. Additionally, we can add a proposed sign to the picture to give clients an idea of what the sign would look like.
11. We Can Check for Any Extra Equipment We Might Need
Depending on the materials used, we may need specific tools or supplies to finish the job. We can check everything out by doing a site survey to ensure we have everything we need to complete the job correctly.
Hopefully, the list above helped you understand why you need a site survey. To ensure you receive the best product and results, you'll want to make sure a professional does a site survey. If a professional sign company does all of these things during the site survey, it reduces the chances of issues popping up throughout the process and causing delays.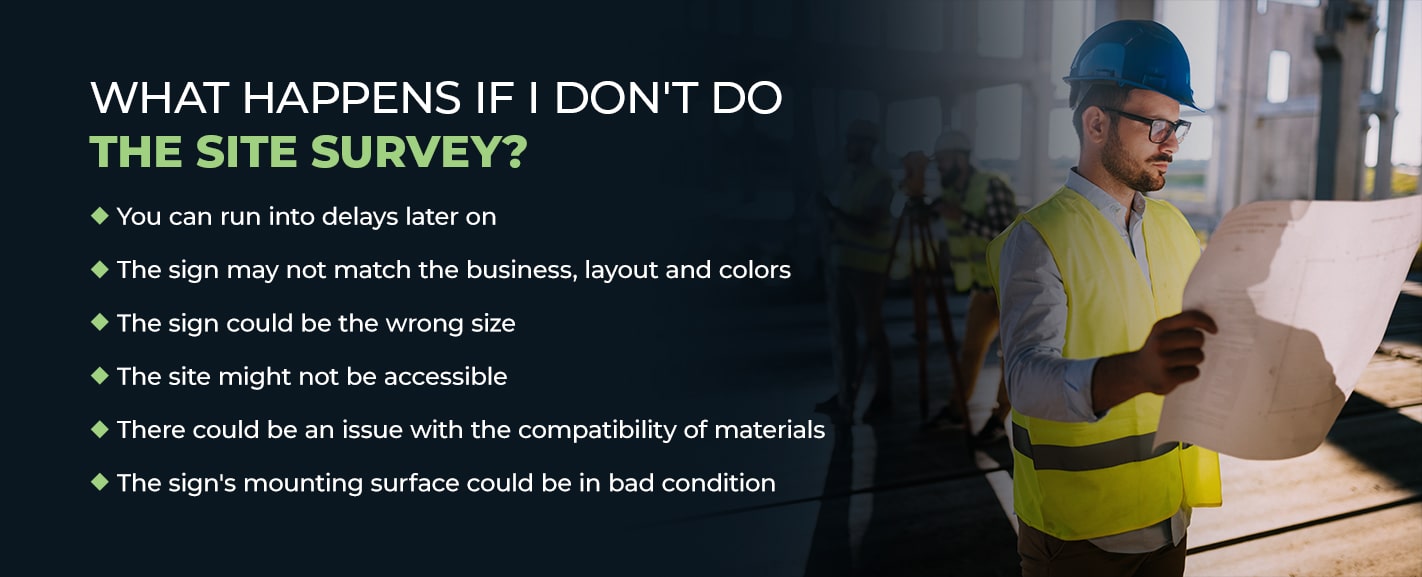 What Happens If I Don't Do the Site Survey?
Are you still not entirely sold on having the site survey done? Well, let's look at what you might experience if you don't have it done.
You can run into delays later on: If you don't deal with a potential obstacle early on, it can delay your process. For example, if you skip acquisition of the necessary permits, you could cause a delay in progress or even require more time and money.
The sign may not match the business, layout and colors: If our team can't get a look at what they're working with, the sign could be different from your other displays, which could make everything look off.
The sign could be the wrong size: If the sign team cannot do measurements, the sign may not fit where it is supposed to go. Then, the process would have to start all over, costing more money than intended.
The site might not be accessible: If the team couldn't find access points, everyone has now wasted time and money on a sign that won't go where intended.
There could be an issue with the compatibility of materials: What if the material of the building doesn't work with the sign? What if it doesn't look right together? This could cause a problem. Additionally, what if a tool is needed to complete installation that the installation team didn't have with them? Without site surveys, your sign company cannot plan around these concerns.
The sign's mounting surface could be in bad condition: Without doing the site survey, the team might not know about issues with the mounting surface. Without this information, the sign or the building could become damaged during installation.
These are just a few of the things that could go wrong without the site survey. No matter how you look at it, you can save a lot of time, money and stress by just having the site survey done. It will prevent any of these issues.
When Does the Site Survey Take Place in the Process?
A site survey is generally one of the first things to be completed during the signage process. Of course, we will meet with you first to go over all the details. Through this meeting, we will gather details about your business. We will ask specific questions about your business, logo and themes. All of this preliminary information will help our team later on.
After we've gathered all of this information, this is typically when we'll schedule a site survey at your convenience. From here, our team will be able to find any rules, regulations, restrictions and permits that can influence the sign, as our team will know exactly where to look and who to talk to about these considerations.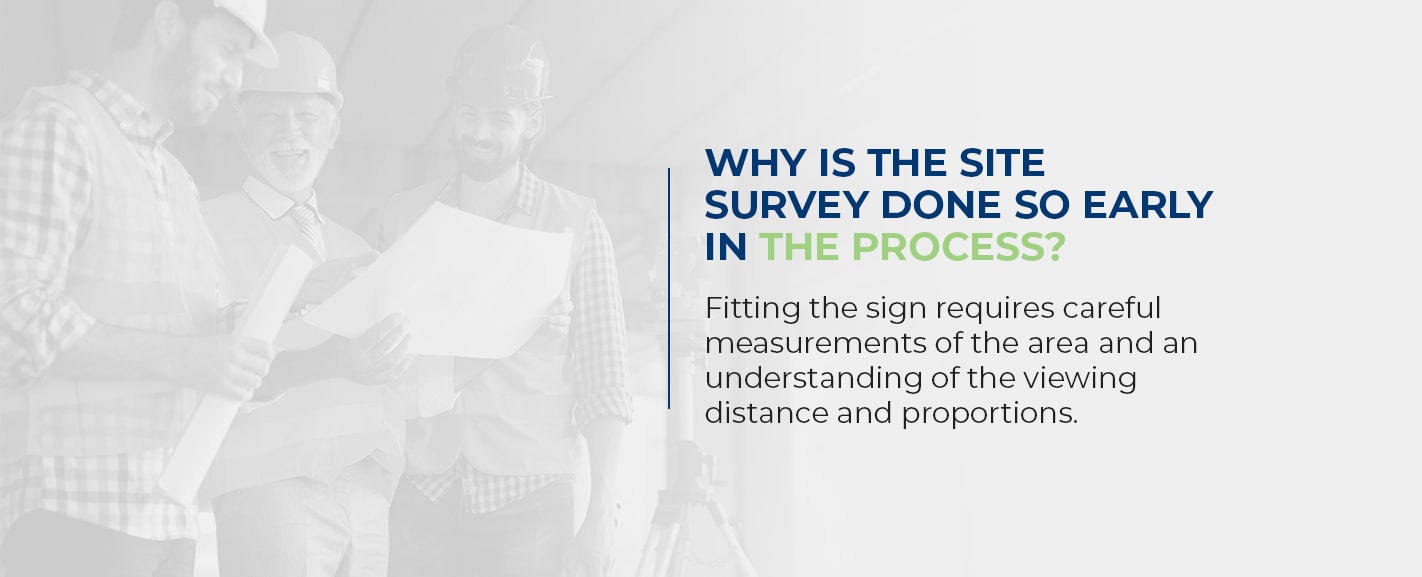 Why Is the Site Survey Done So Early in the Process?
Because a site survey helps us gather information that will be helpful in the design, manufacturing and installation of your sign, it makes more sense for you to have this done early rather than later.
For example, it can take time to get the necessary permits. Some cities and counties can get pretty overloaded, so applying early for the permit causes fewer delays later on. By getting started early, we should have the permit by the time we need it.
We also want to see the area and the business before we start designing anything. We like to play off the materials, shapes and color schemes already in the space to create the perfect sign that fits well in its environment.
Additionally, we must have the correct measurements before we begin our work. We want to make the perfect sign for you. Signs must be big enough to be seen while also fitting well in the space they have. Fitting the sign requires careful measurements of the area and an understanding of the viewing distance and proportions.
Who Conducts the Site Survey?
As a full-service sign company, Integrated Signs takes care of every step in the sign creation and installation process. We will be the ones to conduct your new sign site survey. We will get the necessary permits, take the measurements, plan for the layout and installation, and collect all the required data. We will do all the heavy lifting.
As the client, your only job is helping us understand your goals with the sign and steering us in the correct direction.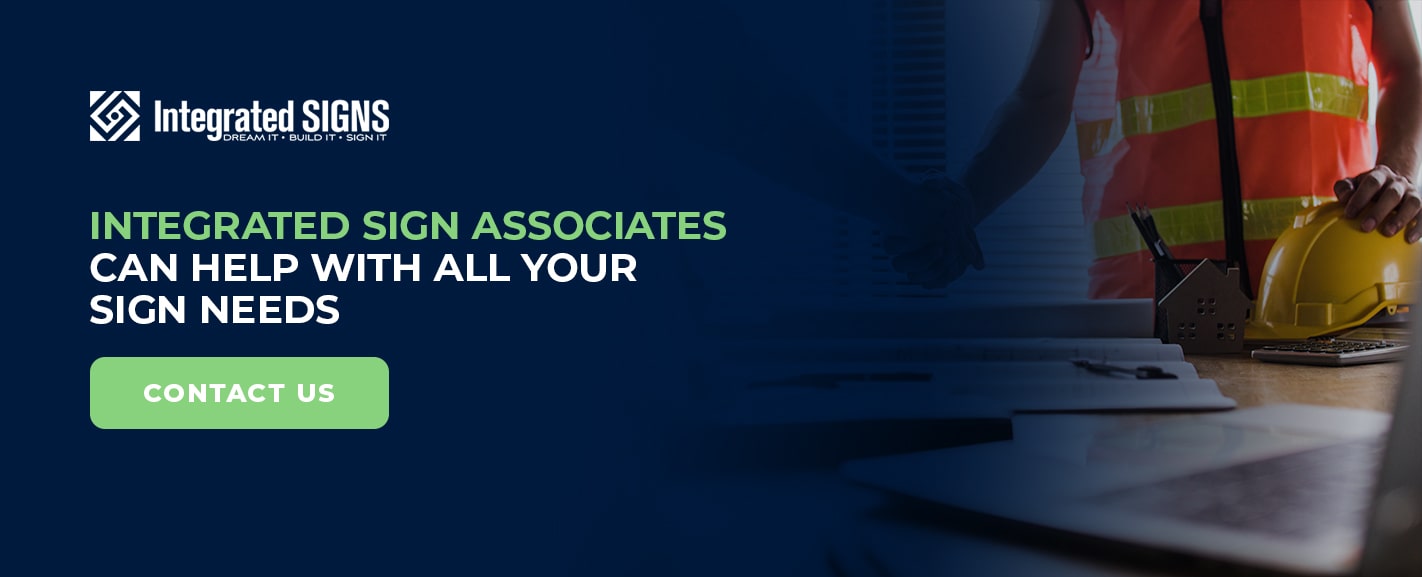 Integrated Signs Can Help With All Your Sign Needs
Integrated Signs has worked with many industries to create the perfect signs, including stores, restaurants, schools, airports, churches, dentist offices, golf courses and government buildings. We can design signs for many different needs and can work with various materials and designs to create something truly inspired and eye-catching for your business. We give our clients everything they're looking for and welcome the complexities this can entail. We want your sign project to be successful!
At Integrated Signs, we take pride in our customer service. We will assign each client a project manager to communicate with you and keep you in the loop about your sign. Your project manager will schedule your site survey and walk you through every step in the design creation process so you can approve every aspect of your sign before it's installed.
We also take pride in our work. We will do everything it takes to provide you with a top-quality sign, which is why we stress the need for a site survey. We want your sign made and installed correctly. Along with designing and installing the sign, we also offer maintenance and repairs, even if we didn't create the original sign. Lastly, we use top-quality products, so we are sure that your sign will draw attention, look great and perform well after years of use.
If you need a sign for your business, Integrated Signs would love to help! You can fill out the form on our website or call 619-579-2229 to get in touch with our team. Let us design the sign of your dreams!