What Are the Most Popular Types of Commercial Lighted Signs?
When every business on the block is trying to stand out and attract the same customers, you can end up with a lot of competition. One way to reach your clientele is to step up your signage.
Lighted business signs are an excellent way to grab attention both night and day. Of course, there are a wide variety of styles available, so how do you know which one to choose? To help with the decision, we've put together a list of some of our most popular lighted signs for businesses and the situations in which they look their best.
Table of Contents
What Are the Top Types of Lighted Signs?
Indoor and outdoor lighted commercial signs come in a wide variety of styles and sizes. Here are some of the more popular lighted business signs we sell.
1. Backlit Blade Signs
Also called lightboxes or cabinet signs, this type of lighted sign consists of a box filled with a light-emitting diode (LED) mechanism and a translucent panel stretched over the box. The lights illuminate the panel, creating a bright and vibrant sign.
Our backlit signs take the form of blade signs, which stick out from your storefront and pull in foot traffic with a unique appearance. You can use blade signs that only glow through the lettering or use other unique design features. When illuminated, the glow is perfect for businesses that are primarily open at night.
2. Custom Reverse Channel Letters

You may also see reverse channel lettering signs called halo-lit or backlit signs. They use LEDs placed behind metal lettering to illuminate the shapes. This lighting creates a halo effect that softly radiates from the individual letters. They have a more sophisticated appearance than many other signs and are often used for businesses with a high-end look.
Reverse channel lettering is typically lit up only at night, leaving the metal letters to create an elegant sign during the day. Sometimes, the lights are programmable, and you can alter the colors of the LEDs.
3. Facelit Signs
Facelit signs are something of a reverse of the halo-lit letters. The letters themselves are lit up so you can see the colors and designs. They can also be placed indoors or out, but they are particularly attractive as an exterior lighted commercial sign at night.
These signs are one of the more common approaches to lighting since they are versatile and sturdy. They are typically between 2 and 5 inches deep, allowing the glow to radiate through the letters, and they often include a logo as well.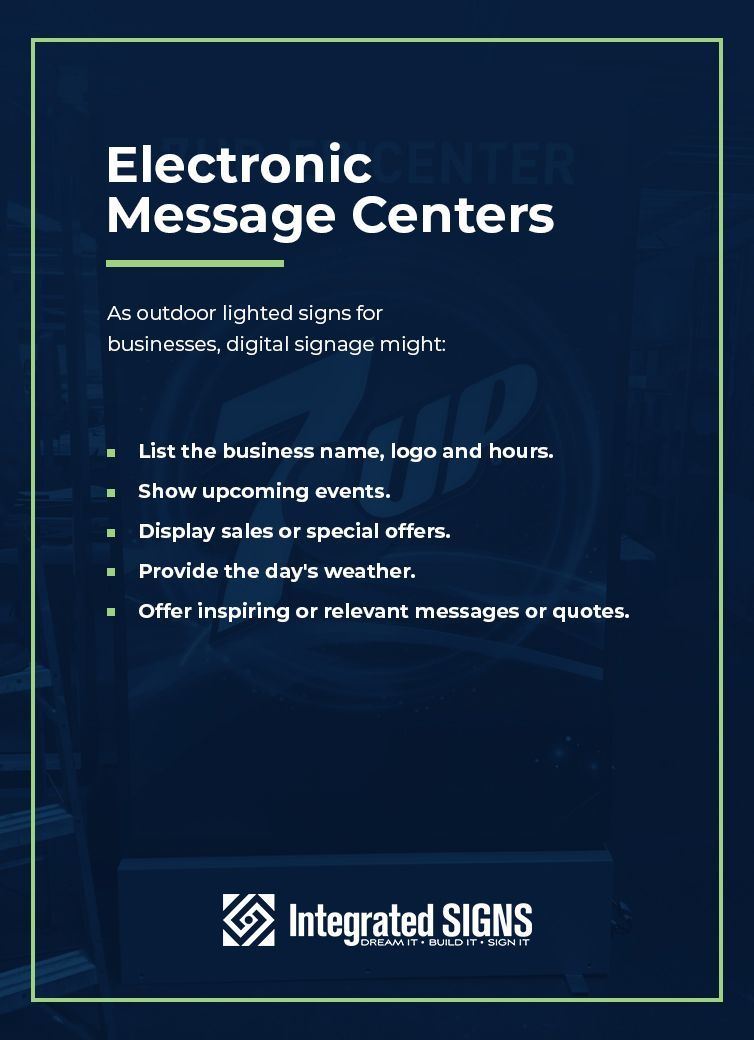 4. Electronic Message Centers
Digital signage offers a modern approach and might be called an LED leaderboard or electronic messaging center (EMC). It puts your message on a screen that can be built into other structures, such as monument signs, or left free-standing. It can also be mounted onto a wall. You might see these outdoors, alerting drivers to any current events or offers from a business, or indoors, where they can cycle through products and special deals for costumers.
One of the primary benefits of digital signs is their versatility. As outdoor lighted signs for businesses, digital signage might:
List the business name, logo and hours.
Show upcoming events.
Display sales or special offers.
Provide the day's weather.
Offer inspiring or relevant messages or quotes.
As they display all of these options, an EMC can use video, images and plain text to send a message. Businesses can use dynamic, eye-catching movement to grab attention or they can keep things simple to focus on more critical information. It's an incredibly versatile option for various uses and aesthetic needs.
EMCs are also great if you want to solidify your place within a community. Many churches and schools will use them to post event updates and news for all to see. Something like an animated screen that shows the weather or a picture of a football accompanied by the date of the big game can be fun and helpful to the wider community. It could turn your sign into something they check every day on their way to work.
6. Neon Signs

Neon signs offer a vibrant and unique appearance. They've been around for years, and you may be familiar with them adorning the walls of your favorite bar. Neon is an excellent material to use because it is energy-efficient — fluorescent lights consume 50% more power, for instance — and long-lasting. Sometimes they last more than 10 years.
The tube design and vibrant glow creates a nostalgic feel and looks right at home in any number of retro or entertainment-focused establishments. Neon signs are popular in dimly lit areas and fun places like bars and restaurants. They contribute to a specific aesthetic though, so make sure they'll fit with your design before implementing them.
7. Externally Lit Signs
Not every lighted business sign has to be lit internally. Many businesses utilize external lights to illuminate their traditional signage. Whether you want something to look just as sophisticated at night as it does in the day or you want to preserve a historic image, external lights can help you do so. They're also an excellent way to add illumination to an existing outdoor sign, such as a monument sign, without completely redoing it.
Some of the different lights you can use on a non-illuminated sign include:
Gooseneck lights
Barn lights
Top lights
Recessed lights
Gooseneck and barn lights are great for flooding the entire sign in light. Often, these lights will be hidden by shrubbery or rocks so they blend in with the environment. If you have three-dimensional letters, they might throw up shadows and create a dramatic look. This might be a positive addition to your sign, or it could take away from it. Sometimes, top lighting is better if you want to direct the shadows in a more pleasing way.
Recessed lighting is similarly hidden and provides a soft glow, excellent for lighting up parts of the sign that would normally be lost to the shadows.
Partner With ISA for Commercial Lighted Signs

Illuminated signs offer businesses of all types and sizes a way to grab their customers' attention with something as simple as an LED light. Whether you want to promote specific products with an editable digital sign, create a permanent sign for the front of your building or add to the aesthetic of your building in another way, Integrated Signs can help.
Our experts will work with you closely to determine the best approach for your site, whether it's in San Diego or elsewhere. Whatever look you're going for, we'll help you reach it in style with indoor and outdoor lighted business signs.
Give us a call today at (619) 579-2229 or contact us online for more information on working with Integrated Signs.