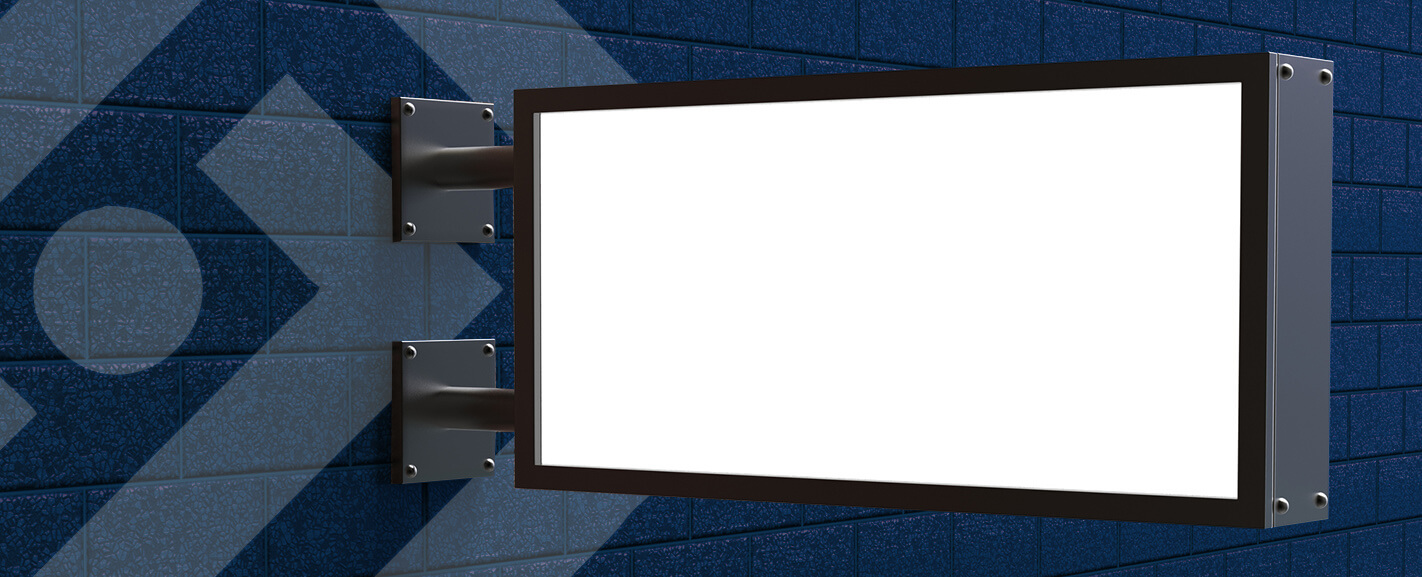 Retrofitting Signs — How to Update Your Old Sign
If you are considering sign retrofitting, think about updating your old sign with LED lights. Using updated technology and dynamic parts can be cost-effective and energy efficient. Your business will attract customers with your new signs that last longer and save energy over time. Retrofitting may be the best solution for companies with older, worn-down signs.
In This Article
Why Should You Retrofit Your Sign With LED Lighting?
The sign outside your business represents your company's aesthetics and reliability. Many companies have begun to retrofit their signs on poles and above their stores so that more customers notice them. When you retrofit fluorescent to LED lights, you can benefit from better signage that lasts longer and attracts more customers.
LEDs outperform fluorescent lights and provide a reliable return on investment (ROI) for your budget. They cost less to buy and maintain and use less energy, helping you save on monthly bills. LED bulbs can also last up to 50,000 hours, while fluorescent bulbs often only last around 8,000 hours. LEDs do not burn out as quickly and are not noticeable, even if a module breaks or dims.
LED retrofits are especially helpful at night when customers will be most attracted to your sign. An unlit sign will not catch the attention of many customers, while an LED light stands out among other businesses. Companies can use different sign materials and LED lights to create a bright, eye-catching and innovative effect.
LED Retrofitting Sign Lighting Benefits
LED lights can help businesses attract more customers and build customer trust. From energy savings to improved safety features, the benefits of LED retrofitting far outweigh the original cost of investment. Some of those benefits include:
Better lighting: Many fluorescent lights are multi-directional and may dim over time. In comparison, LED lights have singular directional lights that project straight out, creating more effective signage that produces a clear image.
Easy maintenance: With a life of up to 50,000 hours, LED lights require less maintenance than other types of bulbs. Because they make signs easier to care for, many companies find that they reduce their number of service calls and see an increased ROI when they retrofit their signs with LEDs.
Upfront costs: By converting to LED lights, companies can reduce their upfront costs when replacing their signs with new bulbs. When adding the cost of time and materials together, it is worth it to convert to LEDs rather than fluorescent lights.
Energy savings: LEDs are extremely energy efficient. They convert electricity to light without losing significant amounts of heat. Since they lose less energy than other bulbs, they help companies save money over time.
Improved safety: Many LED modules come with components that prevent damage from vibrations. Because LEDs also use direct current (DC) wiring and a lower voltage, they are less dangerous to use than neon or fluorescent lights.
What Is the Payback Period for Converting to LED Lighting in a Lightbox Sign?
You can expect a solid return on your investment after retrofitting your signs with LED lighting. You can start seeing savings on maintenance costs and calls to professionals almost immediately and your payback period can be as short as four months.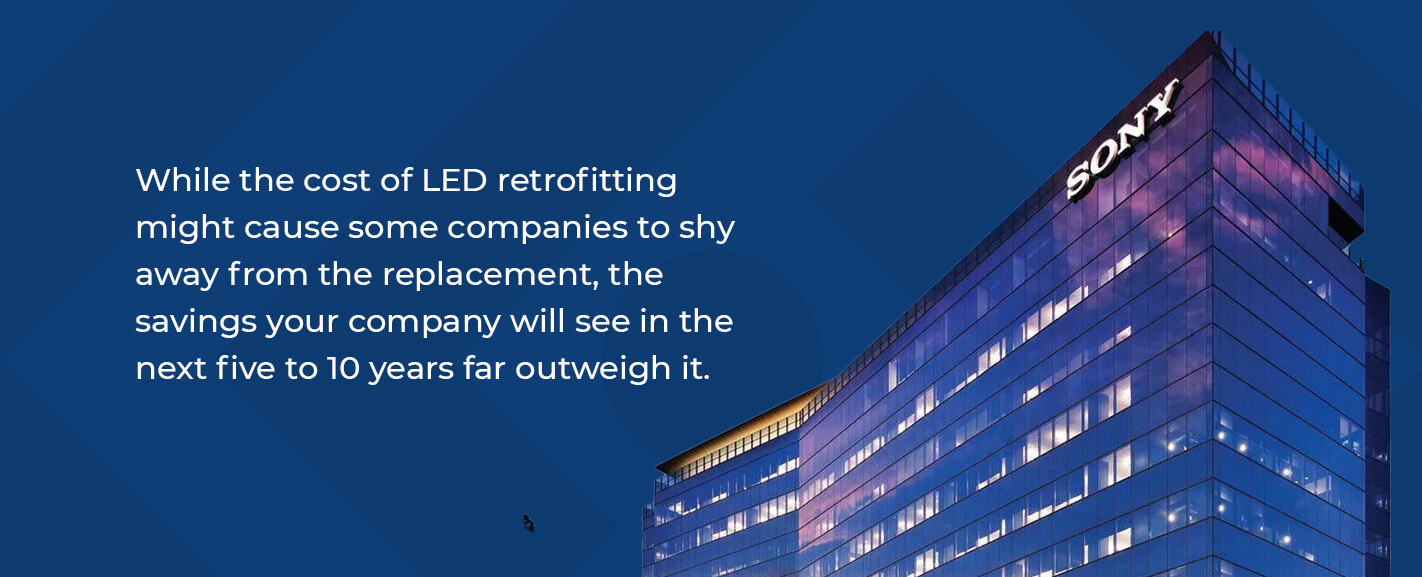 Businesses experience reduced electricity expenses and save on smaller additional costs that add up over several years. While the cost of LED retrofitting might cause some companies to shy away from the replacement, the savings your company will see in the next five to 10 years far outweigh it.
Sign Longevity and Maintenance Costs
LED signs last much longer and require less maintenance than other signs. For example, high-output fluorescent bulbs can lose color and brilliance after a few years and many are made with glass that can easily break. Because these bulbs are also high voltage and non-waterproof, there is always a potential for fire hazards.
On the other hand, LED lights eliminate many maintenance costs and use DC voltage, which can last a very long time. Over time, your company will reduce service costs and increase your ROI.
Is a Field Evaluation Required for Retrofitting?
Some local jurisdictions or municipalities may require you to have a permit before retrofitting your sign with new LED lights. You may not need a field evaluation if you retrofit the new sign based on the installation instructions. However, a field evaluation may still be necessary if the conversion used a non-certified retrofitting.
Repairing, Retrofitting, Replacing — Which Is Best?
When it comes to repairing, retrofitting or replacing a sign, each choice offers pros and cons that your business should consider. Deciding which option is best for your company will depend on what your company can afford and how much you would like to save in the future.
Repairing
Repairing a sign may include a new paint job, refastening the sign, replacing lost letters or creating custom pieces to update the area.
Some of the pros include:
Cost: It can be more economical to refurbish and repair the sign to its original state.
Easy fixes: A professional can quickly fix a faded or broken sign.
Some of the cons include:
Customer confusion: Some customers may find a repaired sign confusing and wonder if the business is under new management.
Outdated signs: If your sign no longer represents your business, you may need to replace it rather than repairing it.
Retrofitting
Retrofitting with LEDs can be highly cost-effective and energy efficient, helping your signs look better and brighter daily. While saving money on energy bills, your message displays will be memorable and attract many customers to your business.
Some of the pros include:
Lower energy bills: LED lights use less energy and help you save money over time.
Few bulb replacements: LED lights are long-lasting and require less maintenance than other lights.
Some of the cons include:
Lighting limitations: Some signs may not have the necessary setup for new LED lights.
Limited update potential: As with repairing, the condition of some signs may mean you'll be better off replacing them.
Replacing
A completely new sign can refresh your brand and attract new customers to your business. If your sign has outdated information, consider a replacement sign that can communicate our company's products to other customers.
Some pros include:
Update opportunities: You can include new products or services on your updated signs.
Providing answers: A new sign can help assist your customers by providing the information people most commonly ask for.
Replacing your sign can also come with some potential cons:
Longer wait time: Completely replacing a sign does take time for the manufacturers to finish the product.
Licensing restrictions: Some municipalities require different licenses to install new signs.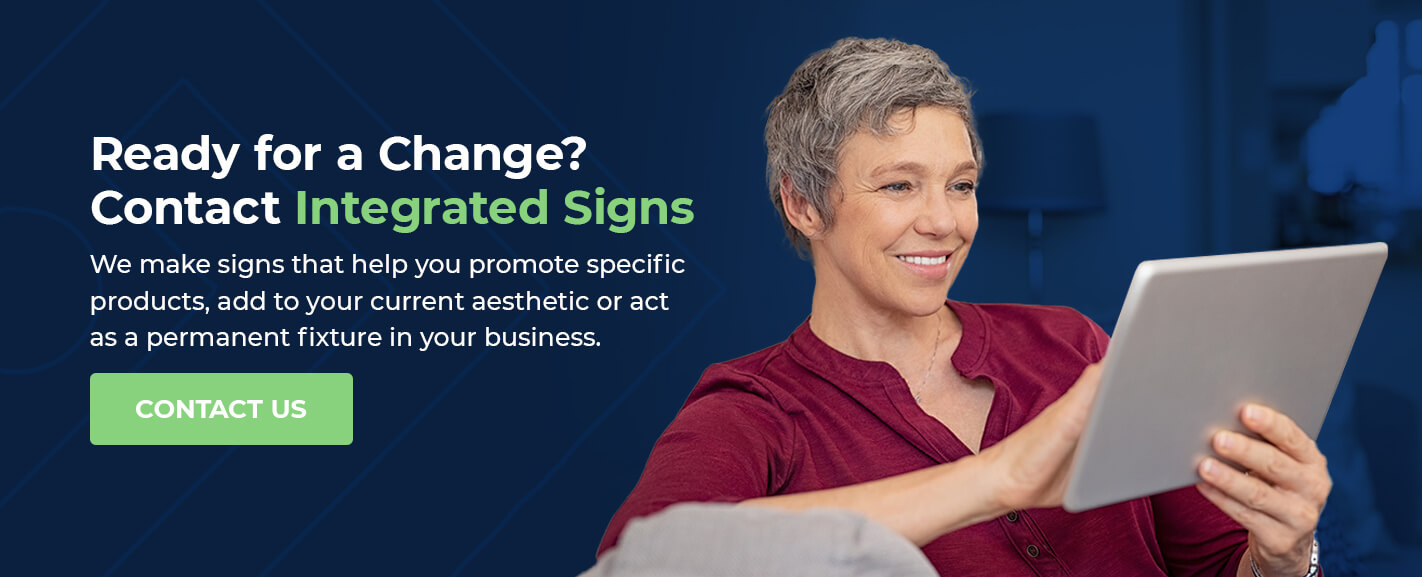 Ready for a Change? Contact Integrated Signs
Integrated Signs can help your business update its signage through retrofitting. For those who are ready to update or are considering the switch, our company can provide illuminated indoor and outdoor signs to grab your customers' attention throughout the day.
We make signs that help you promote specific products, add to your current aesthetic or act as a permanent fixture in your business. Integrated Signs has professional experts that will find you the best approach to your new retrofit sign in San Diego or beyond. Contact us online to speak to a representative or call us at 619-579-2229.