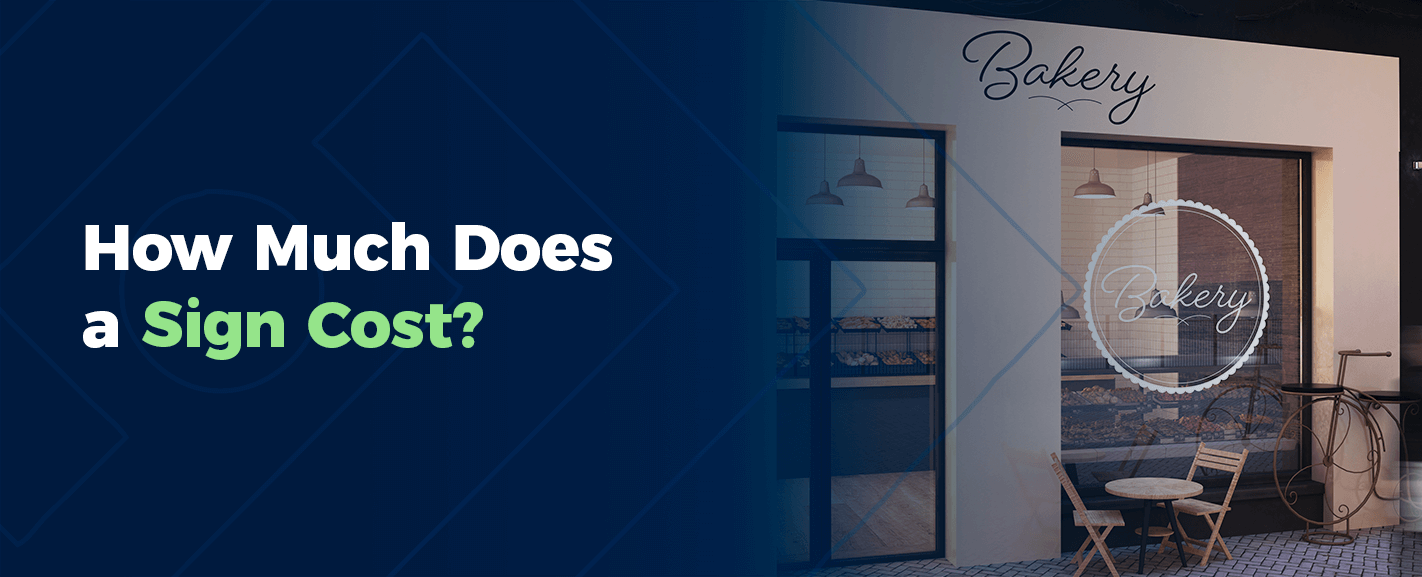 How Much Does a Sign Cost?
Sign prices are challenging to estimate in general terms because each is unique. No other sign in the world will have your logo and vision unless you're buying some for multiple locations of the same business. Therefore, any manufacturer will have to start from scratch when creating your sign. They'll find a way to turn your two-dimensional design into a three-dimensional masterpiece.
When manufacturing it, they'll need to be highly involved. Since every job is custom, sign creators can't always flip a switch and have a machine create the finished product. Every sign will have a different level of complexity and other factors that may drive the price up or down. Sending the same request to two different shops may also yield two remarkably different pricing estimates. Beware of any quote that seems much lower than the rest — this could be a warning that the manufacturer uses low-quality materials.
One thing to remember is that a sign is an investment. A unique, well-designed sign is how your company makes its mark on the world. Most businesses report an average sales increase of 10% merely by adding or replacing an outdated sign. And, since a quality permanent installation may last eight to 12 years, it's an investment that pays off. How much can you expect to pay for your custom corporate signage? Let's chat about the factors that affect the cost of a sign.
Table of Contents
Factors That Influence a Sign's Cost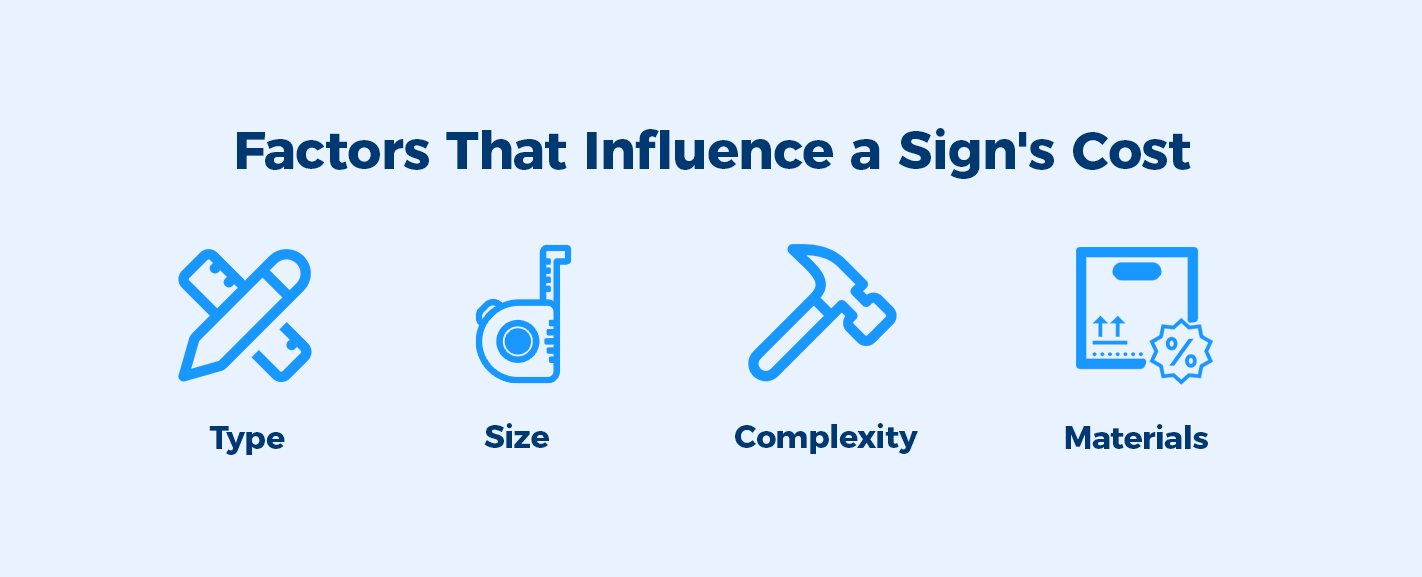 Outdoor business signs cost different prices depending on many variables.
Type
Outdoor signs come in many different types, which can influence the pricing. Temporary and semi-permanent posters are usually printed rather than carved, shaped, painted or otherwise manufactured. They may come in standard or custom sizes on readily available, cost-effective materials like coroplast or vinyl. Sign makers use aluminum, stainless steel and other durable materials to craft permanent signs.
Because of these factors, temporary signs are generally on the lower end of the cost spectrum. Temporary signage ranges from $200 to $500, usually for banners. Permanent signage ranges from $1,000 and up.
Permanent signs use high-quality materials that will stand up to weathering. Many sign makers use better paint than car manufacturers, which allows the color to stay vibrant for years to come. There's a lot more variation in pricing for permanent signs, which can vary considerably by size, material and complexity. They may start in the thousands and climb up to five figures.
Another way the type of sign affects pricing is in their mounting needs. A simple banner may roll out and stand on its own or hang in a window. A temporary yard sign might be easy to place into the ground with a stake or metal stand.
Permanent signs could have more complex mounts. For example, free-standing roadside signs will have to adhere to the ground with large footings. A hanging sign will need to affix to a building's side or descend from a ceiling. The complexity of the installation materials and labor involved will also impact the price.
Size
One factor that's generally consistent across custom sign shops is sizing. Some companies may even have a pricing model based on square footage. In general, the cost will increase proportionally to the size. That's because larger signs require more ink, paint and materials. Also, heavier and bulkier jobs are more expensive to transport and install and will often need sturdier mounting materials.
In contrast, a small waymark will be quicker to manufacture and easier to install. Sometimes, the buyer can install a small sign — such as a room number placard or a temporary yard sign — themselves, which saves on labor and installation.
Complexity
The more complicated and detailed a sign is, the more it will cost. Complexity refers to many different aspects of the manufacturing process. The level of detail — such as a printed photo versus a solid, one-color graphic — plays a role. The more colors used in a design add to the complexity of the printing or painting process. In permanent signage, complexity can also refer to the manufacturing processes involved. For example, a digital display or neon lettering will require electrical wiring. A flat-faced board is less challenging to manufacture than a three-dimensional display with recessed or protruding lettering.
Materials
Semi-permanent and permanent signs can feature a wide range of materials. It's essential to factor in the material and its relationship to your brand and the surrounding architecture. With so many materials available, signage pricing can vary quite a bit. Plastic options like acrylic, Sintra board, coroplast and vinyl are often lower priced than metal. Electronic components like neon lettering will also cost more, and business owners will have to budget for the ongoing electrical costs of keeping them lit.
Even within a single material, pricing can vary. Metal signs can have varying price points depending on the type of metal. The more durable aluminum may cost more per square foot than the aluminum composite Dibond, which has a polyethylene core that makes it more affordable.
What Does a Sign's Price Include?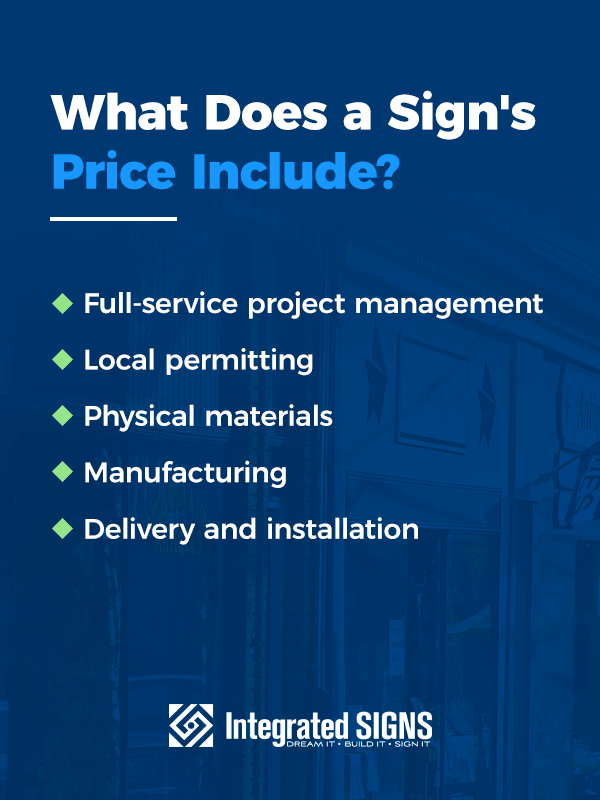 Getting a permanent sign for your business is an involved process, often taking months. Your project estimate will account for the many tasks and specialized labor required to produce a show-stopping sign for your brand. The pricing includes the following factors.
Full-service project management: The best sign shops will manage your project from start to finish. They'll be familiar with all your local government's rules for public signage. They'll also use their expertise to find the best design for your brand and needs. You may want consulting to determine what kind you need or what's possible, and your sign shop will handle this in full. At Integrated Sign Associates, we assign an account manager to every project, so every job can get the special attention it deserves.
Local permitting: Your sign shop will also cut through all the red tape required to get your sign posted. They'll submit the documents to your municipality for permitting and work with your landlord and other stakeholders to get the necessary approvals.
Design and file setup: Designing a sign is different from creating a printed graphic. Besides color, font and shape, designers consider how the finished product will look in the physical environment. They carefully select materials and incorporate three-dimensional elements to make your display truly stand out. The process is involved, and drawings may go through several iterations as you request changes. With your final approval, the design team will also have to set up the files for the printers and machines that will bring them to life.
Physical materials: Whether you choose acrylic, vinyl, neon, aluminum, Dibond or some other material, your cost estimate will take it into account.
Manufacturing: The machinery and specialized labor involved in fabricating your sign will have a line item on your project estimate. Channel lettering requires manual letter bending. Other manufacturing processes might include computer numerical control machinery tooling, electrical wiring or push-through lettering. Every step involved in making your vision a reality will require expert craftsmanship, reflected in a sign's pricing.
Delivery and installation: A permanent sign will need a professional crew to mount it securely and safely. The cost for this service depends on the complexity of the installation and the shipping costs. An installation requiring a ladder may cost more than one that can take place at ground level. You'll see the sign installation costs budgeted into your estimate.
When looking at a project estimate, you may see each service budgeted separately or more generally, divided into materials and labor. Talk to your sign shop about how they estimate projects to learn more about what their pricing includes and what would require an added fee. The International Sign Association indicates that a typical sign company will charge a deposit of anywhere from 20 to 50% of the total project budget when you place your order. The rest of your balance is usually due when the final product arrives.
Costs of Different Types of Signs
HomeAdvisor estimates that the average custom-made business sign can cost anywhere from $500 to $200,000. They also offer a rudimentary signage cost calculator that may help you estimate a project in your area. Many factors affect a sign's price, so it's crucial to take any general estimates with a grain of salt or several.
One of the most significant signage cost factors accounting for such a vast price range is that there are so many different types of signage. Each type will have a much more specific price range, since they come in some narrower size ranges and often feature similar materials. The style can also affect installation difficulty and costs. Let's talk about pricing for each.
Pylon Signs
On average, pylon signage costs start at around $10,000. Depending on your needs, the price can climb as high as $200,000. Factoring in data from businesses around the country, HomeAdvisor found that average pylon signs cost between $20,000 and $100,000. On the high end of this price range, pylon signs usually feature neon or LED lighting and tower up to 100 feet tall. Without electronic components and at shorter heights, they'll have a much lower price.
Pylon or pole signs are tall outdoor displays visible from the road. They often serve large plazas and commercial office parks with many tenants. They may feature a full-color graphic for every business in the lot or changeable slots featuring each company's name and office number. A full-color print will be more costly than a marker with generic labels.
Neon Signs
Neon signs draw lots of attention, especially at night. They offer some of the most vivid colors of any lighted sign, and have a distinctive, nostalgic look that's hard to replicate with LED lights. These qualities make them an ideal choice for restaurants, bars and businesses that are open 24 hours. They can also stand out during the day or indoors.
Traditionally, sign manufacturers quote neon displays by the letter. So, your business name or what you want to say will affect the price. When you're looking at custom neon signs, you also have to factor in the design's complexity. You may pay extra for a logo, graphic or a unique font choice. Also, the more colors the sign maker uses, the higher the cost.
Neon signs typically start at $300 for something relatively small and simple, and prices can climb into multiple thousands of dollars. Since they're electric, remember to factor in ongoing electricity costs, too.
Architectural Signage
Architectural signage is a broad category that includes waymarks inside and outside a building. It may consist of a sign by the main entrance that plays off the building's architecture. Indoors, you'll find lobby signs, wayfinders, cubicle markers and ADA code placards throughout the building.
The cost of such a project depends on the scope. Are you looking for one outdoor sign, or are you outfitting your facility from the lobby to the highest floor? A professional sign shop like Integrated Sign Associates can advise you with more accurate pricing.
Monument Signs
A monument sign is large, often found on the side of the road and mounted on the ground, like a monument. These help customers find your business, especially if it is away from the street. They can vary a lot in price depending on the project's scope. Monuments are typically priced by the square foot, ranging from $150 to $400 per square foot. However, these signs are highly custom and can vary even more.
Directional and Wayfinding Signs
Wayfinding or directional signs include building directories, room and cubicle number markers and other indicators that help visitors find their way. You might see wayfinding signs overhead pointing out essential areas like the bathroom, different departments or individual businesses in a commercial property. These signs can be relatively small or quite large, depending on what the particular display is communicating. Contact a sign professional for a more reliable quote for your needs.
LED Signs
Bright and colorful, sometimes with the ability to change their messages, LED signs are very versatile. Businesses appreciate LEDs for their color and energy efficiency.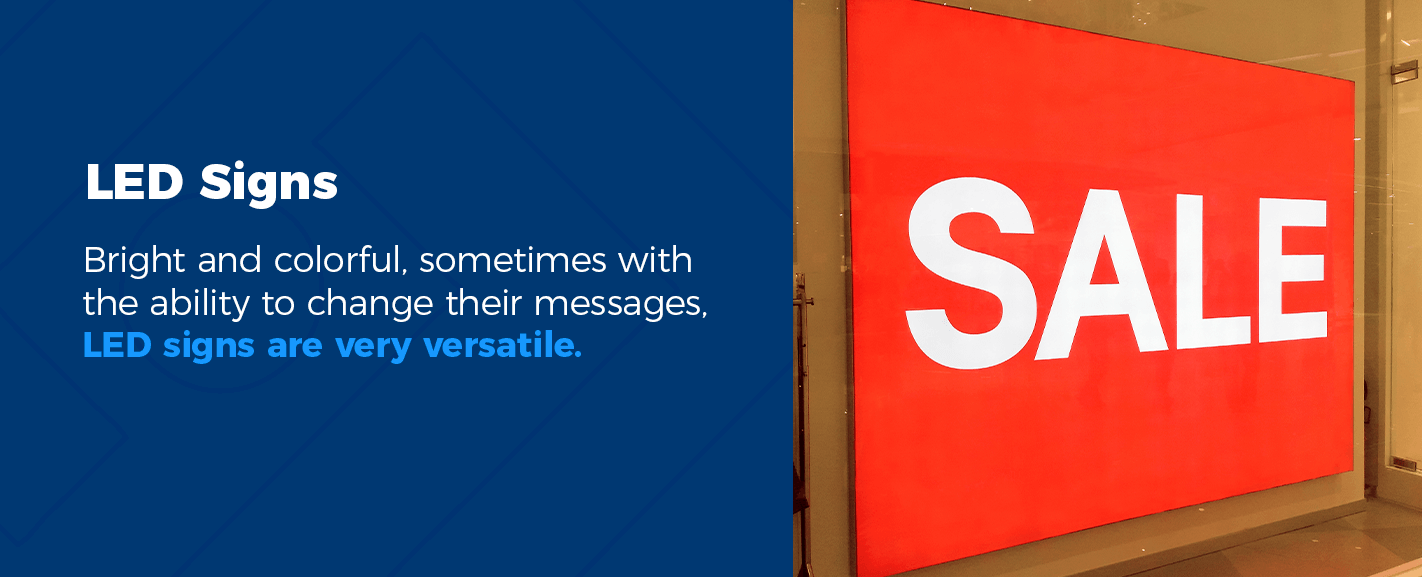 For these electricity bill savings, you'll pay more upfront. A complex LED display could cost more than $10,000. HomeAdvisor's nationwide average pricing data indicates the cost ranges significantly, starting at roughly $750 and reaching as high as $30,000.
Blade Signs
Blade signs are small hanging boards protruding from the building that typically mark storefronts and other places of business near pedestrian traffic. They sometimes feature internal or external illumination, which ups the price over non-illuminated blade signs. Since these are smaller, they might run you a little less than a storefront sign spanning the entire entrance or building. However, they are highly custom and will vary a lot depending on the materials and illumination needs.
Environmental Graphics
Environmental graphics are large, designed to shape the environment around them in an artful way. Because of the size factor, they tend to be a little costlier. However, many manufacturers print environmental graphics on vinyl for indoor use, which is one of the more affordable signage materials. The pricing can vary a lot between indoor and outdoor applications due to the materials used. Indoors, environmental graphics may be printed vinyl window or wall art or hanging banners. Any of these materials will be reasonably affordable for their size.
Outdoors, environmental graphics take on almost a sculpture-like presence. As permanent installations, they consist of materials like metal to withstand the elements. Combined with their larger-than-life size, this puts them on the higher end of the outdoor signage cost range.
Custom Signs
Any sign that requests a logo, specific wording or color scheme is custom in some way or another. Custom signs can also take on unusual shapes, sizes or materials. The price will depend on what you're requesting. Is it a small room number placard or a giant marquee? How complex or unusual is your request? Pricing for custom displays will always be higher than generic signs that you can buy online or in stores, such as "no smoking" notices. Other than that, the cost can run the gamut depending on your needs. Contact us for more details.
Request an Estimate for Your Sign From Integrated Sign Associates
The best way to know how much your sign will cost is to ask! Every sign is as unique as the business it belongs to, and that means the pricing is challenging to generalize without knowing what you have in mind. The beauty of working with a full-service custom sign shop is that anything you imagine can become a reality. We welcome challenging and unusual requests, and our decades of experience make us total pros at pricing even specialty, one-of-a-kind projects. We use the highest-quality materials and world-class design and manufacturing practices to ensure your sign will look fantastic and last for years to come.
To estimate your next outdoor sign in San Diego or beyond, send us your logo or any other existing artwork using our contact form or call 619-579-2229 to talk to the experts at Integrated Sign Associates.