Where to Display Your Business Signs: A Placement Guide
Successful businesses know the importance of signage. Along with knowing what to put on a business sign, they also know where to place the signs after they have been created. Even if you have the most well designed, visually appealing signs ever made, if consumers can't see them, you won't be making any sales or drawing any customers into your business off of them.
Like a strong web presence, your signs are meant to generate attention and advertise your business. Without an advertising presence, you'll be much less likely to bring in new customers and increase your revenue. Outdoor and indoor sign placement is crucial when you are establishing a marketing presence. Knowing where you can, and should, put your business signs is key to a solid signage marketing strategy.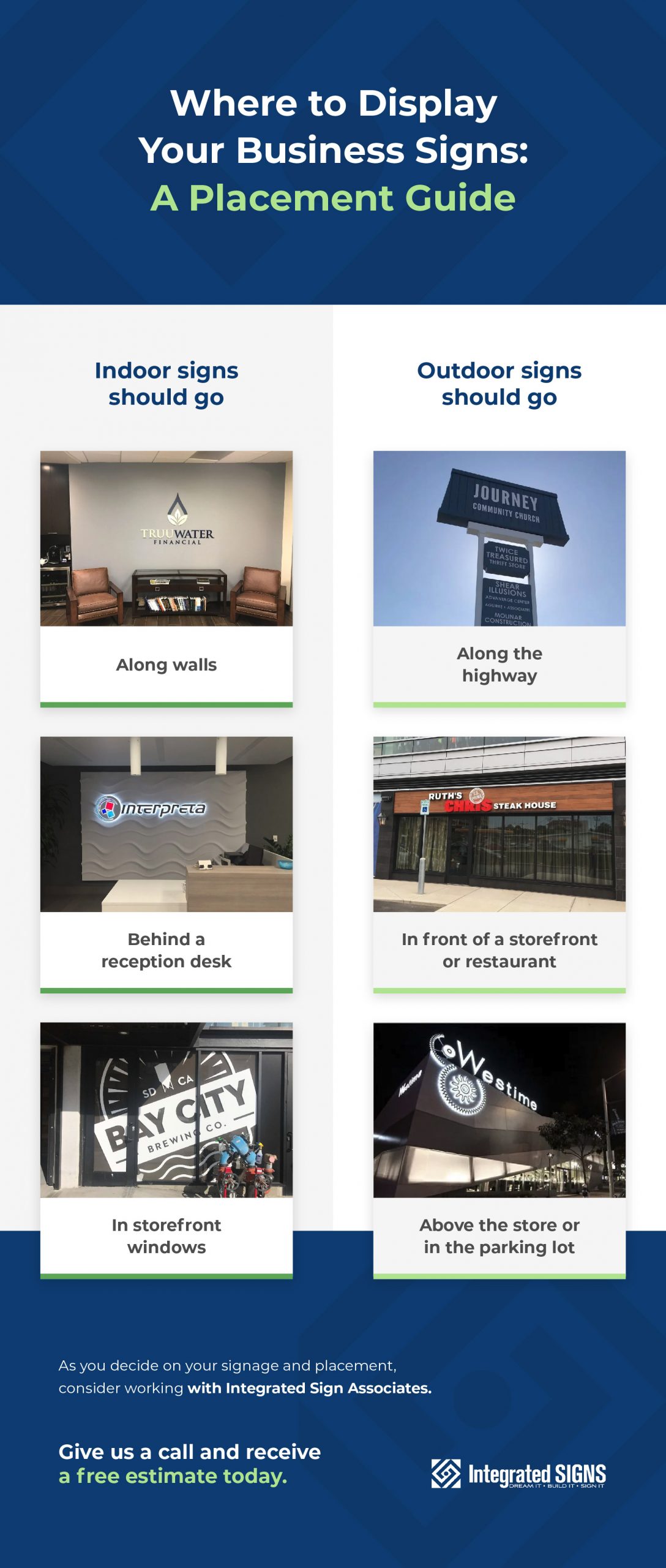 How to Use Indoor Signs
Indoor business signs are best for drawing attention to specific products or areas of your store or office space that you want potential consumers to see. As such, these signs are targeting customers who are already inside your store or near it. These signs can have information like your organization's name, hours, logo and other crucial notices.
Another use of indoor signage is its ability to advertise your company's latest deals, products, specials, sales and other similar offerings. These signs can encourage customers to make purchases. Additionally, you can use signs to display pictures of your latest products to generate attention for them and inspire people to buy. Overall, indoor signage can take many different forms, so you can choose the sign that suits your needs the best.
If you have a large building, you'll likely need to use way-finding signage that points customers around your business and help them find the locations that they are looking for. For instance, if you share office space with other companies, a directory in the building's lobby can be crucial for clients to find your business. Additionally, you can use other way-finding signs to point customers to offices, a company's departments, bathrooms and other key areas to make navigating your building easy.
Where to Place Indoor Signs

Here are a few areas where interior business signs look the best:
Along walls: If you want to steer customers towards particular products or make them aware of deals you are currently offering, placing signs on walls throughout your building can inspire people to make a purchase. Along with serving a practical purpose, signs along walls can assist in crafting an ambiance for the location and making it feel unique.
Behind a reception desk: If you run a business that has a reception desk or lobby area, you can use a sign to greet customers and set the mood for clients.
In storefront windows: If people regularly walk by your store, it'll be a worthwhile investment to use a window display that faces outwards. These displays will often highlight deals or the newest products you are offering to entice potential customers to come inside the store. They can also give people an idea of what sort of products or services they can expect to find inside the store, letting them know if you match up with their needs.
How to Use Outdoor Signs
Outdoor signs are best used to grab the attention of customers from a distance. These signs will often introduce customers to a business, making them critical for developing brand awareness and bringing in new customers.
Like indoor signs, outdoor signs can advertise your newest deals or products. However, the signage will have a slightly different purpose. When customers see a sign in a store that promotes the latest product, it'll be focused on getting them to alter their buying choice. Whereas, when someone sees an outdoor sign that shows off the same thing, the focus will be on getting the customer's interest high enough to cause them to come to visit the store.
Where to Place Outdoor Signs
As you place your outdoor signs, you can choose from several locations that will generate attention for your company and potentially bring in new customers. For outdoor sign placement, there are a few popular options to display messages effectively:
Along the highway: Anytime you've driven on the highway, you've likely seen a billboard asking you to stop at the next exit to get gas or food. These billboards are designed to catch the attention of drivers and are consistently used by companies to draw customers to their businesses.
In front of a storefront or restaurant: Smaller outdoor signs will often be placed by the entrance to a business. A blade sign is a common outdoor sign that is generally smaller and projects out of the side of a building to call attention to the entrance. Along with blade signage, there are many signage options available that you can use at a storefront.
Above the store or in the parking lot: This sort of signage draws attention to the store itself. Think of the type of signage you see in grocery store parking lots that display their names and grab people's attention from the roadside. Additionally, if you have signage above your store, it helps customers immediately recognize where your company is located, making it easy for them to find your business.

Tips for Outdoor Signs
Once you decide to set up an outdoor sign, you'll need to know the best practices for it. If implemented correctly, outdoor business signs can benefit your company greatly by driving sales, reaching people in the real world and preventing lost business. The following tips are essential for anyone wanting to add effective exterior business signs to their advertising efforts:
1. Signage Design and Branding
When you design any design, for the indoors or outdoors, you'll want it to complement your brand and present a consistent image to consumers. Even if you pick the perfect place for your sign, consumers may ignore it if the design doesn't stand out. Like any other material that advertises your company, such as a business card, website or online ad, you should put effort into making your signage attractive to customers and consistent with your overall brand.
2. Illumination

To make your sign as visible as possible, use the best illumination methods available. With an illuminated sign, drivers can easily read your message, even at night. The lighting will transform the sign into a 24-hour advertisement for your business, making it possible for you to show off your company even when you're closed.
Some of the main versions of an illuminated sign can be seen below:
Face lit letters: This exterior sign is one of the most common illuminated signs. They combine fabricated channel letters with internal lighting to make the letters brighten up. You can then decide if you want to use a trim-cap edge or not. Additionally, the depth of the lettering can be adjusted to aid the readability of the sign.
Reverse channel letters: For reverse channel or halo-lit channel letters, the sign will be lit from the back of the letter and will shine onto the wall behind it. This sort of signage makes the text softly glow. You can also combine the lighting from this type of sign with face lit lettering if you want to craft a dynamic lighting appearance.
Neon signage: Before the 1990s, neon signage was the sole way to illuminate channel letters and had been used since the early 1900s for border lighting and internal illumination. For a classic, unique look, neon signage is a perfect choice.
3. Size
To pick out the right size for your sign, you should first check the municipal guidelines of your city to find out if there are any restrictions to the size of your signage. Once you've established what's within the guidelines, you'll want to make sure that your sign will maximize its visibility to those passing by.
4. Height
When you select the height of your sign, consider placing it high enough to be seen from the most angles possible. You don't want the sign to be hidden from people's view if you could have just placed it higher.
Additionally, if you need to place a sign along a busy roadway, you'll want to make sure it's raised above trees or other obstacles like telephone lines that could block visibility. For signs aimed at people walking by your store or slow-moving motorists, your sign can be placed lower, such as on your storefront or office's facade closest to the entrance.
5. Width
Along with ensuring that your sign is high enough for people to see, you'll want your sign to be wide enough to fit your text and graphics. When you design your sign, make sure your message is visible from a distance. As you figure out what size you'll need to use, pay attention to where you are going to place your sign and understand how far away viewers will be when they see it to know what dimensions to use.
6. Legibility From a Distance
Whenever you design a sign, you want to make sure the text on it is legible from a distance. If people can't read the text on the sign, they won't be likely to visit your store or understand what sort of services or products that you're currently offering. Pick a font that is easy to read from a distance and make sure the type is large enough to be legible without customers having to strain their eyes.

It's recommended that letters be at least 1 inch tall for every 25 feet of viewing distance. So, if you expect a driver to see your sign from a hundred feet away, the lettering will need to be at least 4 inches tall. The height and width of the sign will be affected by the size of the lettering, so it's something you should be aware of while you are designing your signage.
7. Environmental Extremes
As outdoor signage will be exposed to the elements, you'll want it to be constructed with durability in mind. For example, some materials can help you prevent fading due to exposure to bright sunlight. Also look into materials that can withstand winds, rain, snow, dust and other environmental factors that threaten the appearance of your sign. A good signage company should be knowledgeable about different materials and can advise you on which will complement your design while holding up against damages.
8. Treat Signs as an Investment
Unlike other marketing materials, you will own signs forever, so think of them as an investment. The sign you install above your storefront might be there for years, so you want to make sure you put in the time and effort required to make a high-quality design. Even if upfront costs are high, a sign can provide large returns in the future.
9. Permitting
To install a sign, you need to check to see if you or the sign installer has the proper permits to put the signs up. There will also be local ordinances that you need to follow, making the obtainment of sign permits mandatory. To prevent your sign from having to be taken down or resized, you'll want to look into the various permits and regulations that are needed to install signage properly.
Some signage companies offer a sign permitting service where they will work to obtain the relevant permits for you. Using the services of a sign permitting company will make the process much smoother and less time consuming for your business.
10. Installation and Mounting Considerations
You can often mount your signs on your roof or along walls. When you choose a location for your sign, see what mounting options are available for you. You might be surprised about where and how a sign can be mounted, providing you with more options for the look of your signage. The best signage companies offer design, sign placement services and sign installation services, so they can let you know all of the possibilities for your sign right at the beginning.
Want to Make Business Signs a Part of Your Marketing Strategy?
The options for sign design and sign placements are virtually endless. As you decide what signs are right for you and search for the best signage company for your business, considering working with Integrated Sign Associates. From proper design to obtaining the right kind of permits, we have seen it all. We'll be happy to help you decide what business signs are right for you and assist you from the design stage all the way to installation.
If you'd like to speak with someone about signage, give us a call, and one of our representatives will be happy to talk with you about all of your options. Additionally, if you already have the type of signage you'd like in mind, you can receive a free estimate to begin the process.