What Makes a Great Sign Design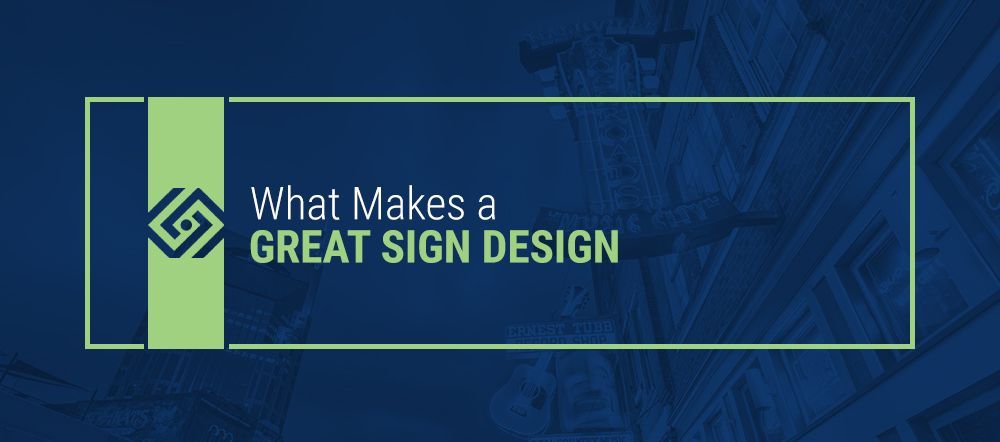 If you're running a business, you know just how important first impressions are. Your potential customers make their decisions based on the information you provide them and how you do it. Your signage is just one way to tell them about what you have to offer.
It can make you seem fun, sleek, professional, rugged and whatever other qualities your business possesses that you want to show off. Your sign can also tell people where you are and make you stand out from the competition. To get all that, you need an eye-catching sign, and we've put together some good sign design tips and guidelines to help you get there.
Table of Contents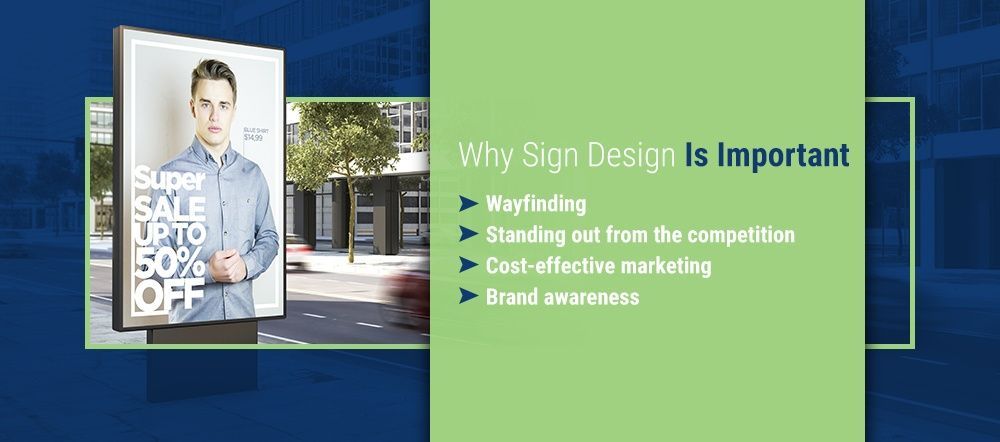 Why Sign Design Is Important
Simply put, sign design is critical. It plays into the entire customer experience in many different ways, including communication and differentiation.
Signs are the first thing customers see when they come to your building. Some of the functions they serve include:
Wayfinding: A sign tells people where to go when searching for your business. The Sign Research Foundation found that about 61% of American consumers couldn't find a company because of a small or unclear sign. Make sure yours isn't one of those businesses by creating clear signage that makes your building easy to find.
Standing out from the competition: Eye-catching signs will rise above the rest, allowing your brand to be seen more. Bright colors, tall signs and bold fonts can all help your sign stand out, but we'll talk more about that in the next section.
Cost-effective marketing: Signage is long-lasting and can serve your business for decades to come. Plus, it is always on, reaching everyone who drives by. You don't need to target your ads or worry about recurring payments after it gets installed. Once a sign is installed, it continues to work for you 24 hours a day.
Brand awareness: The Sign Research Foundation also found that almost 40% of people made quality assumptions about a business based on clear and attractive signage. If your sign looks good, your company looks good by association. Signage can advertise and sell your product or service while providing vital information. It also helps to make your brand's image more visible overall.
Of course, you won't get any of these benefits without good signage design.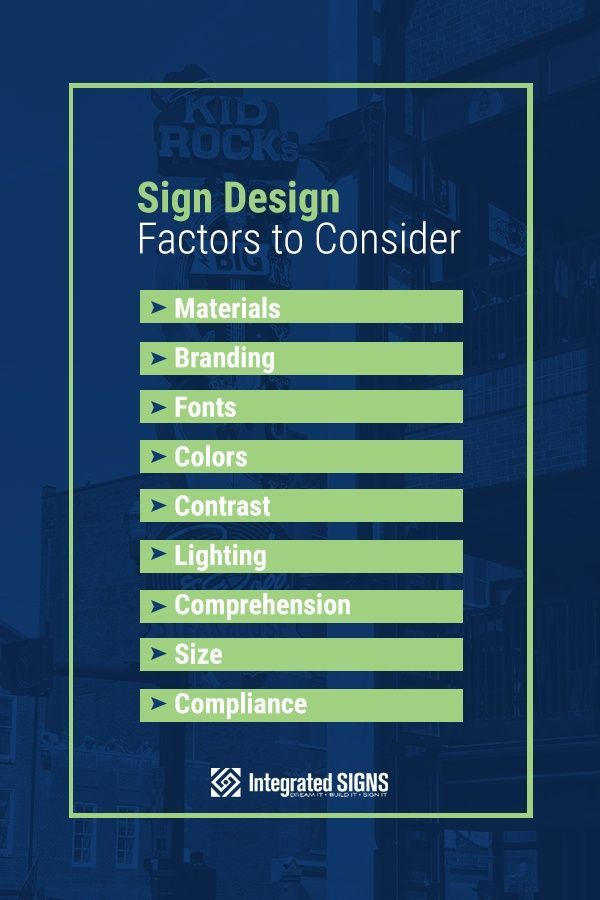 Sign Design Factors to Consider
If you've never designed a sign before, you may not know where to start. Let's break down some elements of sign design and see how each one affects your sign.
1. Materials
The materials of your sign will lend themselves to specific tones and appearances. An elegant monument sign made of stone and concrete can add a classy touch to your exterior, while a bright neon sign can give you impressive visibility and add a vibrant touch to a fun-loving place of business.
Many signs are made of a mixture of plastics, wood and metal, but you can also find signs that use materials like light-emitting diode (LED) technology and face-lit channel letters for easy nighttime visibility.
Consider the sign's environment and your goals when selecting materials. Some will contribute to specific looks and will work better with your design than others. For instance, if you know you want your logo exactly as it appears across other mediums, you may have to print on acrylic or use an LED sign.
2. Branding
Branding is a critical aspect of your design, so stick with colors that match your existing scheme. If your primary business color is red, keep your signage or lettering red. It will keep your brand's image consistent and can make you more noticeable.
Your sign design will also influence the perception of your business from the outside. Make sure that your sign matches the image you've cultivated for the brand. If the inside of your office is elegant and classy, don't put up a sign that appears fun and bold, just for the attention-grabbing aspect of bright colors and large fonts. There are other ways to pull viewers in without marring your brand's image.
3. Fonts
Fonts are subtle yet powerful elements of your sign that heavily contribute to the character of it. Knowing how to make signs more noticeable often comes down to choosing the right font. While each one is unique, here are the main categories of fonts you can choose.
Serif fonts: The serif is the small tail that goes on the ends of letters, such as at the top and bottom of an "l". A serif font has these tails. It appears traditional, dependable and sophisticated.
Sans serif fonts: Sans serif fonts lack the tail and tend to look more modern and clean.
Slab serif fonts: Slab serif involves thick, blocky serifs and can create a variety of font styles. They may be easier to read and can appear bold and friendly, with a contemporary feel.
Script: Script fonts are fancy, often cursive, with lots of flourishes. They can look elegant if used appropriately, but you must be very careful with them. It is surprisingly easy for a script font to become cheesy, but more importantly, they can be hard to read. Never use an Old English-style font in all-caps — it is almost impossible to read, especially in a short time.
Take care when choosing fonts to pick ones that pair well together and contribute to the right tone for your company.
4. Colors
Different colors appeal to different demographics and invoke various feelings and moods. Make sure that the colors you choose are conducive to your business and attracting your target audience.
Of course, these colors could very well already be in place through your company's branding efforts. Keep them consistent.
Another aspect of color to keep in mind is the way your sign will interact with its environment. Consider elements such as neighboring signs or the backdrop. Will a background of green trees wash out your green text, or will a brick wall swallow up your burgundy background?
5. Contrast
Contrast goes hand-in-hand with color. It can make your image stand out more and ensure legibility. Without enough contrast between your text and the background, the letters become unreadable as they fade away.
In addition to the contents of your sign, contrast is also important for the environment of your sign. A sign with a white background might be hard to distinguish from a white building. The right colors can ensure high contrast and an easily readable sign.
6. Lighting
An illuminated sign is very different from an unlit one. If your business operates well past sunset, a lit sign can help visitors find you at all hours of the day. Plus, it offers additional advertising time.
You can light a sign in a few ways. Within the sign itself, you can have channel-lit letters, where the letters have lights inside them, lightboxes or backlit signage. Outside of the sign, you can install a variety of external lamps to flood your sign with light and keep it visible 24/7 or on a timer.
If you plan to light your sign in some way, be mindful of the effect that will have on your design. Will your colors be hard to differentiate with backlighting? Could the tone of your lights change the hue of the sign, such as in cool-toned bulbs? Think about how they may change the mood, too.
7. Comprehension
Always remember that a sign's primary job is to be read and understood, and most business signs are only seen for a few seconds. Their message needs to be short and to-the-point. Make sure your design is simple and easy to read.
Don't overcomplicate things with fancy fonts or too much information. Crowding your sign is a surefire way to make sure your message doesn't sink in.
8. Size
Like many other elements of a sign, size is directly related to how easy it is to read. You'll need to consider how far away readers will be. Is your sign going to be standing far above the building, where it will reach passersby on the highway? Or will it be on the facade of your building for people to see as they pull into the parking lot? Different locations have different size requirements.
9. Compliance
A sign won't do you much good if you have to take it down due to violating city signage codes. Compliance is a critical element of ensuring your sign gets to stay up and doesn't cost you more money.
We can help you look into local compliance to ensure everything goes smoothly. While our expertise applies everywhere, we are especially well-versed in the compliance rules of San Diego and the surrounding areas.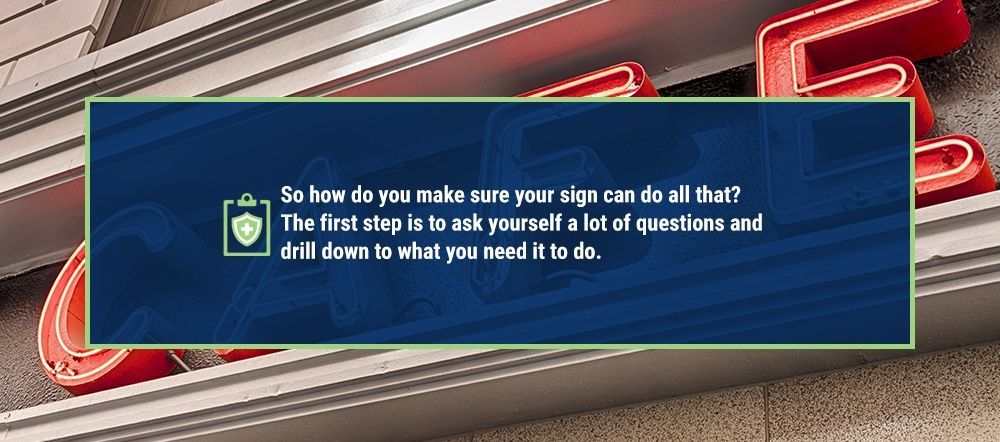 How to Ensure Your Sign's Design Is Effective
All of those design elements are critical to making an effective sign, but there are a few overarching aspects to consider to make sure your sign is working for your company to its fullest extent. You want it to stand out from the competition, be easy to read, reach your target audience, comply with brand standards and accomplish several other marketing goals. You'll need to identify these factors before you even start designing.
So how do you make sure your sign can do all that? The first step is to ask yourself a lot of questions and drill down to what you need it to do. Then, communicating those needs with your designers is essential.
Here are some of the topics to dig into when creating your sign.
Identify Your Core Audience
Your target audience will appreciate different design elements. You likely already have a target audience identified, but if not, now's the time to do it. Figure out who you're trying to market to — gender, age, interests and many other demographics will influence how your design can appeal to the audience.
Consider the role your audience will be playing when they arrive at or pass by your business. Are they merely passersby, such as motorists on the highway looking for a bite to eat? Maybe they are visiting students at a university, current clients of yours that may need help finding the place or patients who need medical care from a reliable location.
You might think that in that last example, your clients wouldn't really have a choice, but remember that visibility is essential. When it's time for them to get care, they may go to the only place whose sign they remember.
Establish Your Sign's Purpose
Think about what exactly you want your sign to do. Different businesses will have different goals. Some possible functions of a business sign include:
Selling a product, possibly by getting people in the door.
Informing people about a situation, service or solution.
Impressing people with your sign and showing the caliber of your company.
Directing people to your business, especially if it's hard to find.
Advertising specials and sales, which you might see on an LED sign or temporary displays.
Improve visibility with easy to see, brand-identifying signs.
Each goal will benefit from specific design elements. For instance, if you're trying to impress people with a high-end sign, you'll need something classy or flashy, while directing people to your business may involve an arrow as a wayfinding element.
Decide What You Want Your Sign to Say
Messaging is important. Is your sign going to display your hours, product, arrows or a straightforward logo? Including many different elements will be difficult and can overcrowd your sign. Instead, try to identify your core message so you can simplify your design to the most critical and powerful elements.
Communicate Brand Standards With Your Designer
Remember, it is critical to stick to your brand standards for consistency and effective awareness. Provide your designer with precise brand standards, such as a copy of your logo, exact color codes and any necessary high-resolution images you want to use. Make sure they know just what your brand entails and how you cultivate your image so that they can accurately reflect your company in the design.
Provide Constructive Feedback
If there's something you don't like about your design, try to narrow it down and identify what exactly doesn't meet your expectations. Simply saying something won't work doesn't help improve the design, at least not in the way that you want. Be clear when you need to provide feedback on a sign.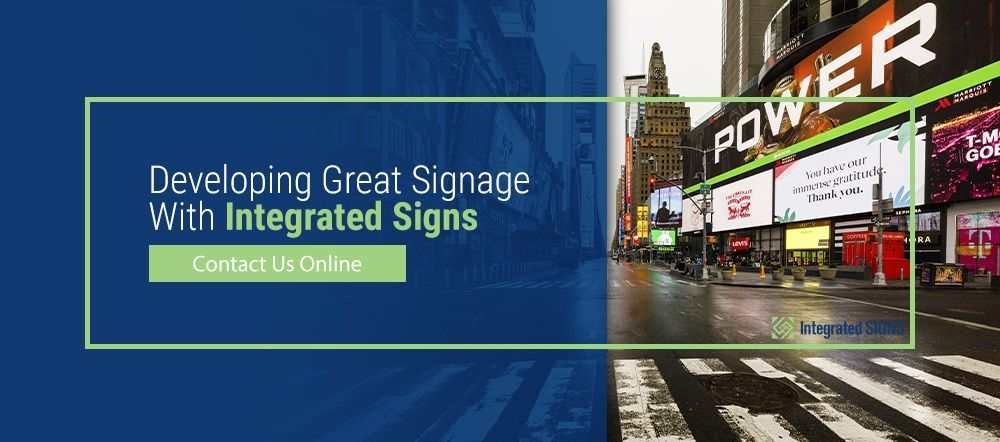 Developing Great Signage With Integrated Signs
Signage is one of the most important parts of your company's exterior. As you've seen, your sign can boost marketing goals, improve visibility and help people find your location. Whether you choose a robust monument sign, vibrant channel-lit letters, pylon signs or any other style, your sign is a reflection of your business.
To ensure that reflection is everything you need it to be, trust in the experts at Integrated Signs. We are a full-service sign company, meaning we can design, manufacture and install your signage. We can also help navigate compliance rules to ensure a smooth process.
Here at Integrated Signs, we've been creating high-quality signs for businesses of all types for years, particularly within San Diego and the surrounding areas. To learn more about our services and how the right sign can help you meet your goals, reach out to us today.