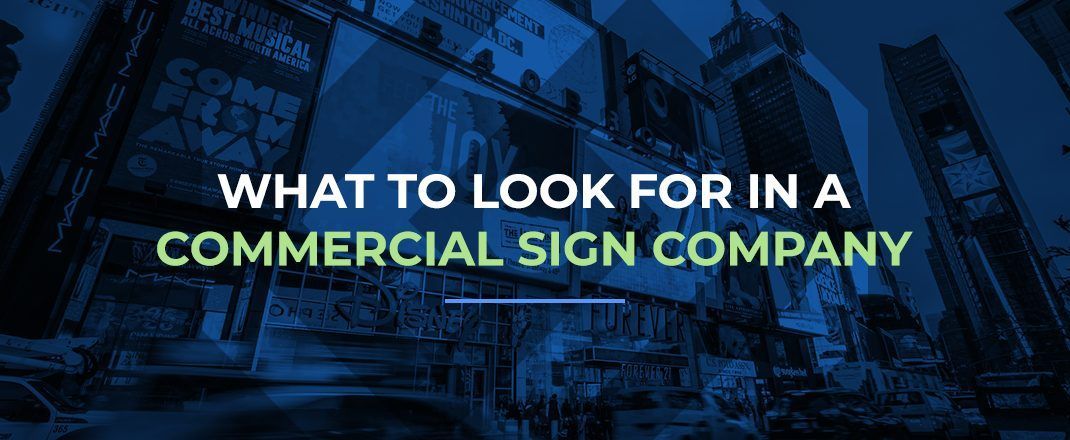 What to Look for in a Commercial Sign Company
Designing, manufacturing, approving and installing a sign is a long, complicated process. And, when you work with a company that values quality, your installation will last for many years. Signs are a permanent fixture and a crucial focal point for your brand. Mounting one you'll love looking at and can take pride in is essential.
Since signage is such a niche industry, we created this guide for how to choose a commercial sign company. When you follow these tips, you'll find a signage provider that feels like a partner. You'll never need to look for a new sign maker again.
Table of Contents
What to Look for in a Commercial Sign Company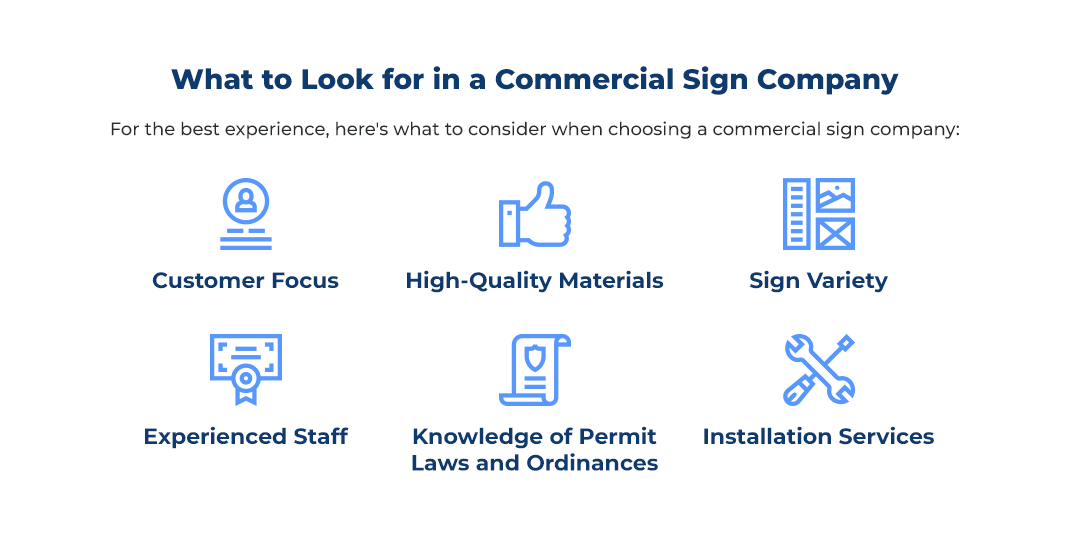 Your signage vendor needs to deliver many services. After all, you can't find a custom sign at the store. The process starts with design. Once you've approved the drawings and schematics, your design goes into production. Once it's fabricated, it needs to safely travel to your location and be installed in the right spot. Throughout this process, your sign company should value your input and offer helpful advice. To be truly full-service, they should handle every type of sign as well as permitting and installation in-house, so you don't have to.
How can you get all these services under one roof? For the best experience, here's what to consider when choosing a commercial sign company:
Customer Focus
Most interior and exterior signs are one-off products. They are literally tailored to your brand. There's only one company just like yours, and your sign company should embrace that fact with open arms. What does that look like? It starts with listening to your needs and saying "yes" to the complicated jobs other companies won't touch.
Your sign designers should collaborate with you throughout the process. They'll ask meaningful questions to get to the heart of your brand. They take the time to understand what you do, your company history and any previous signs you've used. They'll incorporate your mission and treat your logo as an emblem of your brand.
Choose a commercial sign company that puts you first and makes your life easier. A customer-centric sign company will always have a friendly, helpful team member answering the phone. It will be there when you need them, with prompt maintenance and repairs, even years after the installation. The right signage partner will make the entire process as smooth as possible, taking on permits, approvals and project management alike.
High-Quality Materials
Materials are often overlooked when it comes to design and construction. Some people assume all sign companies use the same materials and select the vendor who offers their sign at the lowest price. Most signage will look good on day one. The real test of a permanent sign is how it looks at year three, year five and even year 10. Exterior signage lasts anywhere from eight to 12 years, and that's only possible with the right materials.
Your sign company should use high-end materials. They should offer a range of material options to match your price points and durability needs, without sacrificing material quality. Expect to pay more upfront for superior production quality and long-lasting materials. Investing in a product you won't need to replace in three years is worth it.
Sign Variety
Many companies want a distinctive sign to differentiate them from their competitors. A 100% custom solution requires a partner with experience working with all types of signs and materials. You may want to incorporate illumination, neon, aluminum, stainless steel, vinyl, acrylic or other materials. Your sign company should work with all these materials and guide you through your selection. Find out if they are comfortable constructing and installing signs of any height, style and complexity.
Another benefit of sign variety is the capability for site-wide branding throughout your building. Portraying a consistent appearance outdoors and indoors is easier when you have one sign vendor overseeing the project. Every sign from the roadside to your lobby to your cubicles will follow the same rules for lettering and color schemes. The materials and shapes will play off one another to create a consistent look and feel.
Your sign company should offer architectural signage, directory signs, suite IDs, vinyl graphics, lobby signs and anything else you need to align your office or store with your brand. You'll get your branding project done faster with a one-stop shop for all your signage. You'll always know who to call for repairs and maintenance. Plus, it allows your sign company to understand your needs and your brand better to deliver superior service.
Experienced Staff
If you're like most people, buying signs isn't a regular part of your life. Quality outdoor signs last up to 12 years. If you're replacing an old placard or display, you may not know who bought the existing sign, or anything that went into the decision. A lot goes into designing, manufacturing, installing and maintaining premium signage. When you're creating a custom, one-off product from scratch, the process is lengthy.
Remember — you're hiring the pros for a reason. Pick a team that will act as your go-to experts and welcomes your questions. They should be helpful and honest about what you need and don't need from your signage.
It's also crucial to work with a team of specialists. A full-service sign company will have designers who work in three dimensions. They'll handle manufacturing and printing in-house to maintain complete control over your outcome. Their installation team will handle your sign with care, mount it level, and even know how to prevent bubbles and tears in your vinyl graphics.
Knowledge of Permit Laws and Ordinances
If your company owns its property, you may be surprised to learn you can't mount a sign without permission. For outdoor signs, your city or town probably requires a permit. Your city's sign code details all size and mounting requirements. These rules stop signs from coming loose during a storm or blocking visibility. Some towns have strict standards to preserve historical buildings or maintain a local aesthetic. They may also have rules about lighting brightness or schedules.
Even indoors, signs must meet specific requirements. They must be mounted at certain heights to ensure accessibility. The Americans with Disabilities Act (ADA) mandates markings use legible typefaces, contain recognizable symbols, and include raised lettering and Braille. The International Building Code (IBC) requires fire routes, areas of refuge, alarms and exits have proper markings.
An expert sign company will take all the laws into account when designing your signs. They'll handle the permitting process from start to finish. If you don't own your property, they'll even talk to your landlord for approvals. They'll also be quite familiar with all the IBC and ADA requirements for interior signage and can lay out the types of signs you need and where they should go.
Installation Services
You know you want the sign of your dreams. Can your sign company also install it? Many sign fabricators will design and build to your specifications and mail the finished product to your office. It's up to you to hang it, make sure it's straight, and drill all the holes in the right spots. If the signs need to be ADA-compliant, you'll need expert measuring skills to install them at the correct height. Larger installations, or signs hanging from ceilings, may require a ladder or even a crane.
Correct installation is as critical to a quality product as the materials and design. Beautiful outdoor and interior signs are an investment. Once you've purchased them, you should trust the installation to the company that made them. They need to be secure, straight and tightly affixed at a visible height.
The right company will personally deliver your order using their own transportation and handling equipment to prevent damage. Your vendor's expert installation team will be skilled problem solvers. They'll find the best way to access your sign's intended mounting location, no matter the height. They'll ensure your top-quality installation continues to impress even years after delivery.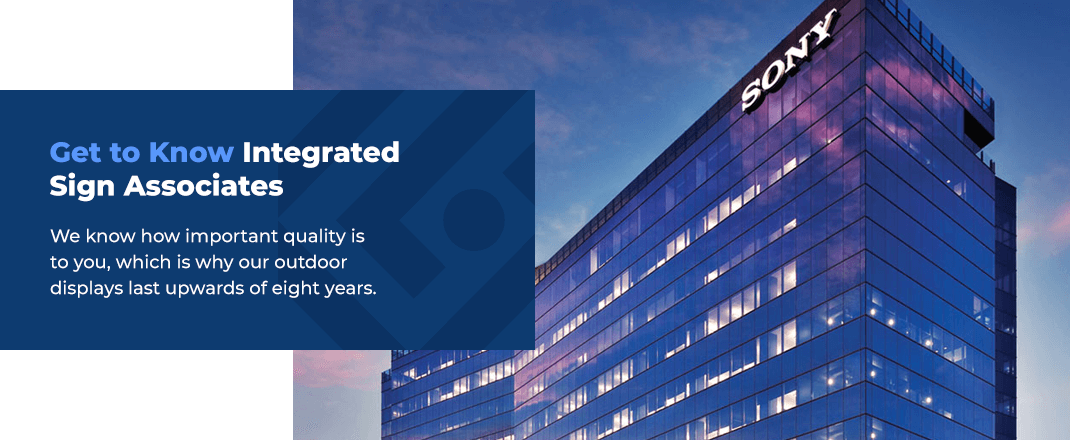 Get to Know Integrated Sign Associates
Integrated Signs strives to be your trusted sign supplier. We're a full-service sign company, where customer support is as important as the attractive, long-lasting signs we create. We know how important quality is to you, which is why our outdoor displays last upwards of eight years.
We offer all types of interior or exterior signs you might need, and customization is our specialty. We have experience delivering the highest quality signage since 1982. We're based in San Diego, where we're a go-to supplier for clients on Rodeo Drive or in Silicon Valley. You can find our signs throughout San Diego, in all 50 states and even around the globe.
If you want to get to know us better, give us a call at 619-579-2229 or contact us online. We're happy to chat about what it's like to work with a commercial sign company. If you're interested, we can even offer you a free quote and free drawings.